Last month, two men were arrested on an on an I-70 overpass while at a protest calling for Obama's impeachment. That incident inspired an even larger, follow-up protest one week later.
Now it appears that no charges will be filed against Marc S. Messmer, 41, of St. Charles, and Jimmy D. "Duane" Weed, 57, of Bridgeton.
"I'm happy about that but I'm not surprised," Messmer tells Daily RFT. "We were saying all along that no laws were broken. The arrest was unlawful."
See Also: VIDEO: Impeach Obama Protesters Return to Same Overpass Where They Were Arrested
The two were arrested by the Missouri State Highway Patrol after failing to comply with a trooper's order to leave the I-70 overpass at Fairgrounds Road, near exit 229. Resisting arrest was also tacked on in Messmer's case.
The arrest was captured on video and posted to YouTube.
Sergeant Al Nothum told Daily RFT on August 27 that the protest was distracting drivers and causing accidents.
"They were not arrested for protesting. They were arrested for not moving their protest to a safe location," he said at the time.
Asked for his response to news that neither Messmer nor Weed would be prosecuted, Nothum was succinct.
"We respect the decision," he says.
According to Messmer, however, this won't be the last the troopers will be hearing about it. He says he and Weed are planning to sue for unlawful arrest.
Continue for photos from the August 24 Impeach Obama protest.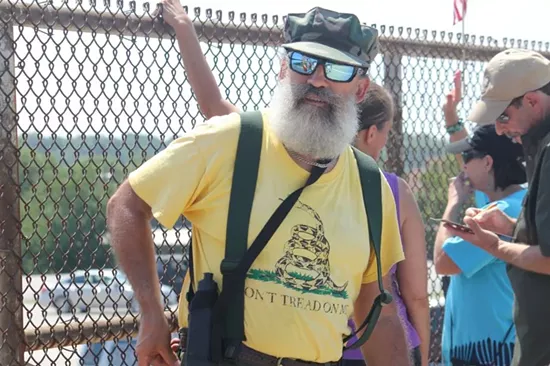 Danny Wicentowski
Jimmy "Duane" Weed, 57, of Bridgeton, was arrested on August 17 along with Marc Messmer 41, of St. Charles while protesting on an I-70 overpass. Weed told Daily RFT that "Our civil rights were violated multiple times" during the arrest.
Danny Wicentowski
Marc Messmer, left, talks with another protester during an Overpasses for Obama's Impeachment rally on August 24, 2013.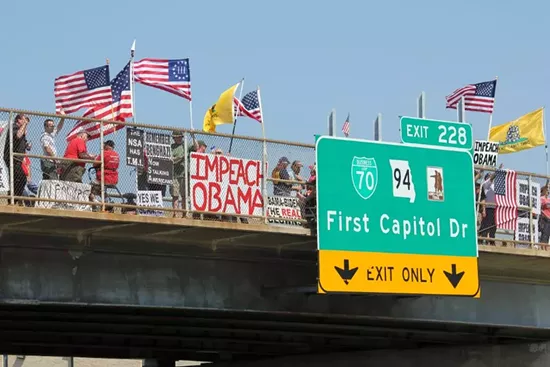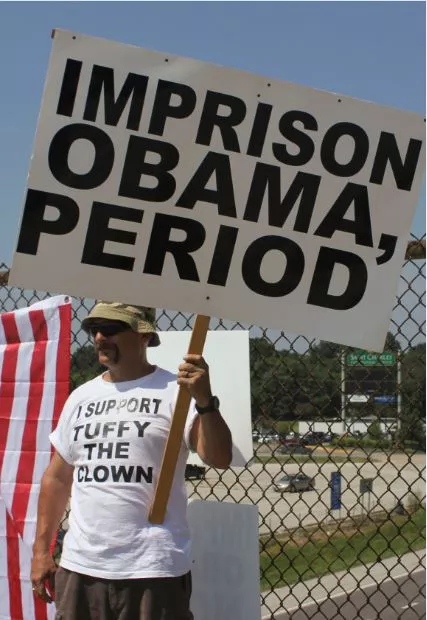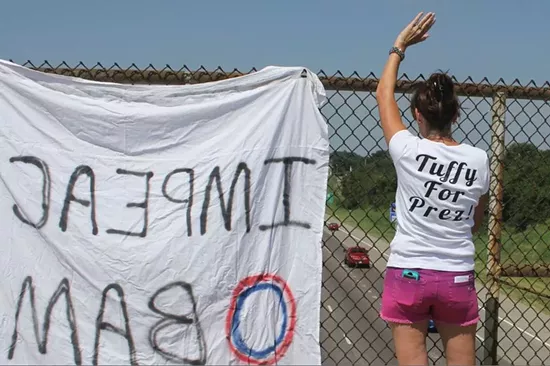 Follow Daniel Wicentowski on Twitter at @D_Towski. E-mail the author at Danny.Wicentowski@RiverfrontTimes.com.