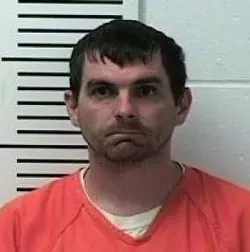 Between 2007 and 2012, Matthew Hansen secretly videotaped dozens of school-aged boys while they undressed in a camp shower.
Hansen already pleaded guilty to eight felony counts of attempted production of child pornography in federal court, and the former Fort Zumwalt seventh grade math teacher was sentenced on state charges before a circuit court judge in Lincoln County on September 9. Once the sentence for the federal charges is tacked on next month the 39-year-old Winston resident could face close to 30 years behind bars.
The scope of Hansen's crime is mind-boggling: The federal indictment lists 77 victims, all apparently young males who were unknowingly filmed while naked in a camp shower. Hansen was acting as a chaperon on school outings to the Cuivre River State Park in Lincoln County. KSDK reported last year that Hansen had volunteered for the chaperon job and also invited boys to change in his private room, where he secretly videotaped them.
See Also: Core of Your Nightmares Drummer Pleads Guilty to Child Porn Charges Hansen -- a middle school teacher since 2004 -- was captured after a botched escape attempt from Missouri to Canada. Lincoln Country Prosecuting Attorney Leah Askey tells Daily RFT that Hansen tried to make it across the U.S.-Canada border in June 2012, though it's not clear what made him believe he was being pursued by law enforcement in the first place. Once he got there, however, his computer was confiscated and he was detained by border officials, though he was soon let go and turned back from entering Canada.
Confusingly, Askey says border officials did not discover the contents of Hansen's computer and she doesn't know the actual reason he was detained.
Whatever the reason, it is clear that as Hansen drove back to Missouri he came up with a different tactic to escape what he'd done.
"He decided that committing suicide was the best alternative," Askey says.
Hansen was later talked down from a cellular tower in Van Buren Country, Iowa. St. Charles County Police found child pornography on his personal computer soon afterword and arrested him.
Federal sentencing will take place October 4. Check out a copy of the federal indictment against Hansen below.
Matthew Hansen Indictment by Danny Wicentowski
Follow Daniel Wicentowski on Twitter at @D_Towski. E-mail the author at Danny.Wicentowski@RiverfrontTimes.com.