Courtesy of Raja Naeem
Raja Naeem and his youngest child.
The St. Louis Metropolitan Taxicab Commission has suspended the license of Raja Naeem, a Muslim driver who has fought for many months for his right to wear religious garb. And this week, Naeem and his attorneys have pushed forward with the legal battle, filing both a petition for review with the circuit court of the city of St. Louis and a motion for an injunction in the ongoing religious discrimination lawsuit.
"I've got kids to feed. I'm very stressed out, there's no doubt about it," Naeem tells Daily RFT. "Should I stay with my religion or should I leave it? I am determined to stay with my religion."
Naeem argues that he has a constitutional right to wear his kurta, a traditional shirt, and that the commission -- which is responsible for the licensing and regulation of drivers -- has been harassing him with tickets and fines.
See also: St. Louis Cabbies Allowed to Wear Blues Gear As Muslim Driver Fights to Wear Religious Garb
Ronald Klein, director of the Metropolitan Taxicab Commission (MTC), however, continues to assert that there has been no religious discrimination of any kind and that the commission has even made efforts to accommodate his needs. (The MTC's dress code is white button down shirts and black trousers; officials say it helps make drivers recognizable to passengers).
Klein and the commissioners have faced a series of formal complaints and legal fights from Naeem and a group of supportive drivers and attorneys. Most recently, as we reported on Monday, a coalition of cabbies are disputing with MTC over the use of the Square credit card reader, a popular technology that is used all over the country, but currently banned in St. Louis taxicabs.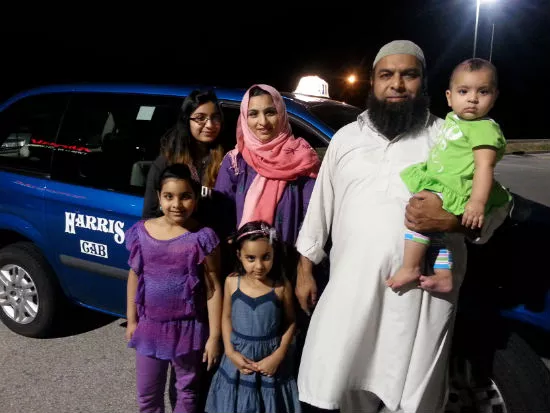 Courtesy of Raja Naeem
Raja Naeem with his wife and four children.
In the religious discrimination case, which began last December, Naeem has been issued many violations for his choice of clothing.
"This is a real test for me," says Naeem, who has four daughters, an eight-month-old, a five-year-old, a seven-year-old and a twelve-year-old.
See also: Porn Playing In St. Louis Taxi? After Woman's Allegations, Commission Bans Videos In Cabs
"What they've continued to do is harass Raja and give him tickets," says attorney Drew Baebler, who filed the new petitions this week. "He is just trying to exercise his religion while supporting his family. It's a shame that a commission from the state of Missouri is keeping him from doing that."
Raja Naeem speaking at a press conference last year.
Baebler has requested a preliminary and permanent injunction against the MTC to block the tickets and fines as the lawsuit is pending, arguing that "a suspension will have a deleterious effect and will cause immediate economic deprivation to the Plaintiff."
The request continues:
The Plaintiff has no immediate action at law to redress this claim, because, by the time his civil action has been heard, the economic harm to himself and his family of four children and a wife will be sustained and irreversible;

As stated in Plaintiff's previous Petition, Raja Naeem has a constitutional right to exercise and practice his religion as he feels is necessary.
"They are trying to run roughshod over him," Baebler says.
Continue for more from Drew Baebler and response from MTC director Ronald Klein.
See also: Gateway Metro Credit Union Rejects Muslim Woman Adiaratou Sall Due To Her Headscarf
In a separate filing, Baebler calls for a judicial review of the MTC's actions. The petitions reference tickets Naeem has also received for using Square credit card readers (outlined in detail here in our previous story), noting that between April and September, Naeem has received ten different tickets. The filing comes with a September 4 official suspension notice, which goes into effect September 14 (with administrative penalties totaling $600).
Courtesy of Raja Naeem
Raja Naeem with his wife and four children.
He has a right to appeal -- and already has pending appeals -- and he and his attorneys say they are still deciding whether he can actually continue to work next week.
Klein says Naeem has racked up the required number of violations and thus must face consequences spelled out in code: "That brings him to a level where his license has to be suspended."
Klein says that when a driver appeals, the suspension does not go into effect until the individual has an opportunity for a hearing.
"He is allowed all of this due process," he says. "We go down the line and follow all of our procedures."
Klein, who notes that the MTC has not yet been served these latest petitions, says the commission issued Naeem a variance that allows him to wear his kurta, with the caveat being that it must be white and black.
Naeem and his attorneys speaking to the press.
"He requested a variance. We didn't have to agree to it, but we did," he says. "He still does not want to comply with the rules."
Naeem argues that he has a right to wear his religious garb and that the MTC cannot legally limit him in this manner.
Chuck Cole, a longtime local cab driver and transportation consultant in this legal fight, adds: "He takes his faith very seriously. This doesn't allow him to practice his religion freely."
Here are copies of the two petitions.
Send feedback and tips to the author. Follow Sam Levin on Twitter at @SamTLevin.