Jessica Becker and Kristopher Bergen never imagined they would get married at a church.
"We didn't want the traditional," Becker tells Daily RFT.
But on August 28, the St. Louis couple found themselves tying the knot inside of a church. It was, however, most definitely not a traditional church.
"This is literally the exact opposite," she says. The "Church Trap," as it's called, is in fact a breathtaking piece of art that was debuted this year at the Burning Man festival in Nevada's Black Rock Desert. When the local couple arrived at Burning Man just three days earlier, they had no idea this structure would be the site of their wedding.
See also: Schnucks' Biggest Fans: St. Louis Couple Gets Married At Des Peres Supermarket (PHOTOS)
"Adventure and mystery is what pulls you out to Burning Man," Bergen says. "You can go every year for ten years and it's always different and always mysterious."
"It is so amazing to see thousands and thousands of people work together," she adds.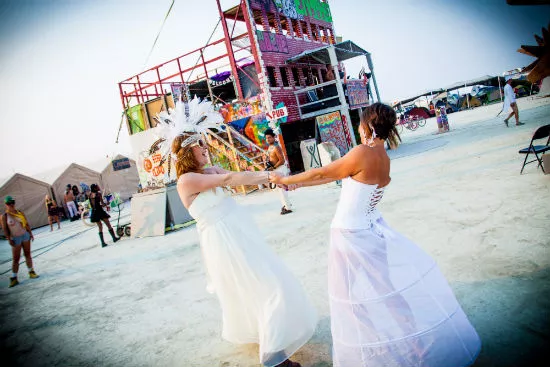 Jessica Bergen and Noelle Foreman, of Washington, spin in circles before their individual weddings in front of their Burning Man camp "Do-More-Now's Firehouse."
It was this energy and these qualities that made Burning Man a perfect location for their wedding, says Jessica (now) Bergen, noting that she has always loved creating art and that her husband has always loved adventure. "We've never been afraid to express ourselves and be ourselves. We are always having fun."
Kris and Jessica have been together for nearly ten years -- and engaged for four -- and had planned to get married on top of a mountain in Colorado.
But they kept running into different obstacles. And when a friend of theirs joked that they should tie the knot at Burning Man, it seemed like a great idea.
Courtney Lang, from St. Louis, peddles Jessica across the playa to their wedding chapel.
"We looked at each other and said, 'Let's just do it,'" Jessica says.
That was around six months ago.
Other than the outfits they would wear and the fact that they would be getting married, the two did not know anything else about what their wedding would be like. You can't really plan a Burning Man ceremony, she says.
"We knew from the beginning it wouldn't be your average, everyday wedding," says Jessica, 29, who manages an artists' loft building in downtown St. Louis and is from Pontoon Beach, Illinois. Kris, 32, does IT work for Washington University and is from Belleville, Illinois.
"Once we decided to do it at Burning Man, the preparation for the actual wedding was pretty simple and laid-back," she says. "All you know is you are going to get married. There's nothing much else to plan."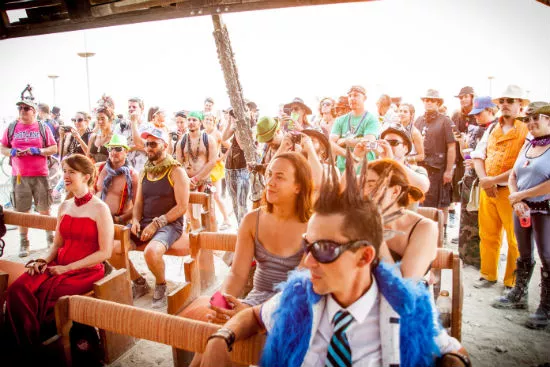 Crowd of loved ones and strangers watch the ceremony at the Church Trap, an art installation that looks like a church on a pole.
"It's organized chaos," she says.
Continue for more on their wedding and more photos.
After getting their marriage license in Reno, the two arrived to Burning Man and began biking around the site, scouting out possible locations for the wedding. (There are incidentally many weddings at Burning Man, at least several dozen of which involved couples with formal licenses this year.)
A lot of strangers and new friends helped them throughout the process and preparation.
"It made it a lot more special," she says.
Jessica and Kristopher Bergen seal their marriage.
When they saw the "Church Trap," it seemed like a perfect fit.
"It's a church that pulls you in," she explains, "and traps you inside."
The structure resembles an old barn setup like some sort of mouse trap with a large wooden pole holding it up, she says. Inside are tiny pews.
On the night of the ceremony, all sorts of strangers joined in the celebration. "You have no idea who they are, but they are giving you hugs and high-fives," she says.
Jessica rode into the ceremony on a chariot bicycle with the help from some of the folks in her camp group (called "Do-More-Now"). There was a small group of close friends and people the couple had met at previous Burning Man festivals also attending the ceremony -- and many more strangers.
"Tons of people were a part of it that we've never met before," she says, estimating at least 100 attendees. "It doesn't give you much of a chance to be nervous or scared -- it's just such a chaotic place."
And they exchanged vows.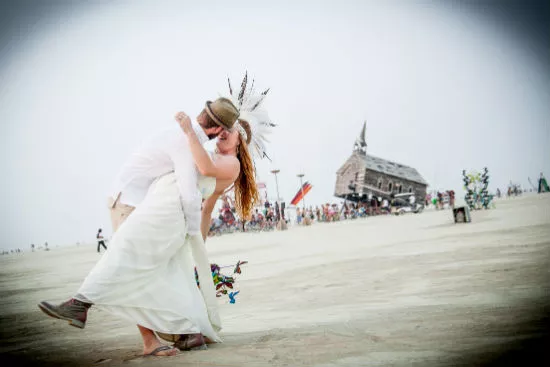 Kristopher dips Jessica in front of their wedding venue, the Church Trap.
"He promised to love me more than spicy food and Jack In the Box tacos," she recalls, "and I promised him an adventure of a lifetime."
"We definitely started that already being at Burning Man," she says.
The two will have another ceremony later this month at City Museum, where Jessica used to work.
Enjoying their first playa sunset as a married couple.
They are both still decompressing from the whole experience, she says.
In a recent Facebook post reflecting on the experience, Jessica writes: "It is now just a memory...a beautiful dream."
All photos by Sarah Cross. You can visit her website here at sarahcrossphotography.com.
Send feedback and tips to the author. Follow Sam Levin on Twitter at @SamTLevin.