Both St. Louis and Kansas City consistently make the top ten national lists for high levels of crime -- which is why Missouri Attorney General Chris Koster is hosting a four-day Urban Crime Summit this month aimed at exploring potential policy solutions. For this effort, Missouri is bringing in New York City Police Commissioner Raymond Kelly, who has gotten a lot of attention for his controversial stop-and-frisk policing practice that critics say is an unconstitutional form of racial profiling. Kelly says it's a vital crime-prevention tool.
The summit will be held September 16 and 17 in Kansas City and then September 18 and 19 in St. Louis at the Saint Louis University School of Law.
"This Summit is not simply another community meeting about a challenging topic," Koster says in a statement. "This Summit will bring to Missouri many of the nation's preeminent scholars and most important voices in the law enforcement community. For four days, we will explore solutions to the heartbreaking problem of violence in our cities."
See also: Mentally Challenged Man Kills Teen Sister: "This Is Why Gun Control Is Important"
The panels will also include St. Louis Mayor Francis Slay, Kansas City Mayor Sly James, Police Chief Sam Dotson of the St. Louis Metropolitan Police Department and Kansas City Police Chief Darryl Forté. St. Louis County Executive Charlie Dooley and County Police Chief Tim Fitch will join the St. Louis panels.
"Violent crime affects every aspect of our community," Koster says. "Beyond the threat to personal safety, violent crime impacts Missouri families and schools and our state's economic development."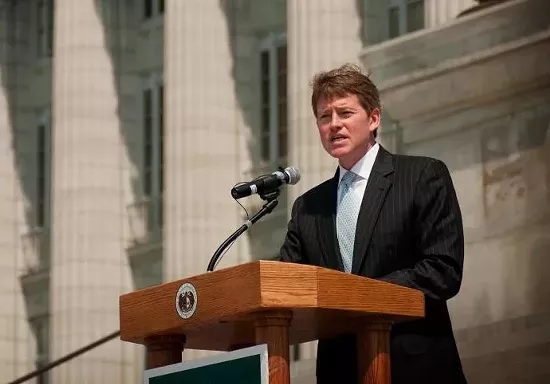 via Facebook
Missouri Attorney General Chris Koster.
The goal, he says, is "to examine the best practices developed throughout the nation to address urban crime and to develop a series of recommendations for meaningful policy reforms."
In addition to Kelly -- who, like Dotson, has vocally supported stronger gun control -- the summit will feature national and regional experts on a range of issues such as hot-spot policing, crime mapping, evidence-based policing, strategies to reduce gun violence and challenges facing felons reentering society.
In Kansas City, the sessions will take place at the University of Missouri-Kansas City. Each of the four sessions is slated to run from 9:00 a.m. to 3:00 p.m. daily and final schedule details will be posted on the attorney general's website.
via Facebook / SLMPD
Police Chief Sam Dotson (left) and Mayor Francis Slay.
For now, here's the list of scheduled presenters, followed by the full statements from local officials on the summit:
-Commissioner Raymond Kelly, New York City Police Department
-William Bratton, former New York City Police Commissioner, Boston Police
-Commissioner and Los Angeles Chief of Police
-Cynthia Lum, Director, and Christopher Koper, Senior Fellow, Center for Evidence-Based Crime Policy, George Mason University
-Harold Pollack, University of Chicago Crime Lab
-Nancy La Vigne, Director of the Urban Institute's Justice Policy Center
-Franklin Zimring, Berkeley Law, University of California
-Richard Rosenfeld, University of Missouri-St. Louis
-Jennifer Joyce, Circuit Attorney of the City of St. Louis
-Jean Peters Baker, Jackson County Prosecutor
-Tammy Dickinson, United States Attorney for the Western District of Missouri
-Dave Starbuck, President of the Midwest Gang Investigators Association, and retired Sergeant, KCPD Gang Unit
-Daniel Isom, University of Missouri-St. Louis, former Police Chief of the St. Louis Metropolitan Police Department
Statements via Koster's press release:
"I appreciate Attorney General Koster highlighting the unique situation of our state's metropolitan areas when it comes to violent crime," said Kansas City Mayor Sly James. "It was made even more evident to me during my recent visit to the White House that this problem is deeply rooted in urban areas and that there is no silver bullet solution. We will only be able to tackle violent crime when we make it a priority at every level of government."

St. Louis Mayor Francis Slay added, "Our streets are awash with guns. It is far too easy for criminals to get them. This has got to stop. No matter where you live, how much money you make, or what the color of skin is, you have a right to live in a safe neighborhood and not have to worry about becoming a victim of a crime. We must send a message to the people who are all too willing to carry and use illegal guns in our cities: your nonsense won't be tolerated here."

Kansas City Police Chief Darryl Forté said, "Reducing violent crime in Kansas City has been my primary goal since I was sworn in as Chief of Police. I look forward to discussing violence prevention strategies with our cross-state colleagues and some of the most innovative thinkers in the field of law enforcement."

"Violent crime continues to plague urban areas throughout the country. As a society we must all work together to address crime," said St. Louis Metropolitan Police Chief Sam Dotson. "This summit is a great opportunity to engage in conversation centered around new and innovative practices to combat crime in our region."
Send feedback and tips to the author. Follow Sam Levin on Twitter at @SamTLevin.