Joseph Franklin, death row inmate.
As we reported last month, Missouri has set execution dates for two death row inmates, a major turning point in the drawn-out legal battles surrounding capital punishment in the state. Since the Missouri Supreme Court granted the state's request to schedule those executions, activists nationally have raised concerns about the planned use of propofol, a sedative that has never been used before to administer the death penalty.
And now, a local group critical of the death penalty is speaking out against a different part of the process -- directly targeting the doctor slated to carry out the execution.
The American Civil Liberties Union of Eastern Missouri says that the executioner is a certified anesthesiologist who has conducted at least one execution in the past. This is in direct violation, the ACLU argues, of the American Board of Anesthesiology standards, which prohibit certified anesthesiologists from participating in executions.
See also: Joseph Franklin, Serial Killer Who Shot Larry Flynt, Gets MO Execution Date
"You cannot be board-certified and participate in an execution," Jeffrey Mittman, ACLU-EM executive director, tells Daily RFT. "The state of Missouri should certainly be aware of this standard."
The ACLU last week sent a letter, full document on view below, to the American Board of Anesthesiology (ABA), asking it to suspend this Missouri execution doctor's board certification.
v
Allen Nicklasson, death row inmate.
The ACLU's letter explains that the certified anesthesiologist is known in court documents only as M3 and that his identity remains unknown to the public (though known to state officials). Regarding the alleged conflict with ABA standards, the letter elaborates:
M3 is defying the American Board of Anesthesiology's standards by simultaneously holding himself out as a certified anesthesiologist and providing effective anesthesia for the purpose of causing his patients' death. We request that the Board suspend his certification until such time as he has an opportunity to respond, which will prevent him from harming patients under the guise of being a certified anesthesiologist...

Time is of the essence. Missouri has scheduled executions for October 23, 2013, and November 20, 2013. Absent from the Board, M3 will openly flout the standards required of certified anesthesiologists while holding himself out as a certified anesthesiologist.
Those dates are set for Allen Nicklasson, guilty of murdering a good samaritan, and Joseph Franklin, a white supremacist and serial killer who famously claimed responsibility for shooting Hustler magazine publisher Larry Flynt.
"He's clearly flouting and defying the rules of his own licensing organization," Mittman says of the execution doctor.
"There are so many yellow and red flags," he continues. "The ACLU hopes that the state will do the right thing. If the state is putting forward a protocol to engage in executions, we believe they have a responsibility to do so ethically and transparently."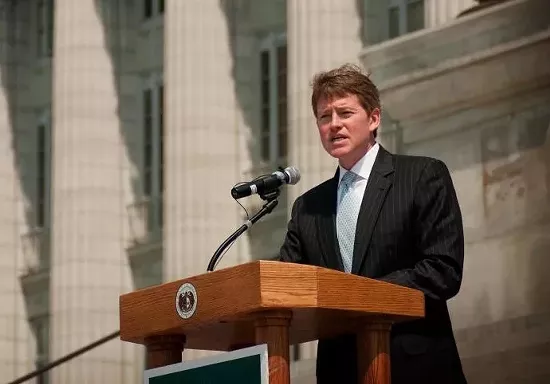 via Facebook
Missouri Attorney General Chris Koster.
He argues that the state also has an obligation to reveal the doctor's identity. "It's improper for the state to refuse to disclose who this individual is."
The ABA standards are in place for a reason, Mittman adds. "A physician's duty is to care for and make better, not to harm."
A spokeswoman for Attorney General Chris Koster declined to comment to Daily RFT. And a spokesman for the Department of Corrections did not respond to our requests for comment.
Here's the full letter.
Send feedback and tips to the author. Follow Sam Levin on Twitter at @SamTLevin.