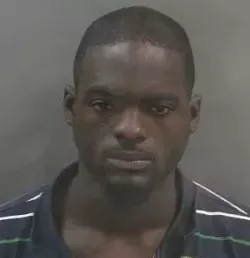 Every so often at Daily RFT we write about tragic and horrific cases of women found dead and abandoned in vacant lots and alleyways in St. Louis city. Often there are few details and no follow-up stories on the investigations.
Today, however, we have news of an arrest that was made in connection with a terrible murder that occurred last year. The St. Louis Circuit Attorney's Office has charged Michael Shirlee, 23, as the man behind a brutal November 15 homicide.
Police say he strangled 31-year-old Danah Marie Jackson and left her dead in a vacant lot.
See also: Annette Brock, 29, Strangled To Death, Left In Vacant St. Louis Building
He lives on the 3600 block of Natural Bridge Avenue in the Fairgrounds neighborhood of north St. Louis.
Shirlee is charged with first-degree murder and is being held without bond.
The probable cause statement says that he struck her numerous times in the face with a cinder block and choked her. The cause of death, police say, was strangulation and head injuries.
via Google Maps
Block where Jackson's body was found.
Police say her body was found on the 2400 block of North Grand Avenue in the Jeff Vander Lou neighborhood in north St. Louis, just south of where he lives.
Jackson was a Wright City resident.
Here's the short incident report from metro police followed by the probable cause statement from the circuit attorney's office. It's unclear at this time how the victim and suspect might have been connected.
Incident: Homicide
Location: 2400 block of N Grand
Date/Time: 11/15/12 @ 00:01 - 06:44
Victim: Danah Marie Jackson, 31-year old black female of the 40 block of Aster Dr. in Wright City, Mo.
Suspects: Michael Shirlee, 23-year old black male of the 3600 block of Natural Bridge Homicide was requested to the 2400 block of N. Grand for a deceased black female found lying on a vacant lot. The victim had obvious signs of trauma to her body. Cause of death is unknown at this time. The victim has been identified, but her name is being withheld until next of kin is located and notified.
For more of Daily RFT's coverage of the latest metro St. Louis homicides, visit our "Big Bloody" archive.
Send feedback and tips to the author. Follow Sam Levin on Twitter at @SamTLevin.