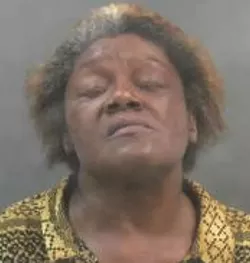 Arlene Starks, 54, was apparently not pleased when she realized her drug dealer had overcharged her for marijuana. She was, in fact, so concerned about the unfair price of the pot that she felt she needed to vent about the scam to someone official. And why not to the 911 emergency dispatch center?
Court records show that Starks actually called police this month to report the crime of her dealer's overpriced weed -- which cops were, it seems, happy to investigate.
When police sent arrived at the Billups Avenue home in north St. Louis, they discussed the complaint with her -- and promptly took Starks to jail.
Arrest records show she was charged with a misdemeanor count of "misusing 911" on August 17, as the Post-Dispatch first reported yesterday.
Her bond was set at $1,000, and Starks' case files say she was released several days later.
Daily RFT reached out to her attorney this morning and we'll update if we hear back.
Starks has a criminal history that includes first-degree assault, armed criminal action, harassment to frighten or disturb another person, and more.
Send feedback and tips to the author. Follow Sam Levin on Twitter at @SamTLevin.