The St. Louis Cardinals aren't just the best-looking team in all of Major League Baseball -- they've got the No. 1 greatest uniforms out of any team in all four major professional sports leagues!
So says ESPN's Paul Lukas in his 2013 Uni Watch Power Rankings released this month. It's a nice ranking we can all get behind, St. Louis! And something the Best Fans in Baseball can really celebrate!
ESPN gave the Cardinals the great honor after assessing and ranking the uniform sets for each of the 122 teams in the "Big Four" pro sports leagues: the NFL, NBA, NHL and MLB.
See also: Cardinals Fan Drunkenly Attempts to Kick Cubs Fan, Totally Misses, Falls to Ground (VIDEO)
We all know Cardinal Nation is the greatest, but it's always nice to hear someone else acknowledge the beauty!
In Lukas' words:
MLB's best-looking team looks even better this season, thanks to the addition of that great retro-style alternate jersey, which is enough to nudge the Redbirds into the Power Rankings' top spot. Kudos to team president Bill DeWitt III, who takes a much greater interest in his team's uniforms than the average sports exec, and who has been a first-rate steward of his club's visual heritage.
DeWitt, in fact, has taken quite a big role in the development of the new alternate uniform design.
"I led the whole effort," he told Uni Watch last year.
An excerpt of DeWitt's comments from that interview:
Going back a bit, when we redesigned our logos in 1998, at that time we'd been using a circular primary logo with a cartoon bird. I always thought it was crazy that we had a cartoon bird for our primary logo and a different kind of bird on our uniform. That led to a redesign of the bird, which we then used on our uniforms and for a new logo and for some other things. It was a good refresh of our brand at that time.

In the 14 years since then, there have always been little things about that 1998 redesign that bugged me, but none of them bugged me enough to go through the effort of changing them. Along the way, though, I gathered ideas of things I'd like to see. I love that [placket] piping on old retro jerseys, I love the old "St. Louis" script we had back in '32, I love off-white cream jerseys that teams like the Giants, Phillies, and Indians have used. And I thought, rather than messing with perfection by altering our home and road jerseys, let's have an alternate jersey that incorporates some of these older, archival elements that go well together.

So what didn't we do? At one point there was some thought about doing a black bat, instead of yellow, because that's what we used to have. We considered doing the really thick piping on the shoulders, we could have done belt piping, those types of things. But you don't want to overload the Christmas tree.
Here's who we beat in the MLB-specific Uni Watch ranking (full list here):

And in the overall rankings, i.e. the Cardinals being the greatest of all teams anywhere ever (full list here):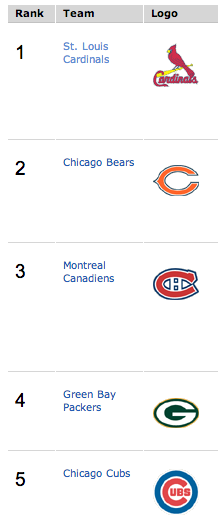 And now, just in case you weren't convinced, here are a bunch of recent pics of the Cardinals that we think nicely showcase their awesome uniforms. Don't they look great?!
Continue for more photos.
See also: Cardinals Security Kicks Out Fan on Star Wars Night... For Having Stormtrooper Mask?
Send feedback and tips to the author. Follow Sam Levin on Twitter at @SamTLevin.