Police photo
James Crocker in photo released by police.
Evidence clearly shows that James Crocker, the suspect in the tragic float-trip fatality last month, was attacked and injured prior to the deadly shooting. That's according to Crocker's attorneys who are looking to cast doubts on the prosecution's second-degree murder charge as the case moves forward this month.
One example: The widely published mugshot of Crocker (on view to the right) released by police immediately after the shooting was not taken after the incident, says Michael Bert, the suspect's attorney.
"There is no way it could've been taken that day," he tells Daily RFT. "He sustained injuries to his head and arm. There is no question he felt threatened for his life."
See also: Woman Who Called 911 After Float Trip Shooting Says James Crocker Was "Very Calm"
Bert says he has clear photos of Crocker's injuries taken from jail, which he will use in trial.
Crocker, a 59-year-old Steelville man, got a lot of media attention for shooting and killing 48-year-old Paul Dart Jr., who was on a Meramec River weekend float trip with his wife and large group of family members. Police, based on testimony from some on the float trip, including Dart's widow, say that the group stopped at the gravel bar by Crocker's home, because one man had to urinate and another wanted to get a drink. When Crocker, who was armed, asked them to leave, an argument erupted and he ended up firing a shot straight at Dart, who died soon thereafter, police say.
Courtesy of Michael Bert
James Crocker.
As his second-degree murder trial moves through the process, Crocker's attorneys, as we noted in an interview earlier this month, are arguing that it was a case of self-defense and that there was a very rowdy, intoxicated crowd attacking the homeowner with large rocks while trespassing on his clearly marked private property.
Since our last report, there has been a preliminary hearing and a bond-reduction hearing. In the latter hearing, which took place last Wednesday, a judge denied Crocker's request for a reduction in the $650,000 bond. That means he will remain behind bars as the case advances.
Daily RFT got a chance recently to speak with Bert, who shared with us some photos of the scene and the police report -- along with his thoughts on the prosecution's initial argument at the preliminary hearing. Combined, he says, it's obvious that Crocker was a victim in this case and had a legal right to defend himself.
The accounts from police and witnesses -- some excerpts on view below -- meanwhile offer a picture of a chaotic and tense scene before and after the shooting.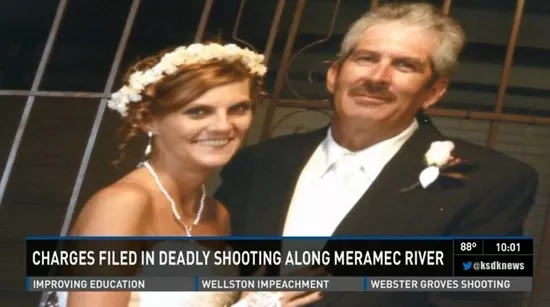 via KSDK
Loretta and Paul Dart.
"He was clearly injured," says Bert. "By all accounts, he had blood all over him."
That includes, Bert says, the direct account from a trooper who apprehended him.
According to Bert, the troopers arrested Crocker after he ran to the home of a neighbor who called 911, and left him handcuffed without allowing him to receive medical attention, which he had requested.
The rocks that the group used to attack him were very large, says Bert. Here's one photo he sent Daily RFT for scale: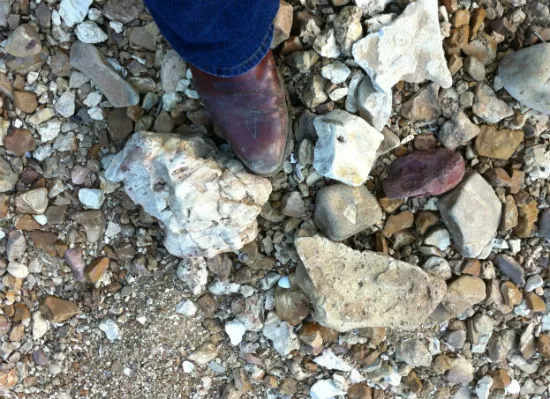 Courtesy of Michael Bert
Rocks along the Meramec River by Steelville where the shooting happened.
Bert also argues that the property has a very visible "Keep Out" sign, which the float trip party ignored. Here's one photo of the land and the sign Bert passed along: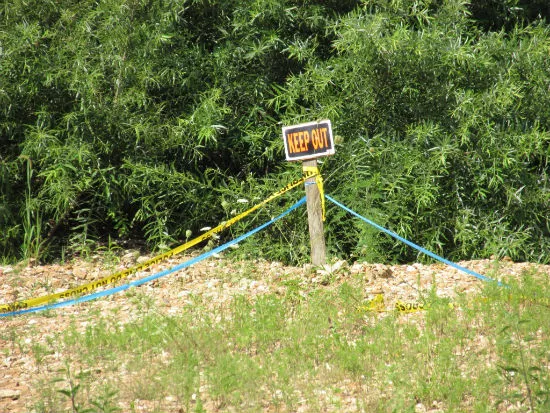 Bert argues that the preliminary hearing testimony from a husband and wife on the trip (separate from the Darts) was very inconsistent and reflects the prosecution's weak case. He claims their presented timelines of the incident and their descriptions of Crocker's actions don't line up at all.
"The version of events I heard from those two witnesses was wildly contradictory," he says. "We're going to hear a lot of stories. It sounds like they are trying to cover their tracks for a big day of partying on the river."
He also claims that one of the witnesses in court essentially admitted to threatening Crocker with rocks.
Bert also argues that the police investigation was inadequate -- that officers, for example, failed to properly secure the crime scene. "It was shoddy police work. These were not experienced detectives."
Courtesy of Michael Bert
James Crocker.
And then there's the issue of the old photograph sent to media; Bert says he is not sure where that image came from, but he says he is confident it was not taken that day and that its use thus far has been misleading.
Daily RFT left a message for Crawford County sheriff Randy Martin. We'll update if we hear back. A representative from the Crawford county prosecutors says the office will not be commenting as the case is pending.
"It's been my contention all along that he acted to protect his property," Bert continues. "He was not only protecting his property, but he was acting out of fear for his life and for bodily injury."
Crocker, who is from the Ozarks and works for a plastic manufacturing company, is "eager to get on with his life," Bert says. "He just wants to get back to being outside. He just wants to get back to work."
Bert argues that the suspect has a lot of supporters in Crawford County and that he is a well-liked neighbor. Crocker is, in fact, often friendly with passersby on float trips, his attorney says.
"He likes interacting with respectable people who come through," says Bert.
Below are a handful of excerpts from the Crawford County Sheriff's Office formal reports along with more photos. To start, here is the testimony from some witnesses via the officer' reports (sic all):
Regina...stated in her statement that on July 20th while canoeing that her party stopped on a gravel bar waiting for friends where we found a man saying to get off his property he'll shoot, firing a warning shot with her husband standing near. Regina stated she and Paul started walking up explaining were not here for any reason, we weren't on his property. Regina stated when he fired another shot just missing me braising my arm, I thought I was hit but then thought it was an air gun. Regina stated she stood back up when he pointed the gun in Paul's face. Regina stated Paul put his hands up and took a step back and the man shot Paul in the face. Regina stated she then realized it was real and really happening. Regina stated that as Paul fell back She tried catching him and tried keeping the blood from coming out. Regina stated that her husband chased the car (A black and yellow mustang) up the road to the man's house who shot him. Regina stated we was never on his property and tried talking reason to the man...
Continue for more testimony from the police report, including from Paul Dart's wife, Loretta.
See also: Widow in Mourning After Meramec River Float Trip Shooting, Says "He Was My Rock"
Another witness:
Kelli stated the man from the shore had told Bobby not to piss on his land. Kelli stated the man drove away in a ridicules ugly back car with a spoiler and and yellow racing stripes. Kelli stated Bobby was talking about how the man spoke to him. Kelli stated the man came back on the shore near the Keep Out sign and stood there smoking a cigarette. Kelli stated she stood by her canoe after she seen the man the first time. Kelli stated Bobby went up to talk to the man. Kelli stated she heard another pop and saw the gun. Kelli stated she thought it was a pop gun or cap gun. Kelli stated she saw Regina and another women near the man and Bobby and Paul. Kelli stated it looked like they were telling the man to calm down and we weren't going to try to go on his land. Kelli stated the man was waving the gun around. Kelli stated everyone was telling the man to calm down. Kelli stated he fired a shot into the ground. Kelli stated the women and Bobby and Paul were near the guy with the gun...everyone was just yelling to "chill out" and "calm down" and he raised the gun to Paul's face and shot. Kelli stated Paul dropped over and fell. Kelli stated she saw the blood from his face and she ran to the nearest people on rafts a little down stream and screamed for cell phone. Kelli stated someone tried to call but was still floating....
The wife of Paul Dart:
Loretta Dart...stated in her statement that they were on their annual float trip about half way through and stopped to get something to drink. Loretta stated this guy comes out of the woods and tells us its private property an to get off. Loretta stated her husband tried to rationalize with the guy but he was out of control. Loretta stated he put the gun to her husbands head and Paul then went to push it away but the guy jerked back and shot him in the face. Loretta stated he also threatened to shoot her son Joshua.... Loretta stated he ran off and we had to call paramedic's, now my husband is dead.
From Joshua, Paul Dart's stepson:
Joshua stated in his statement that we started walking up to the sand bar. Joshua stated there was a dispute between this guy, Bobby and me and my step dad Paul started walking up to stop the dispute. Joshua stated the guy kept telling us to get off his property. Joshua stated his step dad tried to push gun away. Joshua stated he jerked the gun back and shot his dad in the face. Joshua stated he then ran off saying he was going to call the cops. Joshua stated he pointed the gut at him asking if he wanted to be next. Joshua stated he then said I have the power, you don't. Joshua stated he ran off an some people called the cops.
From an officer who interviewed Crocker:
James stated he had gone to the gravel bar for the afternoon. James stated he parked his car and began walking to the gravel bar. James stated as he approached the gravel bar he noticed a male subject urinating on the gravel bar. James stated he told the man that he was on private property and that he could not urinate on the gravel bar. James stated the man became argumentative but walked back towards the river.

James stated the group the male was with also began arguing with him. James stated he told the group they were on his private property and they needed to leave. James stated he then walked back to his vehicle. James stated before getting to his vehicle he returned to the gravel bar. James stated he told the group to leave because they were on private property. James stated the group started to argue with him about the gravel bar being public property and stated they were not going to leave. James stated he continued to argue with the group. James stated the argument continued for approximately 10 minutes.

James stated near the end of the argument 4 men approached him from the group. James stated he stayed where he was and the men continued to advance. I asked James at this point why he had not left. James stated he did not leave because "it's my property and I have a duty to protect it."...
For some perspective, here are some more photos of the property, all courtesy of Bert: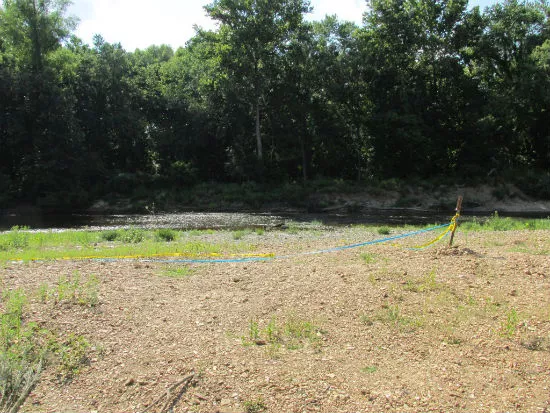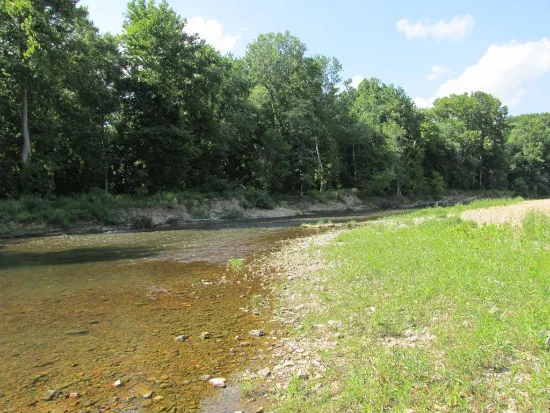 Send feedback and tips to the author. Follow Sam Levin on Twitter at @SamTLevin.