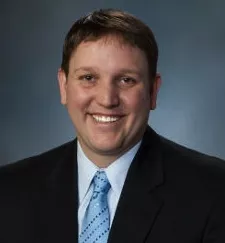 Update: Following reports of arrest for marijuana possession, Representative Jeremy LaFaver resigned this morning as chair of the House Democratic Victory Committee, the campaign committee for the Democratic Caucus.
His staff just sent out the following statement from LaFaver: "The goal of electing Democrats to the House is too important to the middle class men and women of Missouri for my personal embarrassment to become a distraction, and I have therefore asked the Minority Leader to let me step down from the chairmanship."
Our original coverage of the incident is below.
Original post, 8:45 a.m.: On Sunday afternoon, Missouri State Highway Patrol troopers arrested Representative Jeremy LaFaver (D-Kansas City) in Boone county.
According to the arrest report, LaFaver was cited for possession of less than 35 grams of marijuana, possession of drug paraphernalia, and two misdemeanor warrants for failure to appear on traffic violations.
See also: Marijuana Legalization in Missouri: Rep. Rory Ellinger Plans Bill to Regulate Pot Like Colorado
Court records show the troopers dinged LaFaver for failure to register a motor vehicle back on April 19, and when he didn't show up to court, an arrest warrant was issued for him in early May.
According to the Missouri Times, the "paraphernalia" referred to in the arrest report was a marijuana pipe. Here is the full statement sent from LaFaver's office to Daily RFT:
Missouri State Representative Jeremy LaFaver (D-Kansas City) today apologized to his family and constituents, announcing that following a stop of his vehicle in Boone County on Sunday for failing to respond to a charge that he had operated his vehicle with an expired license tag and without insurance, he was cited with possession of a marijuana pipe and a small quantity of marijuana.

In announcing his arrest, Rep. LaFaver issued the following statement:

"I made a serious mistake, I apologize for it, and I am prepared to face the consequences of my behavior. I want to stress that I was not operating under the influence.

"I deeply regret the embarrassment I have caused my family and the people of the 25th District by this incident.

"I want to assure my constituents that I have received no special considerations, nor do I expect to be treated any differently than any other citizen in my situation."

All further inquiries about this matter should be directed to Rep. LaFaver's attorney, William Ellis, of Columbia, MO.
LaFaver is a freshman legislator so sadly there's not a lot on his record in regard to marijuana legalization. We'll update as more information becomes available.
Follow Jessica Lussenhop on Twitter at @Lussenpop. E-mail the author at Jessica.Lussenhop@RiverfrontTimes.com.