Update below: The two protesters arrested on an I-70 overpass last weekend while calling for President Barack Obama's impeachment returned to very the same spot on Saturday with over 50 supporters. They rallied from around 10 a.m. to 4 p.m., using printed and hand-made signs to spread the cheer of presidential impeachment to the motorists below.
Last Saturday, on August 17, Marc Messmer, 41, of St. Charles, and Jimmy "Duane" Weed, 57, of Bridgeton were arrested for failing to comply with a Missouri State Highway Patrolman's order to leave the I-70 overpass at Fairgrounds Road, near exit 229.
"We know the difference between a lawful and unlawful order," Messmer tells Daily RFT. "We did not have to obey, and we certainly had a right to be here."
A YouTube video of the arrest has been viewed more than 300,000 times.
In the video, a patrolman asks Weed and Messmer to clear the overpass, citing the protesters' presence as a traffic hazard. Heavy east-bound traffic had already produced a number of accidents that day.
However, Weed and Messmer both dispute this, and Weed tells Daily RFT that from what he saw, the accidents were actually caused by backed-up traffic from the Festival of the Little Hills in St. Charles and construction that left only two east-bound lanes open that day.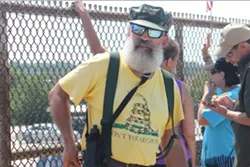 Danny Wicentowski
Jimmy "Duane" Weed
"I just won't take any responsibility to contributing to these accidents," says Weed, who, (like Messmer) attended Saturday's follow-up overpass protest wearing the exact same outfit he wore last week while getting arrested. "No one is here to cause any trouble or break the law."
Daily RFT has reached out to the Missouri State Highway Patrol for comment and we'll update if we hear back. Though arrested for failing to obey (and also resisting arrest, in Messmer's case), it unclear whether the two men will face charges. Other overpass protests on August 17 in Wentzville and Springfield attracted no police attention.
Danny Wicentowski
Marc Messmer, left, talks with another protesterd during an Overpasses for Obama's Impeachment rally on August 24, 2013.
Danny Wicentowski
Marc Messmer, left, talks with another protesterd during an Overpasses for Obama's Impeachment rally on August 24, 2013.
The tactic of using an interstate overpass as a platform for protest is the M.O. of Overpasses for Obama's Impeachment, a loosely affiliated organization of like-minded patriots that was founded two months ago by James Neighbors, a 46-year-old Oklahoma man. The group's website lists 50 state-specific Facebook groups with over 40,000 members collectively. The Facebook group for Missouri's chapter of Overpasses for Obama's Impeachment currently numbers 1,172.
Any individual can volunteer to register a particular overpass with the organization, thereby becoming a "host" in that locale. Dane Ramsour is the host of the I-70 overpass in St. Charles where police broke up the group's protest on August 17, and he witnessed both Weed and Messemer's arrests. Ramsour says he and the other protesters saw eight police vehicles gather in a nearby lot around 2 p.m.
"We knew they were getting ready to move on us," he says.
"I'm just waking up and paying attention to what's going on with our government," Ramsour adds. "We're sick and tired of it."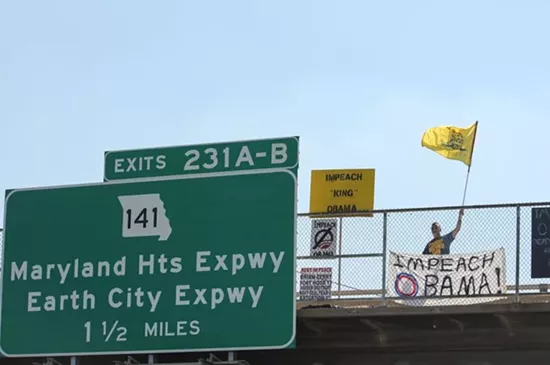 Update, Tuesday, August 27, 4:30 p.m.: Daily RFT heard back from a Missouri Highway Patrol spokesman regarding Messmer and Weed's arrest.
"They were not arrested for protesting. They were arrested for not moving their protest to a safe location," says St. Al Nothum, adding that troopers observed five accidents on the interstate near the overpass before moving in to break up the protest. Though he did not directly blame those accidents on the anti-Obama protesters on the overpass, Nothum did say that the protesters were "interacting with the people below on I-70," such as waving signs and trying to elicit honks, and that the accidents stopped after the arrests were made.
"It was a matter of public safety. I know people hear that and they're skeptical about that, but it is," he says.
Prosecutors are still weighing whether to go ahead with the filed charges against Weed (failing to obey) and Messmer (failing to obey and resisting arrest).
Send feedback and tips to the author at danny.wicentowski@riverfronttimes.com