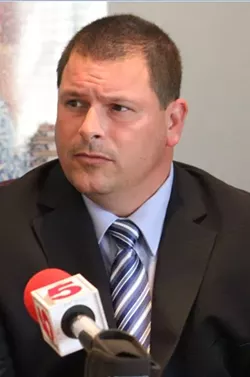 Danny Wicentowski
Sgt. David Bonenberger.
Sgt. David Bonenberger's lawsuit against the St. Louis Metropolitan Police Department for racial discrimination ended in victory yesterday, when a federal jury agreed that Bonenberger, who is white, was unfairly passed over for a position in favor of another candidate simply because she was black.
"I wanted to give the police department an opportunity to make it right," Bonenberger said at a press conference today at his lawyer's office. "I had no choice. I couldn't roll over and let it go. I had to stand up for myself and everyone else who was employed by the police department."
The twenty-year veteran of the force was awarded $620,000 by the jury roughly three years after Bonenberger first sent in an application to become the assistant director of the police academy in September, 2010. The civil suit claimed that Bonenberger's superiors told him they had already decided to give the job to an African American female sergeant named Angela Taylor.
See also: ACLU Sues St. Louis County Police Department Over Sunshine Law in Racial Profiling Case
In one instance, Bonenberger described how Lt. Michael Muxo approached him at the scene of an unrelated investigation and, pulling him to a nearby alley, told him that he had instructions from Col. Reggie Harris, who is African American, to "bring color down to the Academy," and that if Bonenberger didn't make a fuss, he could expect to still land a good position in the future.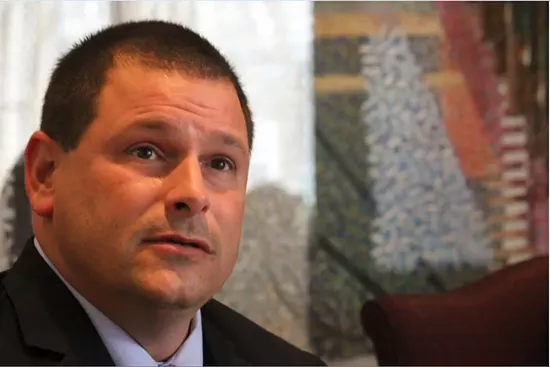 Danny Wicentowski
St. Bonenberger said he fears he or his wife, also a police officer, could suffer retaliation from the SLMPD because of his lawsuit's success.
At the press conference, Bonenberger said that the assistant director position would have been a "dream job," and that he felt forced to act after realizing what had been done to him.
"The St. Louis Police Department has been my life for nearly twenty years, and I've got no plans for leaving," said Bonenberger, who is also the president of the St. Louis Police Officers Association. "It is a fine police department, and I hope the results from this will make it better."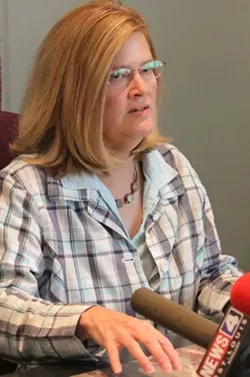 Danny Wicentowski
Bonenberger's lawyer Lynette Petruska, of Pleban & Petruska, called the conduct of the SLMPD "outrageous."
Proving racial discrimination in hiring can be a murky proposition, and cases can devolve into a he-said-she-said dance of trying to use indirect evidence to prove discrimination. However, two e-mails may have made this case different.
One was an e-mail sent by Bonenberger to another party, in which the sergeant described how Muxo had told him not to apply for the position. The second e-mail was sent by Bonenberg to Muxo himself, informing the lieutenant that he had applied even though Bonenberger knew the job was pre-chosen.
Muxo never responded to the second e-mail, a mistake that proved particularly damning in front of the jury, explained Lynette Petruska, Bonenberger's lawyer.
"He never said, 'What are you talking about? We haven't picked anybody yet!'" Petruska said. "There are two e-mails that show that [Lt. Muxo] knew that position was filled and that the fix was in." By adding in conversations between Muxo and another officer, Petruska said they were able show concrete evidence of discrimination to the jury.
"Muxo is an idiot," Petruska added. "He wasn't being shy about this. Most people aren't stupid enough to admit that they're illegally discriminating. We had direct evidence."
The police department released a statement to Daily RFT, saying:
The Board of Police Commissioners will discuss the lawsuit and make recommendations regarding the next course of action. The Department is not at liberty to discuss pending litigation and comment on personnel matters.
Here's a copy of the original suit.
Send feedback and tips to the author at [email protected]