Frederick Johnson, Don King Productions
Ryan Coyne was unable to stop Marcus Oliveira in April.
Back in April, local boxing sensation Ryan Coyne (21-1) lost the first fight of his professional career. Within days he'd been released by his promoter, the legendary Don King. The two events were related, but not the way one might think.
Afterward, Coyne disappeared from sight for a bit and it was unclear if the epic falling out with King would permanently sideline the 31-year-old southpaw.
Now comes word that in September, Coyne will step back in the ring here in his hometown.
"The return is officially on," he wrote Daily RFT.
Coyne and King were both suing one another at the time of the April fight. Coyne wanted King to let him out of their contract, alleging King was derelict in his duties as promoter and failed to get the "Irish Outlaw" a fight for over a year. King countered that Coyne was still under contract and could not accept any fight without his say-so. Coyne was offered a title fight against Nathan Cleverly back in November of 2012; King put the kibosh on that with an injunction and a lawsuit.
See also: Don King's Final Round
The two were preparing to slug it out in court when King suddenly offered Coyne the Oliveira fight. It did not go Coyne's way -- check out photos of the bloody defeat here. Two days later, King dropped his lawsuit and released Coyne from his contract.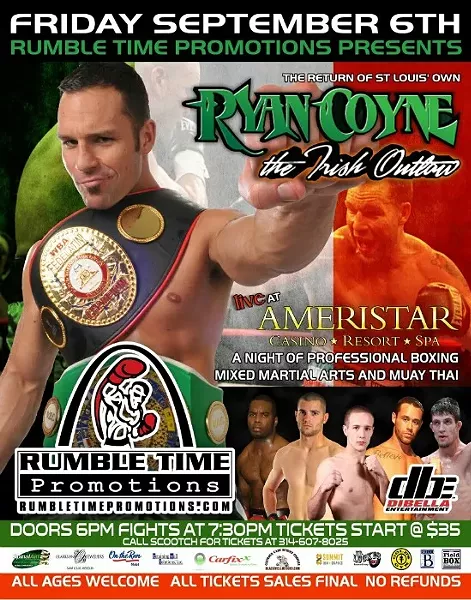 Coyne took some time to recuperate. He just got back in touch this past week to let Daily RFT know he is fighting again: September 6th at the Ameristar Casino. His opponent is still TBA according to BoxRec, but on FightNews.com he is named as 32-year-old Galen Brown.
Here's the message Coyne sent us from Berlin, where he is currently training for the fight:
I'm hitting training full blast to get back to where I was supposed to be. As I'm sending you this e-mail, I've just arrived in Berlin where I will be training with WBO cruiserweight world champion Marco Huck. No better preparation than this. I will train here for two weeks of top notch sparring before returning stateside the Saturday before the fight.
After so much turmoil in Coyne's career over the past year, it's good to see he hasn't thrown in the towel yet.
See also: - Don King Drops Lawsuit Against Ryan Coyne; Releases "Irish Outlaw" - St. Louis Boxer Ryan Coyne Set to Fight April 12 - Video: St. Louis Boxer Ryan Coyne On His Lawsuit With the Legendary Don King
Follow Jessica Lussenhop on Twitter at @Lussenpop. E-mail the author at Jessica.Lussenhop@RiverfrontTimes.com.