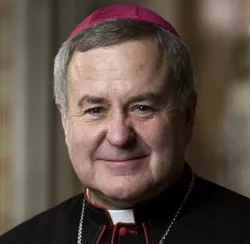 via archstl.org
Archbishop Robert Carlson.
Last month, a Lincoln county family filed a lawsuit against St. Louis Archbishop Robert Carlson alleging that he tried to cover up a sex abuse case involving a local priest and even attempted to tamper with incriminating evidence. The priest in question is Father Xiu Hui "Joseph" Jiang who reportedly has very close ties to Carlson -- and who is accused of repeatedly molesting a teenage girl.
Now, Carlson has filed a formal response to the suit, asking the courts to dismiss it, arguing that neither he nor the Archdiocese of St. Louis is liable.
Victims' rights advocates say this move is not surprising but still troubling. "It's like no matter what the facts are or what the allegations are, his response is stunningly uniform: 'You can't hold me responsible,'" David Clohessy, executive director of the Survivors Network of those Abused by Priests, tells Daily RFT.
See also: St. Louis Archdiocese Cancels Event to Pray for "Exoneration" of Priest Accused of Sex Abuse
SNAP, along with the attorneys representing the accuser, say the case against Jiang and the Archdiocese is unique for several reasons. Notably, the accusations refer to very recent incidents; Jiang, according to the suit, molested the girl several times last year and admitted his actions to the victims' parents in June of 2012. The suit also says notes clear evidence of the abuse -- including text messages from Jiang who allegedly tried to pay off the family.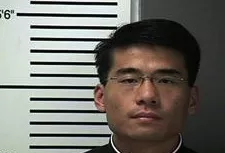 Father Joseph Jiang's mugshot.
Additionally, this may be the first time that Carlson has ever been subpoenaed in a criminal case.
In the case of Jiang, there is both an ongoing criminal case and civil suit. The abuse is said to have occurred inside the home of the victim, whose family was reportedly very close to the priest.
Carlson's response doesn't necessarily address the accusations head-on but argues that legally, he and the Archdiocese of St. Louis cannot be liable on any of the counts. An excerpt:
Under Missouri law, a corporate entity on its own cannot commit battery.... Even if the Court were to construe Count I of Plaintiff's Petition as pleading a claim for vicarious liability, Plaintiffs would still not state a cause of action because sexual assault and battery are not within the course and scope of the employment of priests.
While the lawsuit alleges that the Archdiocese "aided and abetted" Jiang's alleged actions, "Missouri courts have declined to extend liability under the theories attempted by Plaintiffs," says the motion to dismiss.
Citing past cases, the filing also says, "Because the Missouri Supreme Court has determined that a claim of negligence against a religious entity (or its religious leaders) in this situation violates the First Amendment, Plaintiff fails to state a claim against the Archdiocese or Archbishop Carlson for negligence."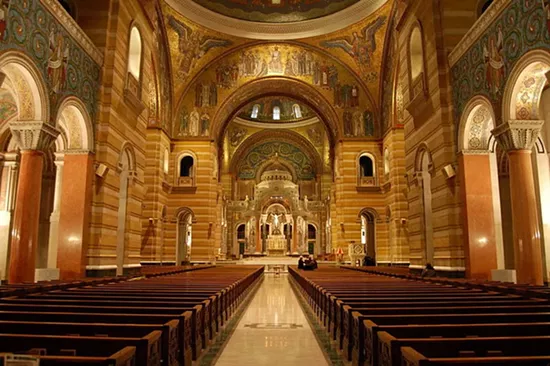 Photo by Andrew Balet
Cathedral Basilica of St. Louis.
Clohessy says it's hypocritical of the Archdiocese not to offer a substantive response to the accusations -- and for Carlson to claim he is not responsible.
"He repeatedly promised to be open and transparent...and yet it's been now more than a month since these fairly shocking charges were made and he's chosen not to give an answer," he says. "A real, straightforward answer."
"You could summarize this motion in one sentence. 'Whether or not I did any of these things doesn't matter. Missouri law says I can't be held responsible. The case against me should be tossed,'" he continues.
Continue for the full motion and information on one significant footnote in the filing.
There is, as Clohessy points out, one fairly significant footnote in which Carlson addresses the accusation that he attempted to tamper with evidence. According to the family, Jiang left $20,000 for the family after admitting to the abuse and then went on to directly confess his actions to Carlson. Carlson, the suit says, then told the family that Jiang would only be removed if he had sex with the girl -- and suggested the parents give the check to him.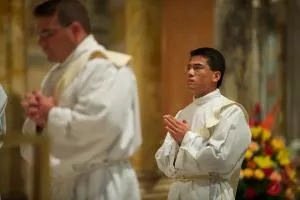 A footnote in the motion to dismiss says:
Archbishop Carlson vehemently denies the baseless allegations set forth by Plaintiffs in Count VI (Attempted Tampering with Evidence): For purposes of the instant motion to dismiss, however, the falsity of Plaintiffs' allegations is immaterial since Plaintiffs cannot state a claim under Missouri law in the first instance.
"Despite the fact that these are very recent and very specific allegations of abuse by Jiang and coverup by Carlson, he still offers the boilerplate, legalistic, hair-splitting defenses that you would expect of any corporate CEO," Clohessy says, "and not of an allegedly spiritual shepherd."
A spokeswoman for the Archdiocese of St. Louis says in an e-mail to Daily RFT, "This matter is in the hands of the Missouri courts and accordingly we have no further comment beyond what's been filed."
We left a message yesterday for Jiang's attorney and will update if we hear back.
Here's the full motion to dismiss.
See also: - Churchgoers Defend St. Louis Priest Accused of Sex Abuse, Pray in Private Group - St. Louis Archdiocese Cancels Event to Pray for "Exoneration" of Accused Priest - Fr. Joseph Jiang: Archbishop Robert Carlson Subpoenaed in Priest Sex Abuse Case
Send feedback and tips to the author. Follow Sam Levin on Twitter at @SamTLevin.