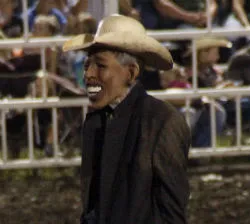 Courtesy of Perry Beam
Rodeo clown with Obama mask.
The Missouri State Fair is over -- but concerns over the infamous rodeo clown performance are not.
The fair ended on Sunday after a full week of nonstop media coverage -- coming from all over the country -- about a clown who put on an Obama mask and performed a skit involving a bull chasing and running down the president. The crowd reportedly loved it, but at least one attendee was very offended and his account of the event, along with his photos and videos, spread virally after the stunt. Part of the outrage, which came from both Democrats and Republicans, stems from the fact that the fair is a taxpayer-funded, government-run event where critics say there should be no political commentary -- and especially no mockery that references any sort of violence.
Some Missouri lawmakers, who have been vocal since the controversy erupted, say they plan to continue investigating how this happened in the first place. That effort will include closely scrutinizing the state budget for the fair.
See also: - Mark Ficken, State Fair Announcer in Obama Rodeo Scandal, Says Reports Are Wrong - Missouri State Fair Rodeo Clown Identified, Permanently Banned From Performing - State Fair Clown Tuffy Gessling Gets Huge Online Following After Obama Mask Stunt
"I and a few other legislators are going to get to the bottom of how the state fair is funded," State Rep. Stacey Newman, a Democrat, tells Daily RFT. "Those of us who have raised concerns are going to stay with it. We want answers. Missourians want answers."
Soon after the August 10 performance got national attention, the state fair officially banned the clown in question, named Tuffy Gessling. He has since become quite an online celebrity with supporters across the country arguing that these kinds of rodeo shows are common and that the clown has been unfairly targeted by the left. Here is, for example, a photo that the now very popular Support Tuffy Gessling, Professional Rodeo Entertainer Facebook page posted yesterday. The image, as you can see, has thousands of shares and likes (on a page that has more than 77,000 followers):
While Gessling's fans are quick to defend him, lawmakers like Newman argue that the single clown's lifetime ban from performing at the fair does not go far enough.
"There has been a lack of oversight," Newman says. "It shows that even commissions need some oversight particularly when they are authorized to spend state dollars."
The Missouri State Fair Commission is an entity that was established by the legislature back in 1995 and includes members appointed by the governor and is affiliated with the state Department of Agriculture. The fair is actually written into state statute. The governor and state fair officials have said that they are reviewing its contract with the Missouri Rodeo Cowboy Association, which was behind the performance in question (though there have been disputes about who made the controversial comments and who might have sanctioned the clown stunt).
via Facebook
Tuffy Gessling.
Some estimates show the state fair this year received more than $400,000 from taxpayers.
The Missouri legislature is not currently in session, but Newman says at least a handful of lawmakers like herself don't want to wait until January to fully scrutinize the funding and the oversight of the fair.
"We've got to start with some of our preliminary questioning," she says. "The point is, this is a state-funded event."
That means looking at how the commission is organized, "who is responsible for what, who do they report to, and how exactly have the state funds been used," she says.
Newman says she will be specifically interested in examining how the money is spent on entertainment for the fair, such as this rodeo clown performance.
The state fair is important to Missouri and increased scrutiny does not mean it needs to be defunded, she adds. "Agriculture is a pretty big industry here in the state."
The controversy, she says, "has opened up a lot of peoples' eyes.... We are staying on top of this."
In case you missed it last week, here are two videos we uploaded with footage from the attendee of the fair outraged by the performance.
Send feedback and tips to the author. Follow Sam Levin on Twitter at @SamTLevin.