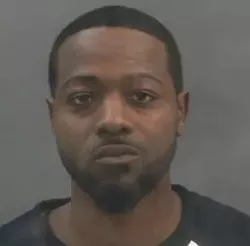 Update below: There were at least six shootings and four stabbings over the weekend in the city of St. Louis -- leaving more than a dozen people injured across the city.
The most violent incident happened early Sunday morning at around 1:30 a.m. at a BP gas station on Olive Street in Midtown. Police say that officers who were working at the nearby Loft Night Club heard gunshots and responded to the scene where a 22-year-old male was suffering from a gunshot wound to the calf. The investigation revealed that a group of men were sitting on the car of a 27-year-old male suspect -- and "refused to move." This prompted an argument and then physical altercation that left four people with gunshot wounds.
Police say that a 24-year-old male was hit in the abdomen, a 34-year-old male was hit in the thigh and a twenty-year-old male was hit in the foot. The suspect had grabbed his gun from his vehicle, cops say.
As police interviewed witnesses, the suspect -- identified today as 27-year-old Darryl Sain -- apparently returned to the scene and was arrested.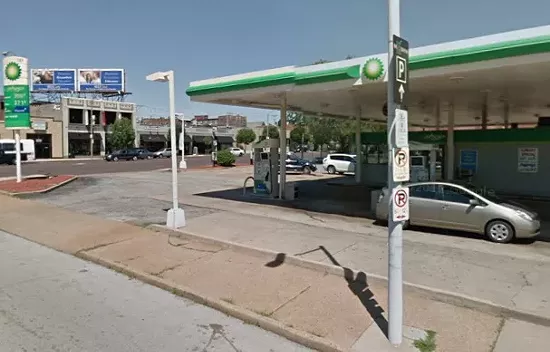 via Google Maps
Olive Street gas station.
All the victims are in stable condition, according to police. It's unclear if the victims knew the shooter.
This shooting took place on the 3100 block of Olive Street near Saint Louis University.
Sain, who lives on the 2000 block of Victory, has been charged with unlawful use of a weapon. A judge has issued a $30,000 cash-only bond.
Meanwhile, there were also four separate stabbing incidents over the weekend and all victims in these cases are expected to survive.
In one case, a 41-year-old male was approached by three men on Chouteau Avenue and South 14th Street late Saturday evening. Police say the suspects knocked him to the ground, robbed him and cut him in the wrist.
In total, there were at least fifteen injuries across the city in the string of shootings and stabbings.
Update, 11:34 a.m.: Daily RFT has obtained a copy of the probable cause statement from the St. Louis Circuit Attorney's Office against Sain. He is facing one count of unlawful use of a weapon, a felony charge.
Of note, the statement says that when police arrested him, he was in possession of the fully concealed 9mm handgun that was loaded and "readily capable of lethal use."
Sain, the statement says, does not have a carry conceal permit:
Darryl Sain Probable Cause Statement
Here are the full reports police released on Sunday, which includes a summary of the gas station shooting.
Send feedback and tips to the author. Follow Sam Levin on Twitter at @SamTLevin.