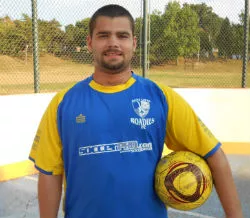 Courtesy of Keith Deisner
David Whitener.
Today in St. Louis soccer news, we have for you a different kind of story than our ode to superstar Cristiano Ronaldo. David Whitener, 22, may be slightly less famous, but he is representing St. Louis -- and the United States -- in an international sporting event this week.
Whitener is currently in Poznan, Poland, competing in the 2013 Homeless World Cup, which, as the name suggests, features some nontraditional players.
"He didn't grow up playing soccer...but he's got some natural ability," says Keith Deisner, development director with Peter & Paul Community Services, a local organization that works with the homeless and formed the St. Louis Roadies street soccer team. "He's put in a lot of time on his own and has really improved in the last year."
See also: - Robert Boettcher, Homeless Man Once Accused of Murder, Wins U. City Photo Award - Camp Plum: St. Louis Shuts Down Homeless Riverfront Encampment, Relocates 24 - Will St. Louis Be the First City to End Chronic Homelessness? Officials Unveil Plan
The idea for the Homeless World Cup can be traced back to a homelessness conference in 2001 and now involves a network of 70 partners and street soccer teams across the globe.
"It has to do with the basics of providing a community and a sense of belonging. Guys really respond to that," says Deisner. "For us, it's a question of just getting out and getting some good exercise, encouraging guys to be healthy and to commit and to come back and to be a part of it."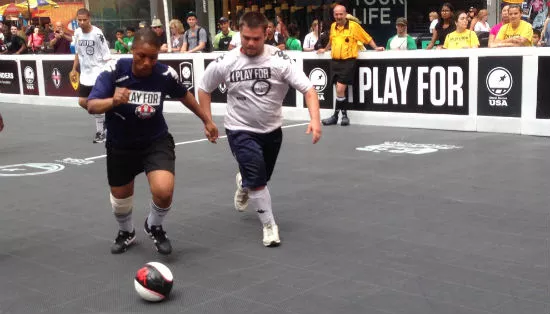 Courtesy of Keith Deisner
David Whitener, right, in a match against a San Francisco team in New York City.
The St. Louis Roadies "street soccer" team is part of Peter & Paul Community Services' Sport for Social Change program. The teams are made up of men and women who are currently or formerly homeless and they practice every Friday evening in Soulard Park or at Most Holy Trinity Parish in north St. Louis. The organization says coaches and mentors work on life skills through the team and help connect Roadie players to permanent housing, jobs, mental health counseling, financial planning, education and more.
About two-thirds of the individuals who have gone through the program have left homelessness behind for good, Deisner says.
"Soccer is used as a window to get [participants] connected to the services they need," he says.
Whitener was born in Russia and adopted by U.S. parents in 1997 when he was six years old, ending up in Missouri. He went to St. Paul's Lutheran School and then Parkway South High in Ballwin, but struggled as a teenager, he writes in a written account from earlier this year that Deisner provided to us.
He became homeless in August of 2009, but a year later got his GED and enrolled in college. Whitener, however, had trouble affording higher education.
Courtesy of Keith Deisner
David Whitener, right.
"I wasn't involved in any sports and didn't know what to do in my life. I felt stuck and didn't know how to get out," he writes.
He was then connected to Deisner, he writes, "and he told me about soccer. I thought why not."
He explains:
Soccer really has helped me in so many ways. I got incarcerated for credit fraud and Keith and the two team captains...visited me in jail. Unfortunately I didn't get to see them. But I had the whole team caring for me when I thought all hope was lost. I then got out and the team helped me get out of my addictions of money and helped me find better ways to earn money rather than steal. I enjoy being on this team because we all care, support, and encourage each other to do the right thing and also to help each other find help for whatever we maybe struggling with.
"He's really turned his life around," Deisner tells us. "I think he would tell you that he attributes a lot of that to his involvement with the club."
"He never misses practice," he adds.
Courtesy of Keith Deisner
The support his team gave when he was behind bars "apparently had a powerful impact on him," Deisner says.
He tells us that Whitener was living in a St. Louis homeless camp for about a year, but now has his own place and is currently looking for work.
"I'm very proud of him," he says.
Earlier this summer, the St. Louis Roadies went to New York City for a tournament and now Whitener is Poland -- incidentally not all that far from where he was born in Russia -- competing in the world cup. He is the first player from St. Louis Roadies selected for the "first team" (the group had an individual on the "standby team" in a past tournament).
Deisner says Whitener was so pumped last week that he called him eager and ready to head to the airport at 4 a.m. on Wednesday -- one day before he was scheduled to fly out.
"He's just jumping out of his skin with excitement," he says.
Send feedback and tips to the author. Follow Sam Levin on Twitter at @SamTLevin.