via Facebook
Tuffy Gessling.
Tuffy Gessling, the rodeo clown who put on an Obama mask at the Missouri State Fair and delivered a performance that has sparked a national outcry, has developed a large following of online defenders from all over the country. As of last night, Gessling has added about 500 new Facebook friends on his personal page, a number that is steadily growing as his story continues to go viral.
"Keep your head up. God's got this!" says one new fan. "Hey man I stand behind you 100% brother keep doin what you do. If I was putting on a rodeo or bullriding I'd hire you in a bit for my gigs," says another.
"God bless you Tuffy Gessling you never disappoint. I support you 100%," says a third. "Awesome at what u do. I'll stand up for ya. Screw the government," says a fourth.
More testimonials below...including from a large "Support Tuffy" Facebook page.
See also: - Mark Ficken, State Fair Announcer in Obama Rodeo Scandal, Says Reports Are Wrong - Missouri State Fair Rodeo Clown Identified, Permanently Banned From Performing - State Fair Controversy: Mark Ficken Resigns As Rodeo Cowboy Association President
The surge of online supporters follows reports that he put on an Obama mask and participated in a skit in which he was repeatedly chased by a bull.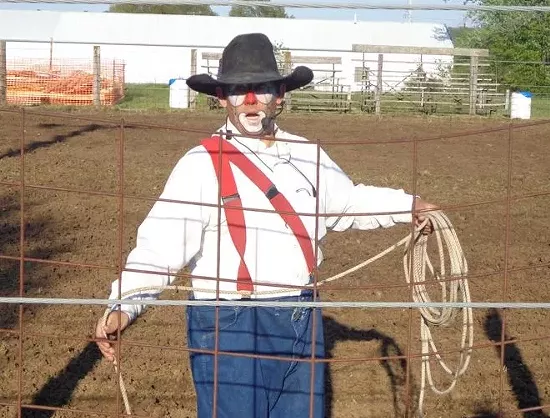 via Facebook
Tuffy Gessling.
There have been some disputes about who actually made comments about the bull running down the president, but video shows the crowd enjoyed the spectacle. Here's two short clips provided by attendee Perry Beam whose account sparked the whole controversy:
Gessling has admitted he is the clown on his Facebook page with at least two apologies, the second of which includes a thanks to his new supporters:
Notable elected officials -- including Lieutenant Governor Pete Kinder, a Republican, and U.S. Senator Claire McCaskill, a Democrat -- have slammed the rodeo stunt as an offensive and disrespectful act targeting the president. Others, including the House Minority Caucus and Congressman Lacy Clay, have labeled the event as overtly racist.
Representatives of the State Fair, a taxpayer-funded event, have officially banned Gessling from ever performing at the event again though some lawmakers say that more people need to be held accountable, including the Missouri Rodeo Cowboys Associations, which puts on the show.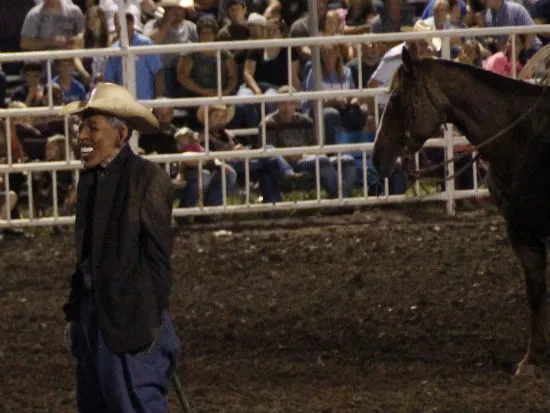 Gessling's online defenders say the stunt was neither racist nor distasteful and argue that he should not have to apologize. Here's one Facebook page that briefly popped up in his support yesterday, though appears to be down now: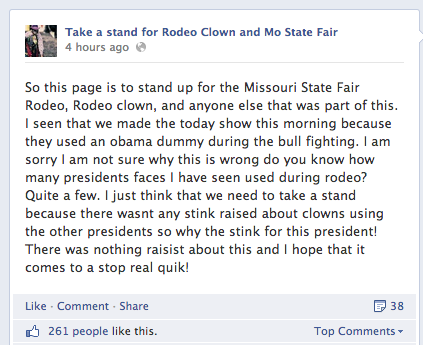 Later, however, a "Support Tuffy Gessling, Professional Rodeo Entertainer" page emerged, garnering more than 6,500 likes in around six hours. An administrator on the page says it was not created by Gessling, but was formed "with his permission." Some samples: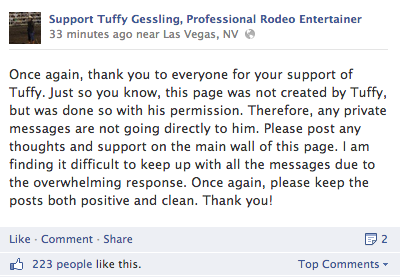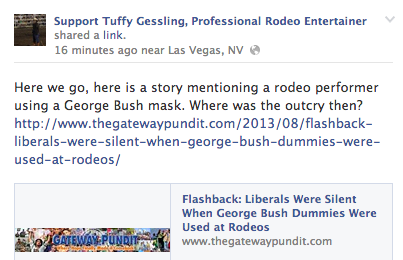 We've reached out to Gessling for comment and will update if we get a chance to speak with him directly.
Here are some more commenters from his own personal page: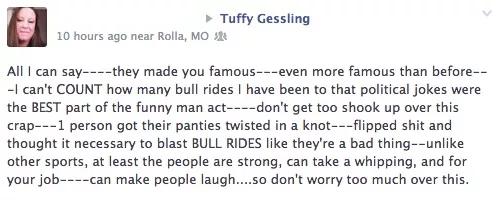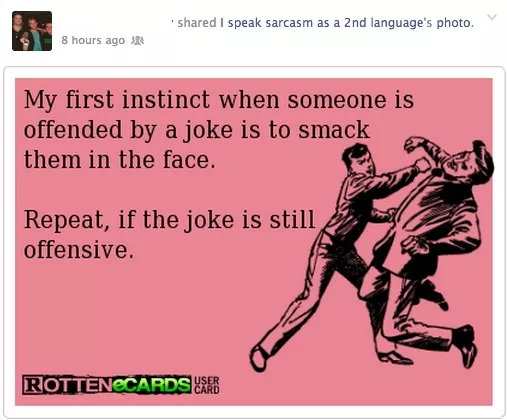 Continue for more from the clown's online supporters and additional statements.


And some Twitter support:
Here's a statement the St. Charles GOP posted on Facebook:
Tasteless, yes.

Racist??

Give me a break! I love how liberals find racism around every corner. The mere fact that it gets dark at night is racist to some.

People have been lampooning public officials for years. I recall when my son was in martial arts, they had a Halloween party for the kids -- one of the older kids at the time, probably 13 or so, donned a George W. Bush mask and walked around dragging her knuckles and picking her "nose" as she paraded around proudly -- obviously a household thought process that came from her labor union member father.

I thought it was tasteless, too.

But where is Show Me Progress and Daily Kos ANY time Bill Maher takes to the airwaves? Or Chris Matthews?

These people are doing nothing to trying to draw attention to themselves.

Some of the comments on the Show Me Progress site are actually coming from public officials, one democrat state representative says, "I am both angered and disgusted by the blatant racism that was displayed at the Missouri State Fair. It is appalling that the Fair organizers would allow such a distasteful display. This is an embarrassment to the People of Missouri. I will not support future funding for an event that will condone racists acts and is so blatantly disrespectful to the President. Clearly racism is alive and well in State of Missouri. I never imagine that I would see this type of display in my state in 2013."

Another person posts, "I felt like I was at a Klan rally..."

Seriously, people?

How short your memories are ...
And from some of the outraged elected officials via our earlier coverage:
From State Rep. Caleb Rowden, another Republican:
From Tishaura Jones, St. Louis treasurer and former Democratic state rep:
From State Rep. Jeremy LaFaver, a Democrat:
U.S. Senator Claire McCaskill fired off this statement in response to the hoopla last night:
If what's being reported is true, then it's shameful and it's unacceptable. The State Fair is funded by taxpayer dollars, and is supposed to be a place where we can all bring our families and celebrate the state that we love. But the young Missourians who witnessed this stunt learned exactly the wrong lesson about political discourse--that somehow it's ever acceptable to, in a public event, disrespect, taunt, and joke about harming the President of our great nation. Missouri is better than this, and I expect someone to be held accountable.
Lacy Clay:
I am amazed that in 2013, such hatred, intolerance and disrespect towards the President of the United States could take place at the Missouri State Fair.

Our fair is supposed to showcase the best of Missouri, instead, it showed an ugly face of intolerance and ignorance to the world.
Send feedback and tips to the author. Follow Sam Levin on Twitter at @SamTLevin.