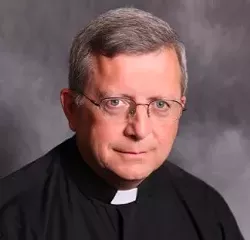 via Diocese of Jefferson City
Reverend Patrick Dowling.
A car crash rescue mission in Missouri got international attention last week following reports from firefighters and witnesses on the scene of a mystery priest who appeared, offered a prayer -- then vanished. Shortly thereafter, the woman who was trapped in her car, nineteen-year-old Katie Lentz, was successfully rescued. Some said the prayers must have come from an angel.
The spiritual guidance, it turns out, came from a real priest -- Reverend Patrick Dowling of the Jefferson City Diocese, who was returning from mass in Ewing nearby where he was filling in for a sick priest.
"That man is a saint," Raymond Reed, chief of the New London Fire Department, tells Daily RFT. "He is our angel. He always will be."
See also: - Missouri Miracle? Mystery Priest Appears, Disappears At Highway Crash
As we chronicled last week, firefighters with the New London department, which is an all volunteer force, responded Sunday morning to a crash on Highway 19 near Center where Lentz, a Quincy teenager, was trapped.
The Missouri Highway Patrol says that another driver Aaron Smith, 26, of Hannibal, was driving drunk, crossed the center line and hit Lentz head-on. He was taken to the hospital and Lentz remained trapped in her vehicle for more than an hour.
Facebook photo
Katie Lentz.
At one point, she apparently asked that rescue workers pray with her as they struggled to free her from the wreck.
"The reply to her, naturally, was of course we will," Reed recalls to us. "And she said, 'No, we have to pray out loud.' Then from right directly behind us, a voice said, 'I will.' And it was him."
The priest offered a prayer and soon, officials with the Hannibal Fire Department showed up and were able to complete the rescue. When the firefighters went to thank the priest, they say he was nowhere in sight.
Yesterday, the Diocese of Jefferson City announced that it was Dowling who had offered the prayer, and posted his first-person account of the incident. Dowling, the diocese says, is a native of Kilkenny, Ireland, who was ordained in Jefferson City in 1982. He has served at parishes in Moberly, Monroe City, Indian Creek, Milan Unionville and Eldon. He is currently serving in prison ministry and in parish ministry to Spanish-speaking Catholics. He writes of the incident:
I had Mass in Ewing MO as the regular priest was sick. As I was returning, I arrived at the scene. The authorities were redirecting traffic. I waited till it was possible to drive up closer. I parked behind a large vehicle about 150 yards from the scene. I asked the Sheriff's permission and approached the scene of the accident. I absolved and anointed Katie, and, at her request, prayed that her leg would not hurt. Then I stepped aside to where some rescue personnel and the pilot were waiting, and prayed the rosary silently. I left when the helicopter was about to take off, and before I got to my car it was on its way to Quincy.

I was amazed at the calmness of the two Highway patrol men. The sergeant was completely in control, amazingly calm. Everybody worked as harmoniously as a Swiss watch despite the critical nature of the scene. I gave my name to one of the authorities, perhaps to the sergeant of Highway Patrol, explaining that I was returning having celebrated Mass at Ewing. It was the sergeant who, at the Sheriff's request, gave me Katie's name as I was leaving, so I could visit her in hospital--I assumed she would be taken to Columbia. I think there may have been angels there too and, in this context, I congratulate the fire team from New London and Hannibal, the Sheriff/deputies of Ralls County, the Highway Patrol personnel, the helicopter team, the nurses and all who worked so professionally. God has blessed your work. I hope the credit goes where it is due.
Reed says he looks forward to getting the opportunity to meet the reverend in person again.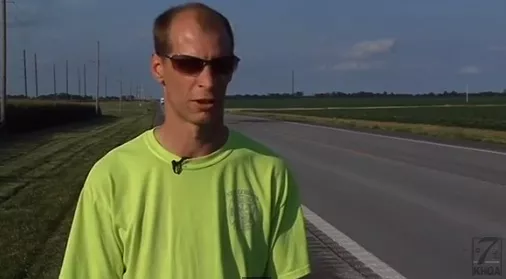 via YouTube / KHQA
Raymond Reed after the rescue mission.
"All I want to do is hug him," says Reed, who recently got a chance to visit Lentz in the hospital, where she is undergoing multiple serious surgeries.
"For her to be able to hold onto her faith even at a time like that was completely amazing for all of us to begin with," he continues, "and then for a priest to be able to come, I still believe that God's hand was in this entire thing. I'll never, ever believe anything different. That young lady requested for someone to pray with her out loud and there he was."
"It was a moment I'll never forget," he adds.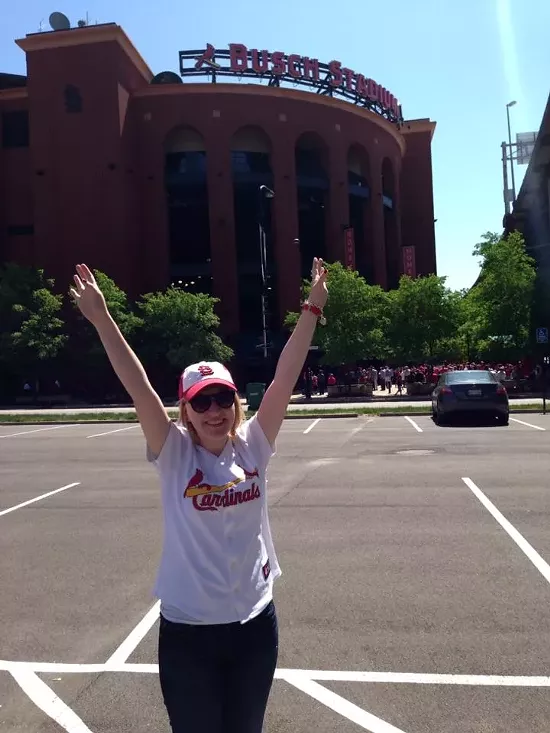 Facebook photo
Katie Lentz.
He says of the priest, "God just happened to put him on that path at that time to fulfill a request."
The incident has inspired the local firefighters and others who have followed the story, he adds.
"None of us have really been the same since," he says. "It reaffirms a lot of people's faith. It will continue to do so even after knowing this pastor is a real live breathing human being. I think it makes it that more special. He is going to get to tell his story.... We just want to let him know what you do is not for granted. You're appreciated. You're loved and you're respected."
Send feedback and tips to the author. Follow Sam Levin on Twitter at @SamTLevin.