Last week, the St. Louis Cardinals announced a "significant construction milestone" in the development of Ballpark Village, the highly anticipated project directly north of Busch Stadium: A giant parking lot featuring 400, $20-spots is now open to fans. The news, as we noted, has sparked renewed criticisms from some St. Louisans who argue that a development benefiting from tax subsidies should include more than just parking spaces and bars.
Since publishing our post last week, Daily RFT got a chance to speak with both Alderman Scott Ogilvie, one of the most vocal critics of the current plan, and Ron Watermon, spokesman for the Cardinals, who argues that fans are excited about this stage of the project and that the site will be a big boost for downtown.
"Taxpayers have earned a better project than they have delivered," Ogilvie tells us. "The city of St. Louis has been a great home for the Cardinals...and this is a place downtown where we could use a great project.... It's just maddening to see what I would call the total failure of this project. It is completely unacceptable that the citizens of St. Louis have been asked to subsidize two themed bars [and a parking lot]."
See also: - Cardinals Finally Break Ground on Ballpark Village, Release New Renderings - Ballpark Village Returns! Bet You Didn't See That One Coming - Ballpark Village: Cardinals Finish Building ... Giant Parking Lot! (PHOTOS)
The lot unveiled last week is one part of the first phase of Ballpark Village, which has suffered from delays and setbacks for years. The team, partnering with Cordish Companies, says the seven-block, ten-acre site will eventually be a mixed-use project with retail, entertainment, office and residential components.
The $100 million initial phase includes an Anheuser-Busch-sponsored venue, a three-story building with the Cardinals Hall of Fame Museum and a restaurant.
Officials with the Cardinals say this is the next step in building upon the team's investment in downtown St. Louis, which began with the opening of the new $411 million Busch Stadium in 2006.
Ballpark Village benefits from tax-increment financing (TIF), which, simply put, means that a portion of generated tax revenue gets put back in the project. (Part of that comes via the Missouri Downtown Economic Stimulus Act, or MODESA, designed specifically to support downtown initiatives).
Ogilvie argues that, with taxpayer subsidies, Ballpark Village should include concrete, immediate plans for mixed-use development.
via Twitter
Scott Ogilvie.
"It is literally the exact opposite of the kind of development that creates better urban environments," he says. "We can't accept this stuff.... This isn't a neutral outcome. This is damaging to the way people living, working and visiting downtown experience downtown."
He explains of the TIF structure, "Every time they sell a beer at these bars, they are keeping most of that tax revenue to pay for the construction."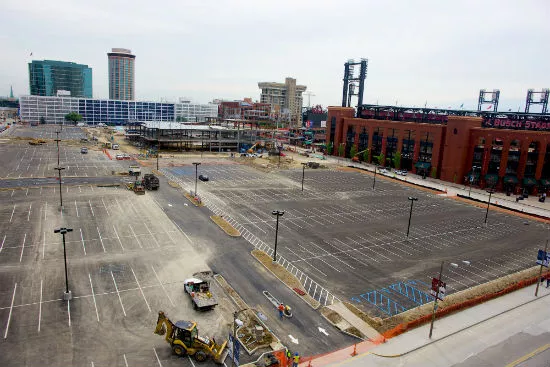 All photos courtesy of Cardinals
He notes that large developments sometimes require these sorts of funding mechanisms, but says, "You have to be smart about what you're subsidizing. It doesn't create value for downtown to subsidize bars."
Oglivie, who voted against TIF for this project at the board of alderman, adds, "There are bars downtown. It's not like we're desperate for places to drink in St. Louis so we have to subsidize it and create more.... What improves downtown, what makes downtown great is more housing options and quality jobs. The housing component has been completely stripped out."
"They are wringing the least value out of this property," he continues. "What irks me now that this parking lot is finished is the city has really lost any leverage it has over the Cardinals. All we can do now is beg and that's not a position we should be in with a subsidized project.... We should be able to guarantee some level of positive development.... The core of the region is too important."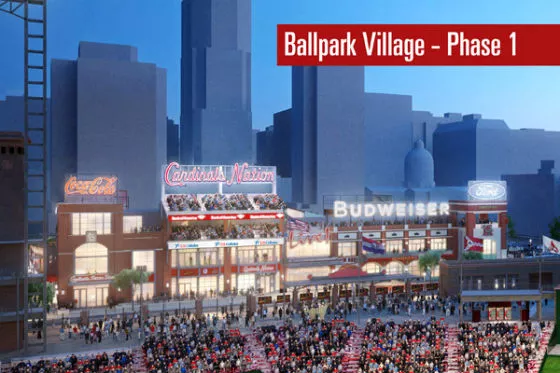 Watermon, of course, has a very different take on how Ballpark Village, in the near and distant future, will impact downtown.
"The long-term vision for the project is substantial," he says.
Continue for our interview with Ron Watermon and for more photos.
Regarding TIF, Watermon notes that if the additional tax revenue generated by the project is not sufficient, the Cardinals are the ones "left holding the bag."
Of last week's announcement, he says, "We're pleased that we're able to open the parking lot earlier and offer fans an alternative in terms of parking. It's always good to have additional parking downtown."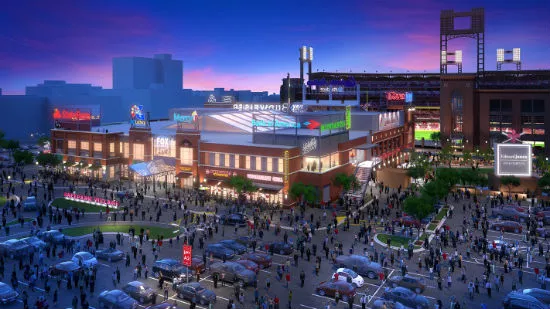 "We're grateful for the city's assistance and the state's assistance in helping us make it a reality," Watermon says, speaking more broadly of Ballpark Village. "It's something we've been working very hard to make a reality."
The surface parking lot visible now will eventually be replaced by office and residential development helping to build a "really vibrant neighborhood," Watermon says, that will enhance not only downtown, but the region. It will "be a major selling point to our community," he says.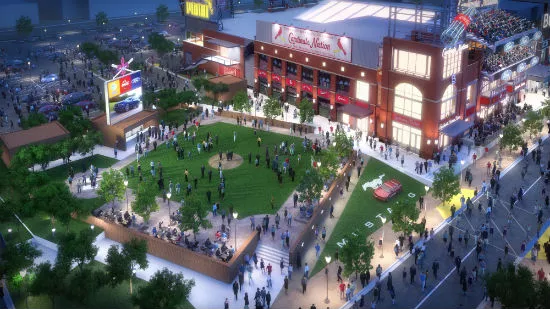 Once phase one is completed -- slated for an Opening Day 2014 finish date -- the Cardinals are "cautiously optimistic" that the future phases of Ballpark Village can begin. He notes, "It's really going to be market driven."
"From a baseball industry or sports industry perspective it's going to be a one-of-a-kind development," he says, adding of Busch Stadium, "The ballpark was built the way it was built to make Ballpark Village a reality. The design will all make sense when this first phase opens."
Feedback from fans has been positive, he says. "A lot of them have really wanted us to make it a reality.... There's a lot of built up anticipation and everyone's excited.... I think everybody's happy about the additional parking."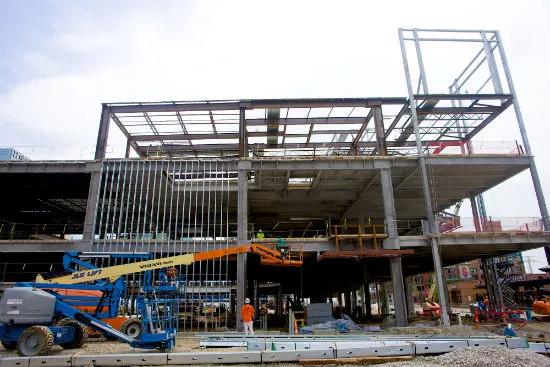 Once its complete, Ballpark Village "is really going to be a special place," Watermon continues. "I personally believe you are going to see fans traveling from all over the country all year round.... I'm so excited everyday when I walk out of here and see the progress."
Continue for more photos.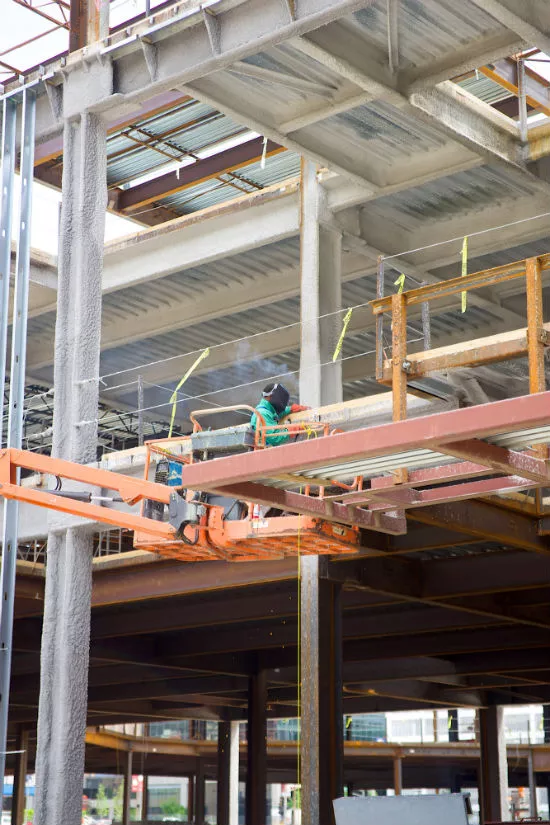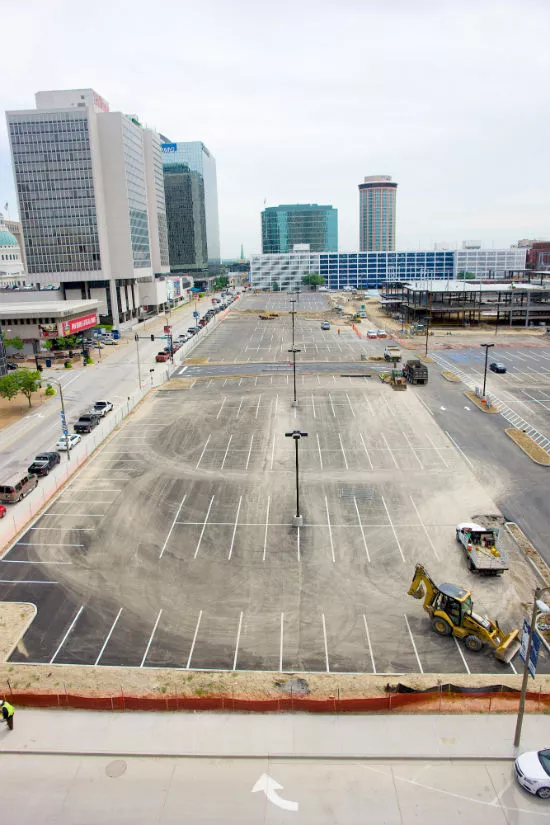 Continue for more photos.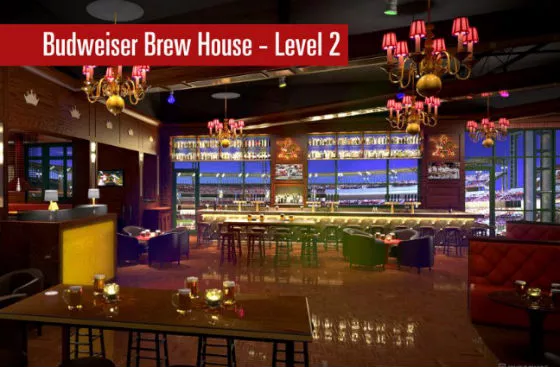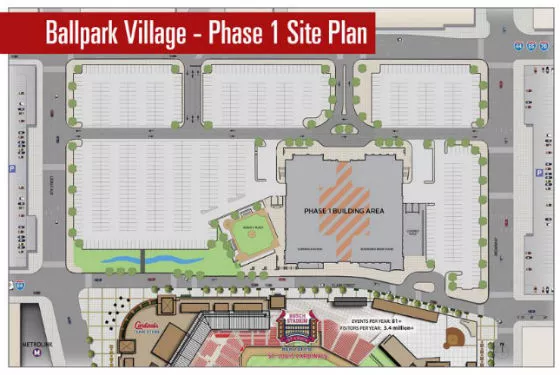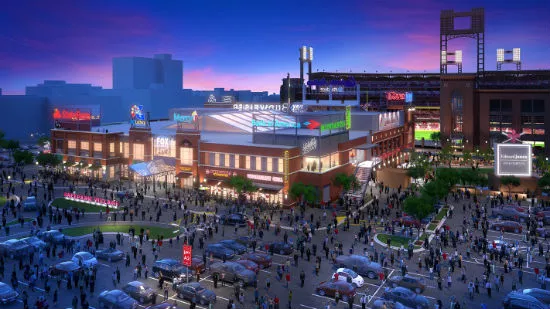 Send feedback and tips to the author. Follow Sam Levin on Twitter at @SamTLevin.