Danny Wicentowski
Anchorman 2's David Koechner put on two shows in his hometown of Tipton, MO (pop. 3,262) over the weekend. The shows benefited the TIpton Chamber of Commerce.
Tipton, Missouri knows all about David Koechner. Granted, the 50-year-old comedian is hardly flying under the radar: He's reprising his career role as the cowboy-hat-wearing sportscaster Champ Kind in December's Anchorman 2: The Legend Continues, and, yes, he also played Michael Scott's "friend" Todd Packer in NBC's The Office -- but even so: The conservative, mostly-Catholic town 160 miles west of St. Louis (pop. 3,262) knew him first, long before any of that.
Koechner grew up in Tipton. So did his parents, five siblings and numerous relatives. He performed two shows there over the weekend to benefit Tipton's chamber of commerce.
For over 50 years, Tipton has bought (and still buys) turkey coops from the Koechner family's manufacturing business, and the neighborhood kids still play on the jungle gym in front of the Koechner place; Pick a random Tipton resident and chances are they have a "Dave story" -- for example, how at six-years-old he and brother Mark tied a gullible babysitter to a chair leg during a game of cowboys and Indians. She never babysat for them again.
Decades later, the same babysitter, Nana Dueber, was there to see Koechner's Friday night show on a stage in the same Catholic grade-school he attended in the '70s. Koechner estimates later that he knew, personally or through relatives, about 90 percent of the 300-strong audience, which included high school classmates, old friends, all his siblings and his mother. It was a crowd unmatched by any in Koechner's career.
A projection of David Koechner's most famous role, Champ Kind, watched as the crowd began to fill the gym grade-school gym.
"It's a different relationship and it's a different expectation," Koechner reflects. Though referring to the two shows over the weekend, he could just as easily have been describing what it's like living in a place where everyone's business naturally becomes everyone's business.
In Tipton, a misunderstanding or assumption can quickly accelerate into rumor. "This isn't about me," Koechner says. "It's the nature of any small community." He tells me how five years ago he had been invited to ride in Tipton's 150th anniversary parade. All he did was request an extra ticket for his brother-in-law but some news flew around town that the extra ticket was for none other than Will Ferrell, resulting in obvious disappointment when they got the brother-in-law, Patrick.
Danny Wicentowski
David Koechner leads the crowd in a quite, well, expressive song called "Two Dollars and Handjob"
On the other hand, those relationships and expectations allowed Koechner to perform an hour-long act he could never be reproduced with any other crowd. In a town with only around 2,200* residents -- where, as David's brother Mark Koechner puts it, "It's kind hard not to know everyone" -- the distinction between an "inside joke" and just a "joke joke" gets kind of lost.
How else can you explain how a five-minute tangent about a certain vagrant roofer, a Mr. Four-Way George, who had spent one summer in Tipton decades in the past, killed that audience. Do you know about Four-Way George? A lot of people in Tipton seem to know about the guy, as mention of his name raised serious whoo-ing and laughter around the room Friday night. Apparently, good old Four-Way spent most of the time in a broken-down car at an intersection -- that kind of four-way, you pervs -- and served as the inspiration for Koechner's character T-Bones, of the "The Naked Trucker and T-Bones" live act and (sadly) short-lived Comedy Central series.
[*For the astute reader who is wondering: "Hey you said there were 3,200 people in Tipton, what gives? Answer: The other 1,000 locked up in a nearby prison. Or, as Koechner put it to me; "A third of the town is locked up!"]
Continue for more from my time with David Koechner.
After the three-hour drive from St. Louis on Friday morning, I met with the fedora'd comedian after he and his crew pulled in to the parking in front of a local bank, where minutes before a school bus had released 40 or so giddy middle-school and high-school students into the building. They would be Koechner's first audience of the day.
Danny Wicentowski
David Koechner's first event in Tipton was to speak a group of around 40 students in middle-school and grade-school.
Koechner had flown in on Thursday from a movie set in New York City. From L.A. came along his brother-in-law Pat, opening act Matt Dwyer, a personal assistant, musician Andy Paley and two guys who film and produce his YouTube videos that were along to shoot their own documentary on the return to Tipton. The result was less a stereotypical Hollywood entourage and more of a circus. The clown car, in this case, was a giant white van with Koechner at the wheel.
After Koechner and his crew went upstairs to one of the bank's conference rooms, the Tipton High-School activities director who organized the event informed them that many of the waiting students were active in their school's drama program and were excited to get advice from real life, bona fide actor. Adopting the smirk of the slack-jawed, drawling T-Bones, Koechner promised he would not say "cunt" in front of the students. (It's a promise he kept.)
Koechner knows how to fill a room with energy. He spoke for an hour, stomped around, danced goofy dances and flipped a desk in mock rage.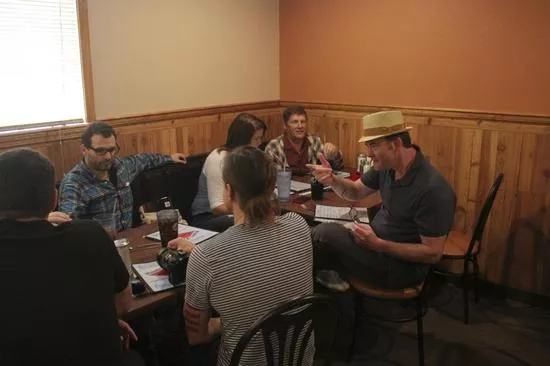 Danny Wicentowski
David Koechner and co together at lunch during a rare moment when the SNL and Second City veteran wasn't up and about signing autographs and catching up with locals he knew.
After post-inspiration autographs and pictures with the star-struck students, we all piled into the giant white van and Koechner drove us to a cafe for lunch. He spent most of the time meeting more worshiping kids and Tipton residents who he either knew by name or by relation. He turned no one away.
"Part of me feels obligated because I'm from here," Koechner says after sitting back down from a third or fourth autograph. "There's a certain trust, an agreement" between himself and the town that raised him, he says. "They need to stay in touch...make sure I haven't changed."
But outside of Tipton, Koechner's career is definitely changing and growing as hype is building for December. Nothing is as big for David Koechner's career as Anchorman 2.
Continue for David Koechner's thoughts on how Anchorman 2 is "going to be huge."
Danny Wicentowski
David Koechner pauses in thought while planning out his act for later Friday night. Behind him is the musician and composer Andy Paley
2004's Anchorman: The Legend of Ron Burgendy was Koechner's big break, no doubt about it. He's got high hopes for the sequel, The Legend Continues.
"Anchorman 2 is going to be huge. I've never seen such anticipation for a project," he says. The same weekend as his Tipton performances, Entertainment Weekly ran the Anchorman 2 front-four splashed across its cover (bedecked in the finest '70s finery).
"The movie seems like an old friend that people are so happy to get to visit," he continues. "There's an ownership, a personal connection they have."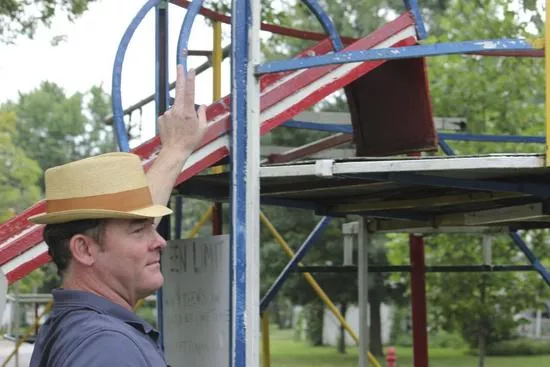 Danny Wicentowski
David Kechnor rests his arm against the jungle gym in the front yard of his childhood home in Tipton, MO. David's father built this jungle gym from scrap metal and the floor of an old tree fort.
Though the first anchorman brought him a number of minor film roles, and while he's landed more substantial television gigs, nothing has lasted too long. Judged against the other members of San Diego's KVWM Channel 4 news team, it seems like Koechner is could use another breakthrough.
That being said, Koechner's talents as a character actor are gaining recognition in the ultra-dark comedy Cheap Thrills, which took home the Midnighter Audience Award at the 2013 SXSW Film Festival. In the movie, Koechner's character tempts two desperate men with increasingly large wagers on increasingly horrific tasks, "[D]ominating his every scene as a kind of demented ringmaster," wrote Variety, praising his performance.
---
Danny Wicentowski
David Koechner and his brother Mark (as well as Joe Homokay in back) ponder the ad-hoc lighting system for the night's show.
Mark Koechner didn't leave Tipton like his younger brother David. He took over the family business, Koechner Manufacturing, in 1994 after their father, Cecil, retired. Cecil Koechner passed away in 2011.
"So many times you hear stories of ones that make it big and they don't know where they came from. But Dave is not that way," Mark says, fifteen minutes before the Friday night show that he, perhaps more than anyone except David, made possible. His eyes begin to tear up. "Tipton's very proud to have him," he continues, "I'm very proud of him."
Mark collects himself. He leans in closer to me. Great, I thought to myself. Another "Dave" story?
"David," he says, "got our family to say 'I love you,' and hug."
How did David do that? I ask, and Mark starts chuckling.
"How?" Mark repeats, laughing, "He just said 'I love you' and hugged us!"
Semd feedback and tips to the author at danny.wicentowski@riverfronttimes.com