If you'd prefer not to learn about an incredibly upsetting crime story this morning, we recommend you read no further.
The St. Peters Police Department announced charges this morning against Robert Daniel, 48, who allegedly raped his ex-wife over a span of three hours, strangled her and threatened to kill himself in the process.
The St. Charles County Prosecuting Attorney's Office has issued warrants for first-degree assault, forcible rape, assault on a law enforcement officer and stealing of a credit card, police say.
See also: - St. Peters Cops: Naked Man, 50, Caught Hiding in Grass, Peering Into Apartments - Cheryl Dudley, St. Peters Mom, Left Loaded Gun in Toddler's Crib, Tied Girl to Garage
Daniel is a St. Peters resident who, police say, is unemployed and was recently homeless.
According to the department's report, on Wednesday morning, police received a call from the victim stating that she was just sexually assaulted by her ex-husband in her home. Officers arrived and at this point Daniel had already fled, police say. Because he was recently homeless, the woman told police, she had allowed him to stay in the basement of her house for a few days.
The victim said she was woken up by Daniel at 3 a.m. with him "physically restraining her, threatening to rape her and then kill himself."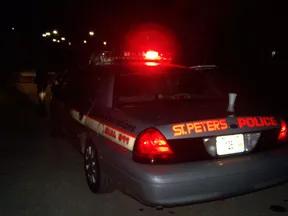 He then "raped the victim several times over a three hours time span," police say.
Officials say she attempted to fight him off, but he became angrier with her and started strangling her. Once he fled, she was able to call police.
The woman went to the hospital with non-life threatening injuries.
Police assigned numerous detectives to the case to locate the suspect. Approximately eight hours after the attack, police received information that he was in O'Fallon in a parking lot off of Highway K and Mexico Road. They found him there inside his vehicle and ordered him to step out.
He refused and instead fled the area at a high speed.
Detectives and a police helicopter pursued him into a nearby neighborhood.
Police say he unknowingly drove his car onto a dead-end street, turned around and drove head-on into an unmarked detective vehicle.
He was then finally taken into custody.
A detective suffered minor injuries in the collision and is back on duty. The suspect was taken to the hospital as well, but police say he did not have injuries.
Daniel has an extensive criminal history, including sexual assault, delivery and possession of a controlled substance, passing bad checks, unlawful use of a weapon and domestic assault.
He is also a registered sex offender.
Send feedback and tips to the author. Follow Sam Levin on Twitter at @SamTLevin.