There are reports of more record-breaking floods today in Missouri, one day after flooding in Pulaski county left a four-year-old boy dead and prompted Governor Jay Nixon to declare a state of emergency.
Today, the U.S. National Weather Service is reporting record floods on the Gasconade River near Jerome. The unprecedented crest is 33.4 feet forecast at Rich Fountain overnight Thursday. The previous record was just below that at 33.3 feet back on December 6, 1982. The agency is updating the latest river information -- with hydrographs and forecasts -- at this link.
Meanwhile, Nixon this morning deployed 50 military policemen of the Missouri National Guard to assist local agencies working to protect those threatened by flash floods in areas of southern Missouri.
Here's one before and after photo the U.S. National Weather Service posted on Facebook:
And Rolla's Fire and Rescue Department posted this photo, showing the intense flooding on a Highway D bridge:
The Missouri Department of Transportation has released this information on road closures:
Floodwaters from the Gasconade River have closed all lanes of Interstate 44 from mile marker 172 to mile marker 186 near Jerome in Phelps County. Motorists and commercial motor carriers traveling eastbound on I-44 are asked to exit at mile marker 69 and take Route 360 to Route 60 at Springfield to Route 63 at Cabool to get back on to I-44 at Rolla. Travelers westbound on I-44 should take Route 63 at Rolla to Route 60 at Cabool to Route 360 to get back on to I-44 west of Springfield.
And:
Floodwaters from the Gasconade River have caused a closure of all lanes on Route 63 south of Vienna in Maries County. Motorists and commercial motor carriers traveling on southbound Route 63 should use Route 50 to Route 28 at Rosebud then return to Route 63 near Vichy. Travelers northbound on Route 63 are asked to exit onto Route 28 through Owensville and then take Route 50 near Rosebud to get back on Route 63.
Some safety tips from the governor's office:
- Do not walk through moving water. Six inches of moving water can make you fall. If you have to walk in water, walk where the water is not moving. Use a stick to check the firmness of the ground in front of you.

- Do not drive into flooded areas. If floodwaters rise around your car, abandon the car and move to higher ground if you can do so safely. You and the vehicle can be quickly swept away. Six inches of water will reach the bottom of most passenger cars, causing loss of control and possible stalling.

- A foot of water will float many vehicles. Two feet of rushing water can carry away most vehicles, including sport utility vehicles and pick-ups. Even if the water appears shallow enough to cross, don't try it. Water hides dips in the road. Worse yet, there may be no road at all under the water. Flooding can scour away the entire road surface and a significant amount of ground beneath.
And more photos from Rolla Fire and Rescue:
East and West bound I-44 closed at Jerome.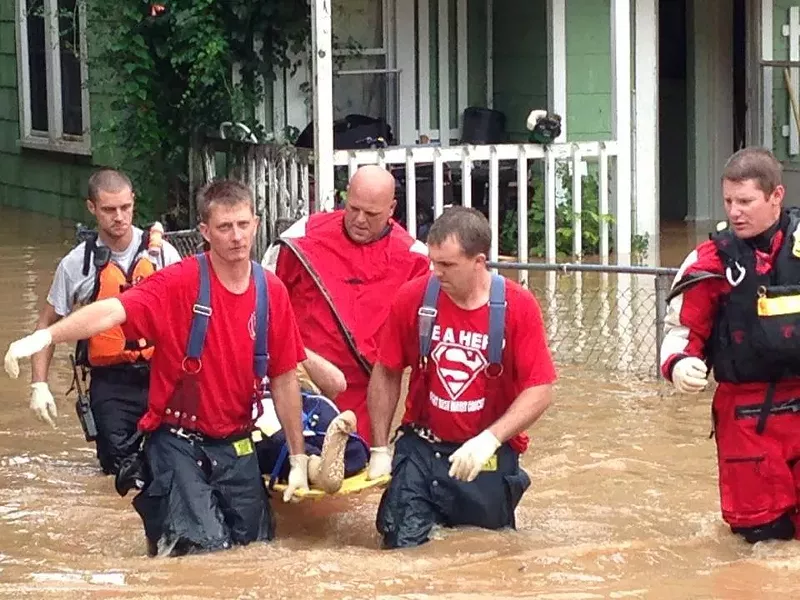 Waynesville MO...Firefighters (shown) from Waynesville, Bourbon, and various other fire departments are conducting water rescues in the Wayneville community.
Send feedback and tips to the author. Follow Sam Levin on Twitter at @SamTLevin.