International Institute/Wayne Crosslin
Mon Rai.
Just after midnight on June 10, Mon Rai, a 29-year-old Bhutanese refugee who moved his family to St. Louis last year, was shot and killed while at work at a south-city 7-Eleven.
He left behind an eight-year-old son and wife, who gave birth to their second child just one week after his death.
It's been nearly two months since that homicide, and police still have not apprehended a suspect. And officials at 7-Eleven are now hoping to help push the investigation forward -- by offering a sizable reward for information leading to an arrest.
See also: - Mon Rai's Heartbreaking Essay About St. Louis: "Heart Was Full Of Hopes" - Mon Rai: Refugee Killed In 7-Eleven, Leaves Behind Son, Pregnant Wife - Mon Rai: Police Release Images Of Suspect, Witness In 7-Eleven Shooting (PHOTOS)
The Dallas, Texas-based chain is offering $5,000 total to "the person or persons who furnish information resulting in the apprehension, arrest and indictment of the person or persons associated with the death of 7-Eleven sales associate Mon Rai," the company announced this morning.
The store is located at 5604 Gravois Avenue and police released these blurry surveillance photos of the suspect after the shooting: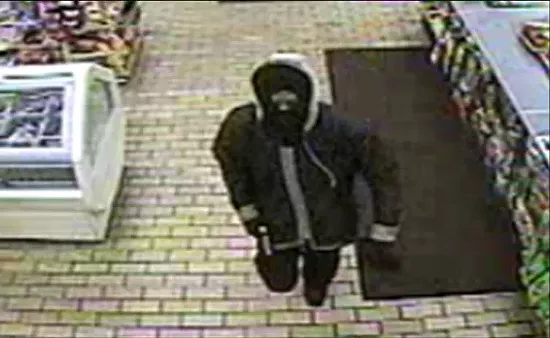 7-Eleven explains in statement:
To qualify for the reward, persons with information should contact the St. Louis Police Department Homicide Section's main line at 314-444-5371. They may also submit a written claim for the reward no later than 30 days after indictment to the Asset Protection Dept. at 7-Eleven, Inc., 1722 Routh St., Suite 1000, Dallas TX 75201. The person or persons providing the requested information to the referenced authorities must have had knowledge of this offer at the time the information was provided in order to qualify for the reward.

Any dispute arising from the reward offer, including allocation between claimants of the reward, will be settled by the American Arbitration Association in accordance with its rules and procedures, and its decision shall be final and binding on all parties.
From our earlier coverage, here's the police department's official description of the suspect:
[He is] a male of an unknown race but appears to have a light complexion. He is between 5' 6" and 5' 9" tall. He has a medium to stocky build. He is wearing a black jacket (with grey accents), black pants, black tennis shoes, black gloves and a black ski mask. He was armed with a silver, semi-automatic handgun. The details of the clothing are very important, as we believe the jacket is somewhat unique.
Police were also looking for a witness described as a black male with a medium brown complexion, between 5' 9" and 5' 11" tall. Police say he has a thin build and facial hair, especially on his chin. His hair is worn in a medium-length Afro on top with close cut sides. Surveillance photos of this individual:
Send feedback and tips to the author. Follow Sam Levin on Twitter at @SamTLevin.