The teenager who shot and killed Sumner High School senior and football captain Rahmel McNeil was handed a life sentence this morning.
Terron Pool, who is now eighteen, was certified to stand trial as an adult back in 2010, and after arguing in court that he deserved a second chance, a St. Louis city jury convicted him of second-degree murder and armed criminal action.
"What caused you a problem is that you shot a man in cold blood right in front of witnesses," St. Louis Circuit Court Judge Rex Burlison said today, according to the Circuit Attorney's Office.
See also: - Terron Pool: Teen Certified as Adult in Murder of Sumner Student Rahmel McNeil - Rahmel McNeil: Homicide No. 91; Teen Shot Dead in Vandeventer Neighborhood
Pool, given a chance to address the court, "argued that his lawyer had not fought hard enough during the trial," the statement notes.
via Facebook
Rahmel McNeil.
On September 24, McNeil got into a fight with an individual named Rodnell Cotton, prosecutors say in their announcement of the sentencing today. Pool was a spectator in the crowd and pulled out a gun, authorities say.
As McNeil backed away, Cotton urged Pool to shoot; he pulled the trigger and shot McNeil several times, hitting him twice in the chest and once in the abdomen, prosecutors say.
He was taken to the hospital and later died form gunshot wounds.
Everyone who watched the fight fled -- except for a friend and teammate of McNeil, prosecutors say. He called police and helped them identify Pool as the shooter.
via KSDK
McNeil's teammates at his funeral.
"McNeil's friend was also the only one brave enough to testify during the murder trial against Pool," the circuit attorney's office says.
It was an apparently emotional trial for friends and family of the victim:
During the penalty phase of the trial, the Sumner High School football coach and McNeil's academic mentor testified that McNeil was an impressive athlete, student and citizen. McNeil's twin sister also testified. Rahmel was the only one she felt really understood her and he was often her protector. She also described the impact her brother's death had on the family. Her father died shortly after Rahmel's death and her mother has been devastated by the loss of her son.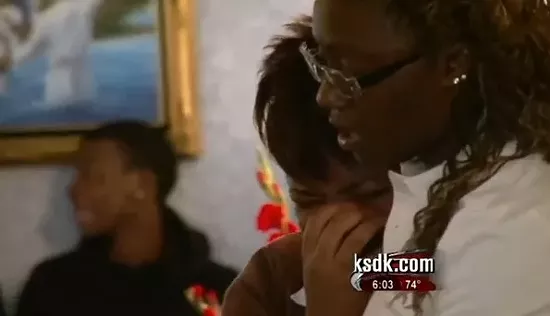 Prosecutors argued that Pool did not show remorse for his crime and that his young age was not a reason to merit a light sentence.
Today, the judge imposed a life sentence for second-degree murder and 30 years for armed criminal action, which was what prosecutors had recommended. The sentences will run concurrently, but under Missouri law, life with possibility of parole is calculated as a 30-year sentence. He will have to serve 85 percent of that before he is eligible for parole.
He will be on parole for the rest of his life.
Send feedback and tips to the author. Follow Sam Levin on Twitter at @SamTLevin.