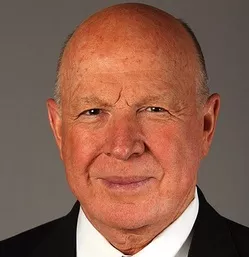 via Twitter
Larry Conners.
Fired KMOV-TV (Channel 4) anchor Larry Conners will have to wait at least another month before he can accept a new job offer in St. Louis broadcasting.
A St. Louis circuit court judge this week denied the veteran newsman's request to block a non-compete clause in his contract with his former bosses that says he cannot work in the local media market for one year. His request was for a temporary restraining order, but Conners says he and his attorneys will get a chance to make their case at a hearing in September.
"The bottom line is on-air is where I want to be," Conners tells Daily RFT this morning. "That's what I do."
See also: - Larry Conners Says KMOV Paid Him Less Than Vickie Newton Due to Race, Gender - Larry Conners Talks KMOV-TV Firing, Defends IRS Facebook Post - Larry Conners Says He Has Job Offer in St. Louis, But KMOV-TV Is Blocking Him
The judge's order means that Conners, who was famously terminated in May after writing a controversial Facebook post questioning whether he was an IRS target, can't yet start a new gig in broadcast. And according to Conners, folks in St. Louis broadcasting are very seriously interested.
As his legal battle with KMOV and parent company Belo Corporation moves forward, Conners tells us that he's in talks with multiple companies -- and not just media organizations.
via kmov.com
Larry Conners makes his on-air statement about his IRS Facebook post.
"I've got several discussions in play," says Conners, who speaks to us while on the way to a meeting this morning regarding a potential new job. "I'm looking for the right fit."
Conners, who has been in the news business locally for nearly four decades, got a lot of attention for writing the online post pondering whether the IRS went after him in response to an interview he did with President Obama. Later that day he read an on-air apology (which Conners says he was forced to deliver and could not edit), and eventually he was terminated.
The station's stance is that he violated the journalistic standards of the news organization, and that was the sole reason for the termination. Conners, however, argues that the station had been looking for a reason to get rid of him for quite some time -- in large part because of a past discrimination complaint, in which he alleged that he was unfairly paid less than his co-anchor due to his age. Conners also has repeatedly argued that he did not take a stance on a political issue with the IRS commentary, but simply posed a question.
Now, he is looking for new work and in the meantime is publishing a diverse range of commentary on his new Facebook page, which has developed a pretty large following.
Of the judge's decision to deny his temporary restraining order request, Conners tells us, "It's all part of the process."
via Facebook
Larry Conners.
He says the judge could have thrown out the case altogether, but instead there will be a hearing (scheduled for September 3) in which he will be able to fully make his case that he was wrongfully terminated.
"It's a matter of 30 days," he says, adding of the judge, "She wants to see the evidence. That's good."
Conners says he is optimistic that the judge will side with him in the matter of the non-compete clause, arguing that there is precedent to do so.
"I don't have proprietary information," he says. "I don't have ownership in the company."
"I do have full confidence," he continues, adding, "Thirty days doesn't make much of a difference one way or another."
Mark Pimentel, KMOV's president and general manager, tells Daily RFT, "We're continuing to fight the battle in court," and declines to comment further.
Send feedback and tips to the author. Follow Sam Levin on Twitter at @SamTLevin.