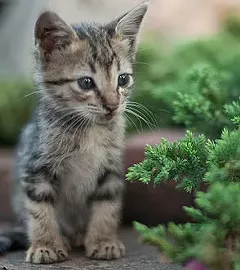 A tiny kitten like this one was found dead in St. Louis.
A tiny black-and-white kitten, only eight weeks old, was found dead in north St. Louis yesterday, and animal rescuers say it's very clear someone used a rock to kill the animal.
"Every indicator shows that this was an intentional killing," Anne Vincent, an animal-cruelty investigator with the Humane Society of Missouri, tells Daily RFT. "The piece of rock was just within inches of the kitten."
"It's very disturbing. Just brutal," she adds.
The Humane Society says that its animal-cruelty task force received a call just before noon for a deceased kitten in the front yard of a residence near the intersection of Newby Street and Riverview Boulevard.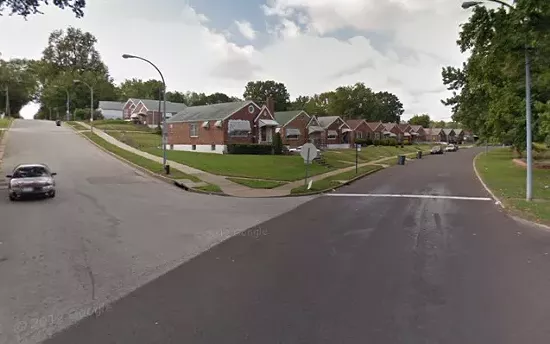 via Google Maps
The street where the kitten was found.
See also: - Guilty: Chesterfield Man Broke Into Ex-Girlfriend's Home, Tortured Dog Vinny - Missouri Rancher Discovers Three Mutilated Cows; Group Investigates Alien Theory - Adrienne Martin, Arrested for Torching Dog to Death, Brags Online: "I'm On Killa Mode"
A woman had been feeding the stray kitten in recent weeks and had left for a short errand. When she returned, she made the gruesome discovery.
"You could see...the pool of blood," Vincent says.
Injuries were consistent with blunt trauma to the head, the organization says.
By the time Vincent arrived, the woman who made the call had covered the kitten with a T-shirt, she says.
"She was obviously very emotional," she says. "She couldn't bear to look."
The male cat, she adds, "had kind of become attached to her. She had an emotional bond with him."
The kitten probably weighed around two pounds, Vincent says, noting that he might have come from a litter of abandoned kittens in the neighborhood.
"Unfortunately, we deal with hundreds of cruelty cases a year. We do see cruelty in all forms," she says. "But any time you see something like this, it's still heartbreaking, and you want answers and that's what we're hoping to get from the community."
The Humane Society is asking anyone with information to call its cruelty hotline at 314-647-4400.
The task force partners with the St. Louis Metropolitan Police Department and city prosecutors and if a suspect is located, he or she could potentially face misdemeanor or felony animal abuse charges.
"To take the life of an innocent kitten in this way is cruel, unconscionable and unacceptable," Mike Perkins, director of the society's animal cruelty task force, says in a statement. "We know that people who would do this to a defenseless kitten are also likely to be violent toward people. This person needs to be stopped and brought to justice."
Send feedback and tips to the author. Follow Sam Levin on Twitter at @SamTLevin.