Rufus Edward Jones, a 48-year-old inmate in Illinois has filed a massive, 113-page handwritten lawsuit against a whole bunch of local cities, counties, law enforcement agencies and a college, alleging that he was wrongfully arrested last year in a sexual harassment case.
He is seeking nearly $2 billion.
File this one away in the you-can't-make-this-stuff-up folder!
We've compiled some notable excerpts from the handwritten complaint below.
Jones pleaded guilty to a felony aggravated battery charge after prosecutors say he inappropriately touching a classmate at Southwestern Illinois College, one of the many, many entities named in the lawsuit.
The others include the college's police department, St. Clair County State's Attorney Brendan Kelly, St. Clair County Sheriff's Department, the city of Sparta, Randolph county, the city of Belleville and more agencies, municipalities and individuals.
He is seeking at least $1.8 billion total, calculates the Post-Dispatch, which notices that he had initially demanded $1.8 trillion before filing this lil' correction:
Would you please blank out 3 zero's behind each number in compensatory and punitive! It's a total misprint error on my part.
The suit says:
The defendants further violated the Plaintiff's 1st, 4th, 5th, and 14th Amendment of the United States Constitution when they conspired with each other, aided to volunteer, failed to grant equal educational opportunity with regard to race, creed, color, gender, national origin/ancestry, etc. to deprive plaintiff of his civil rights. Thereby causing symptomatic stress, mental anguish, lost of weight, lack of sleep, and suffering irreparable harm. The defendants racially profiled petitioner.
Here are some excerpts from the suit, full document below.
The lengthy list of defendants on page one: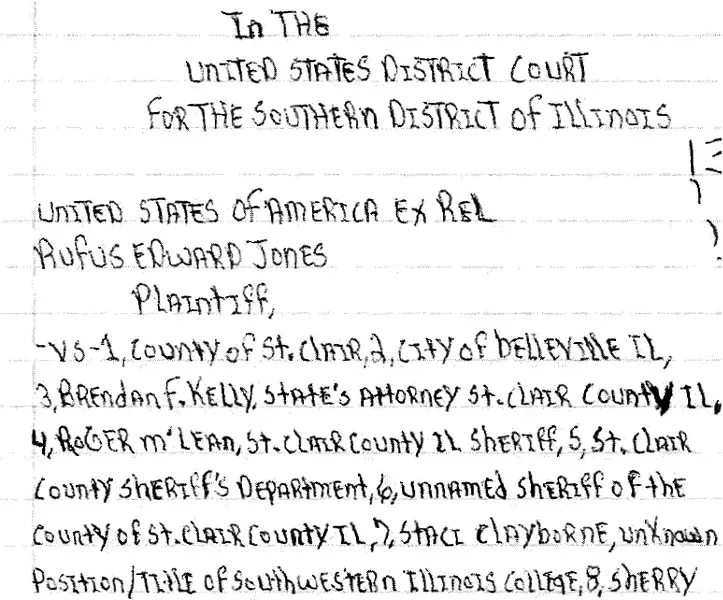 Outline of his psychological harm:



Excerpt of his account of his arrest and his wife's reaction: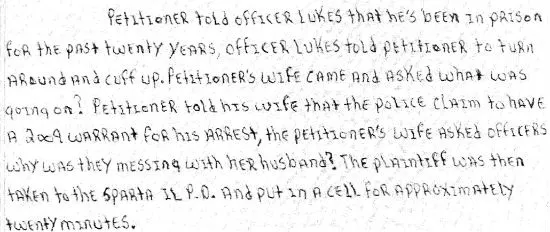 Excerpt of his argument that the allegations made against him were false:



Some of the damages he is seeking: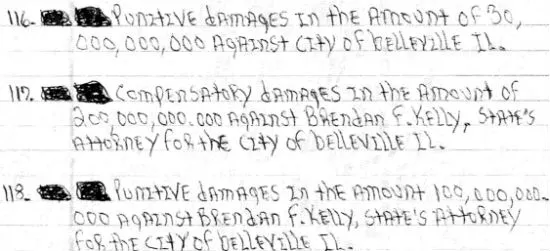 And on and on and on.
Here's a copy of the suit (minus the 60 plus pages of exhibits).
Send feedback and tips to the author. Follow Sam Levin on Twitter at @SamTLevin.