Police say that Kathryn Vigil, a 30-year-old Foley woman, punched her boyfriend's three-year-old son yesterday and then ran over the man with her car.
And the woman's two children were inside the vehicle when she drove it into him, the Lincoln County Sheriff's Office says.
"During their investigation, deputies determined the Foley residence was unlivable, and the children were residing in deplorable conditions," the sheriff's office says in a release.
The woman was taken into custody yesterday and is now facing a charge of felony domestic assault in the first degree. She's currently behind bars at the Lincoln County Jail on a $50,000 cash-only bond.
See also: - Lincoln Co. Cops: Sister, 23, Punches, Bites Brother, Mom Throws Shoes At Officer - Lincoln County Woman Allegedly Put On Ski Mask, Threatened Kids With Chainsaw
Lincoln county cops were dispatched to the 100 block of Country Hill Estates in Foley yesterday and while they were in route, "emergency communications stated...Vigil ran over her boyfriend with her vehicle," police say.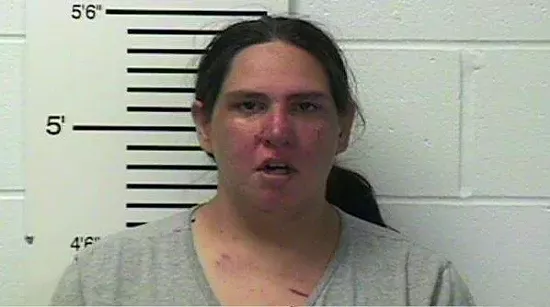 The man told deputies that a physical altercation broke out when he saw his girlfriend punching his three-year-old son living in the home "with both hands." The report continues:
During the course of their argument, Vigil began throwing the household items at him causing the victim to leave the house for a neighbor's residence.

After several minutes, the victim returned home to remove his biological son.
The woman then put her own two children into her vehicle, cops say, and "attempted to drive to the neighbor's residence." The boyfriend told cops that he stood in front of the car to stop her, but that she "used the vehicle to nudge him several times and eventually struck him hard enough to cause him to fall."
The man was able to get away and remove the keys from the car, cops say.
After an investigation, deputies took the children into protective custody. The Division of Social Services has placed the three in foster care.
The boyfriend, police say, refused medical attention and did not appear to be suffering from any major injuries.
Send feedback and tips to the author. Follow Sam Levin on Twitter at @SamTLevin.