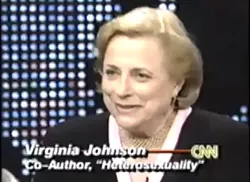 YouTube screengrab
Virginia Johnson appears on Larry King.
Virginia Johnson, half of the world-famous sex research duo Masters and Johnson, died Wednesday at the age of 88. According to the Post-Dispatch, she was at the Altenheim assisted living center in south St. Louis at the time.
Johnson likely did not anticipate becoming one of the most famous sex experts of all time when she answered an ad for an assistant for a Washington University gynecologist named William Masters in 1957. She went on to become his collaborator, a research assistant and -- for a time -- his wife as well.
Together, the pair debunked many sexual myths by observing sex in a laboratory setting.
See also: - Lives of Legendary Wash. U. Sex Researchers to Become TV Series - Masters of Sex: Showtime Orders First Season of Masters and Johnson Drama - Masters of Sex, Series Based on Masters and Johnson, Releases First Trailer (VIDEO)
Johnson was born on a farm in Springfield. According to the New York Times, she was an accomplished singer and pianist, and worked as a reporter for The St. Louis Daily Record. By the time she came to work for Masters she had already been through two divorces and had two children, and was studying social anthropology at Wash. U.
Johnson's work with Masters was unconventional from the start, to say the least. Not only did the two begin observing subjects having sex and masturbating in their lab, Masters also told Johnson that as part of her work she would have to have sex with him, according to biographer Thomas Maier.
In his book, Masters of Sex, Maier makes the case that although Johnson did not have a college degree and Masters was always lead author in their many books, she was a driving force and an equal in the research. Among their most famous accomplishments, Masters and Johnson proved there is no difference between a "vaginal" versus "clitoral" orgasm, that the size of a man's penis does not correlate to his virility or performance, and that women were capable of multiple orgasms. Among their most famous works are the books Human Sexual Response, Human Sexual Inadequacy, and Heterosexuality.
Their work was, naturally, not without controversy. One of the lasting criticisms is of their commentary that homosexuals could become straight. This was interpreted as an espousal of so-called "ex-gay therapy," though in his book, Maier argues that these were Masters's beliefs and that Johnson had argued against their inclusion in their book.
Masters and Johnson divorced in 1993, ending their research collaboration as well. Johnson opened and ran the Virginia Johnson Masters Learning Center in Creve Coeur for many years, which provided information about sexual dysfunction.
Maier's biography of the couple came out in 2010 and was picked up for a Showtime series of the same name, premiering in Fall 2013. Daily RFT reached out to Maier and received this response:
This morning I found out Virginia Johnson passed away in St. Louis. She was a good friend and of course the muse for my book. I'm very sorry to hear this news so close to the show's premiere, which will underline her extraordinary life and accomplishments with William Masters. I know she'd be thrilled by Lizzy Caplan's portrayal of her, created by Michelle Ashford, which so captures the essence of Gini's spirit and great intelligence. Virginia was one of the great American female lives of the 20th Century. I'll miss her greatly.
Funeral arrangements have yet to be announced.
Follow Jessica Lussenhop on Twitter at @Lussenpop. E-mail the author at Jessica.Lussenhop@RiverfrontTimes.com.