Update below: Last month, Senator Claire McCaskill, who has been outspoken about the problem of sexual assault in the military, faced accusations that she is leading a "war on men" from a conservative Wall Street Journal columnist. And this week, she's responding to the Weekly Standard's Bill Kristol, who calls sex assaults in the military a "pseudo-crisis" in an editorial.
McCaskill fired off a statement yesterday -- on view below -- slamming Kristol's comments, but that's not the only commentary on this topic she is addressing.
On A7 of yesterday's Post-Dispatch, a half-page advertisement goes after McCaskill for her work on this very issue. The critic behind the ad, however, is a military rape survivor.
See also: - Claire McCaskill Responds to WSJ's James Taranto: "There Is No War on Men" - Claire McCaskill Accused of "War on Men" by Wall Street Journal Columnist - Claire McCaskill: "The Violence Against Women Act is Way More Popular Than I Am"
The ad is sponsored by Washington, D.C., advocacy group Protect Our Defenders, a victims' advocacy organization, and features a letter from Terri Odom, a St. Louis resident who says she was "violently raped and left for dead by a superior" when she was serving in the military 26 years ago.
In the letter, Odom says she was threatened with arrest and discharged from the military when she insisted on reporting the crime.
"I still grieve over the loss of a career serving my country, simply because I tried to report a violent crime," she writes.
Here's the headline on the ad and the photo that comes along with it (full scan on the next page):
Odom also says she is a "great admirer and a loyal supporter" of McCaskill.
The letter is demanding that the senator support the creation of a "professional, independent, impartial military justice system."
A spokesman for McCaskill tells Daily RFT that the office doesn't have additional comment specifically on this advertisement beyond what the senator said in an interview yesterday with the Post-Dispatch (in today's A1 story). She told the paper she was "stunned" by the ad portraying her as a roadblock to efforts to curb sexual assaults in the military and said she remains convinced that the reforms she helped to engineer would be more effective than an alternative plan seeking to remove these prosecutions from the chains of command in the service branches.
"I would never be advocating for this if I didn't believe with every fiber of my being that this would be more protective of victims and result in more and better prosecutions," McCaskill, a former prosecutor, told the paper.
The senator and her allies on the Senate Armed Services Committee, the paper explains, champion provisions that would remove commanders' powers to dismiss court martial convictions for rape and sexual assault. The proposal in a pending defense bill would also make retaliation against a victim a crime under the Uniform Code of Military Justice.
Sen. Kirsten Gillibrand, a Democrat from New York, however, supports a system of independent military prosecutors, as the P-D advertisement champions. The paper writes in its story today:
"I am completely convinced there will be fewer prosecutions and more retaliations if we go the route she (Gillibrand) is advocating," McCaskill said. "It's been frustrating because every argument they've made, when we meet it factually they kind of shift to another one."

McCaskill added that everybody has a right to his or her own opinion, including Terri Odom, the victim who is speaking out against the home-state senator she calls her hero.

"If she would have called, I would have loved to visit with her about it because I think if I would have talked to her, she'd get it," McCaskill said.
Continue for the full P-D ad, a statement from Protect Our Defenders and McCaskill's response to Kristol.
Here is the full press release in response to Kristol's comments dismissing the sexual assault issue.
McCaskill Responds to Kristol's Comment that Military Sexual Assault Represents a 'Pseudo-Crisis'



WASHINGTON - U.S. Senator Claire McCaskill, a former prosecutor of sex crimes and senior member of the Senate Armed Services Committee, released the following statement in response to Fox News' and The Weekly Standard's Bill Kristol, who recently characterized ongoing attempts to reform military sexual assault as "pseudo-crisis of military sexual assault":



"Thousands of reported sexual assaults, and many thousands more sex-related crimes that go unreported--combined with a decades-long inability to seriously address the epidemic--constitutes a crisis. It's a crisis for our military, their morale, and ultimately our national security. For someone who's constantly pushing for additional U.S. involvement in conflicts around the world, you'd think Mr. Kristol would share our goal of ensuring justice for those who are doing the fighting. Instead, his comments illustrate that while there's growing support for our historic reforms, all of us fighting for significant change must continue our effort."



McCaskill, a former courtroom prosecutor, has relentlessly fought to combat sexual assaults in the military. Last month, a Senate panel voted to approve a number of historic reforms addressing sexual assault, including bipartisan, bicameral provisions by McCaskill that will significantly boost accountability for perpetrators and protections for survivors.



Read more about McCaskill's fight to stem sexual assaults in the military at www.McCaskill.senate.gov/MilitaryJustice.
And here are scans of the full P-D ad.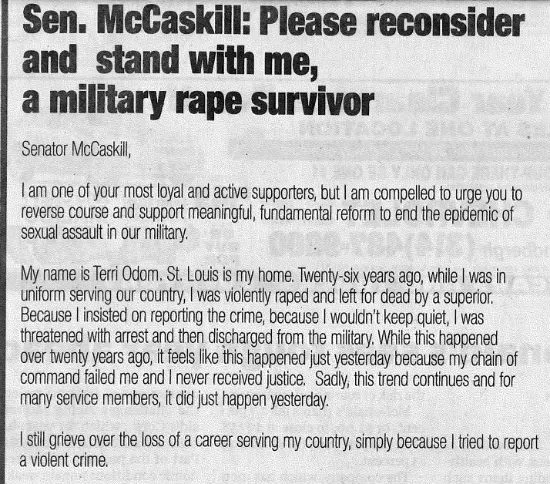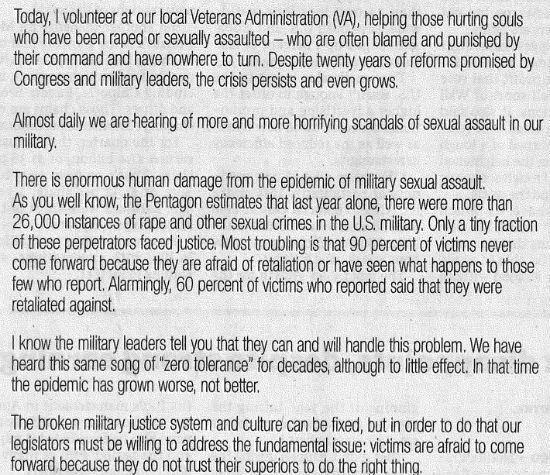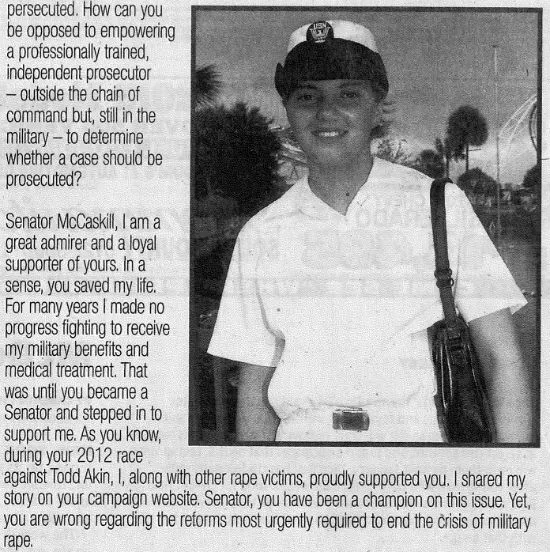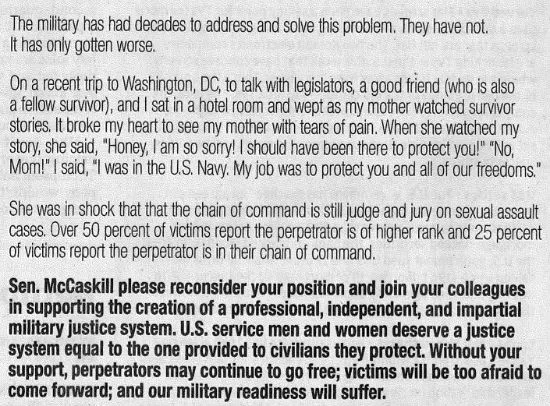 Update, 1:46 p.m.: After publishing this post, Daily RFT heard from Brian Purchia, a spokesman with Protect Our Defenders who sends us this statement:
Senator McCaskill has been a champion for veterans - that's why it is so incomprehensible that she would stand in the way of reforms that victims themselves have been calling for. We felt it was necessary to speak out for all those current and past victims going through this ongoing national disgrace. The nation needs Senator McCaskill to be a leader for fundamental reform not opposition.

The Senator from Missouri is being singled out because of her recent statements:

-On Friday, Sen. McCaskill voiced her support for the status quo when she told The Nation that she wants to give widely condemned half measures five more years before considering common sense reforms that our top allies have already implemented, "If five years from now we're having fewer sexual assault convictions, if we have fewer reports of sexual assault that appear to be an anomaly in terms of the overall incidents coming down, I'll be first in line," McCaskill said. Sen. McCaskill has set the bar ridiculously low. She in essence is saying that, if five years from now, this epidemic is worse than it is today she will support fundamental reform.

-Furthermore, Sen. McCaskill also said, "if everybody in the unit knows the commander has said 'this needs to go to court,' that gives you (the victim) a level of protection you will never have when everyone knows a bunch of outside lawyers have bought your bull." Bull? She is not only attacking the competence and credibility of military prosecutors, her words seems to imply that a large percentage of the victims who report are lying.

-Last month, Sen. McCaskill incorrectly alleged on MSNBC that the Pentagon's Unwanted Sexual Contact statistics includes "somebody looking at you sideways and saying something about how nice you look in a sweater." This is not true. [Read DoD definition of unwanted sexual contact].

Sen. McCaskill is wrong regarding the reforms most urgently required to end the crisis of military rape. We have spoken to hundreds of survivors and they all say the same thing: their Chain of Command shut down the complaint, didn't believe them, threatened them with collateral misconduct, or discharged them with errant medical diagnoses such as "personality disorder. We are asking Senator McCaskill to reconsider and stand with victims and not the military leaders that have failed for decades to address the epidemic of military sexual assault.
Send feedback and tips to the author. Follow Sam Levin on Twitter at @SamTLevin.