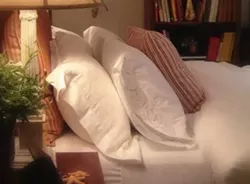 Tragedy in a south St. Louis home this weekend: A mother discovered her infant daughter lying face down and unconscious on the mattress next to her, police say.
The woman called 911 at around 1:16 a.m. on Sunday, but by the time EMS arrived, it was too late. Police say they were unable to revive the infant.
The baby girl -- only two-and-a-half months old -- was taken to the hospital where she was pronounced dead, officials say. Her cause of death has not yet been released.
Police have labeled this a "sudden death," but the investigation is ongoing. They have not yet revealed the identity of the child or mother.
The girl died in a home on the 3700 block of Illinois Avenue in the Marine Villa neighborhood in south St. Louis.
via Google Maps
Illinois Avenue.
Police say that Child Abuse officials are now overseeing the investigation.
Here's the full incident report from SLMPD.
Incident: Sudden Death Location: 3700 block of Illinois Date/Time: 07/21/13 @ 1:16 a.m. Victim: 2 1/2 -months (infant girl) The infant's mother said she was sleeping on the bed, next to her infant child. When she awoke, she found the infant lying face down on the mattress and unconscious. EMS responded however, they were unable to revive the infant. She was transported to an area hospital where she pronounced deceased. Child Abuse is handling the investigation. The investigation is ongoing.
Send feedback and tips to the author. Follow Sam Levin on Twitter at @SamTLevin.