Tempers -- like the temperature -- have remained high since the trial of George Zimmerman, the Florida man who shot and killed Trayvon Martin, ended over the weekend in a not guilty verdict. On Sunday, protesters rallied in St. Louis and yesterday, more than a hundred gathered once again in front of the Old Courthouse to protest the decision and to draw attention to social justice issues in the city.
Around 130 people, holding photos of Martin and signs reading, "No Justice, No Peace," stood on the steps of the Old Courthouse before marching in the neighborhood as part of the rally organizers labeled "From Outrage to Action."
The goal was to turn the popular anger surrounding the case into wider action against racial oppression, said Zaki Baruti, co-chair of the the Coalition Against Police Crimes and Repression, which sponsored the rally.
See also: - Lacy Clay: Trayvon Martin Case About "Terrible Impact of The Proliferation of Guns" - Trayvon Martin Rallies in St. Louis (PHOTOS)
"The judicial system is absolutely broken as it relates to our people," said Baruti, adding that he hopes that this rally and continued efforts can lead to a tipping point in combating racism and police discrimination.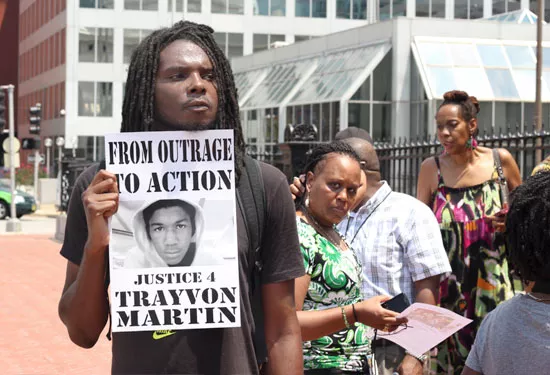 John Chasnoff, program director of the American Civil Liberties Union of Eastern Missouri, told Daily RFT, "We thought it was important to take the understandable outrage and emotion that people have from the Trayvon Martin case and turn that into some positive construction movements for change."
Chasnoff cited a push to create a civilian review board to oversee the police department, as well as the need for better oversight of jails and the ACLU's efforts to end racial profiling.
"There are over 100 cities that have some type of civilian oversight of their police department," he said. "The general idea is that it's difficult for police departments to police themselves."
This kind of independent body, which the St. Louis city police department does not have, would be able to review complaints of misconduct and make recommendations to the chief, he explained.
"It seemed over and over again we see black youth getting the short end of the stick," he said. "And this was the case where the questions were very clear about who gets arrested and who gets prosecuted in this country. This case was really emblematic of something happening all over the country. That people of color feel there is a deep wound, and a situation that has been going on and bleeding their community for so long."
Watching the protest from the opposite side of the street, St. Louis Metropolitan Police Chief Sam Dotson said he was confused what the connection was between Zimmerman -- a Florida resident and not a police officer -- and the St. Louis Metropolitan Police Department.
"Whether you agree or disagree with the verdict, there was a process that was followed, and so Zimmerman was charged. He was prosecuted, he was tried in a court of law, and then what happened today is exactly what should happen," Dotson, who urged protesters to be peaceful on his blog, told Daily RFT.
"If the public is upset about a verdict, they certainly have a right to speak up. But it's really hard to draw a correlation between an individual's action in Florida and the actions of a police department half a country away," he continued.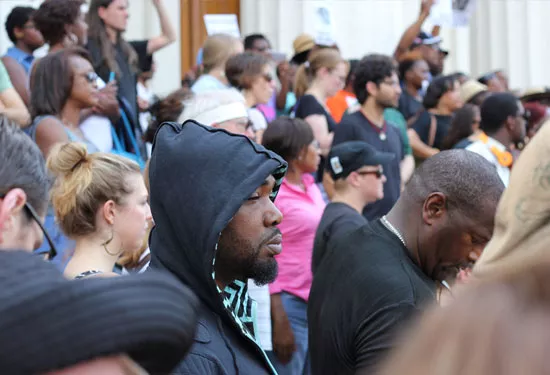 In response to some of the criticisms from protesters, he said, "It's easy to paint things in broad strokes, but let's talk about individuals and let's talk about processes. Here in the city of St. Louis, we publish an annual report about the discipline actions that happen with our police officers."
He continued, "Painting with a board brush is very, very dangerous.... I ask our police officers every day to go out and do dangerous jobs and confront individuals with guns. So it's easy to armchair quarterback but let's have a process that's thoughtful and thorough and doesn't try officers and doesn't try anybody in the court of public opinion but gives them due process."
In spite of the plus-90-degree heat, St. Louis resident Marcus Williams wore a heavy black hoodie as he marched and led the crowd in a final chant before they disbanded.
"I'm outraged at the verdict," he said of the Zimmerman trial. "I'm wearing the hood today for Trayvon."