Here at Daily RFT we are no stranger to mobs of angry commenters attacking our stories as pointless, non-newsworthy crap. The St. Louis Post-Dispatch, presumably, is also familiar with this phenomenon, but one story this week has caused such an outcry from readers that the daily's editors -- in what appears to be a bit of an unusual move -- published a direct response to criticisms, defending their reporting.
The topic? Dry asparagus. But not just any dry asparagus! It was about a batch of dry asparagus in a University City Schnucks that potentially tied to larger problems of racial discrimination.
"Many of you have wondered why we wrote this story, theorizing that our motives were to 'race bait,' or were part of some undefined liberal conspiracy, or that we simply lost our minds," Alan Achkar, Post-Dispatch metro editor writes on the paper's Facebook page. "Let me assure you that we were not attempting to take sides or fan the flames of racial divisiveness. In fact, please note that the story does not take sides. It presents a fair, even-handed, unbiased telling of the details."
The front-page story, in case you missed it, was about David Olander, a member of the University City human relations commission, who questioned -- in a formal letter to Schnucks -- whether the poor quality of the asparagus had anything to do with the store's location in a predominantly black neighborhood. (A Schnucks spokeswoman, unsurprisingly, told the paper it does not discriminate.)
His efforts prompted all sorts of debate about the authority of the human relations commission and how it represents the city, though readers of the P-D article seemed less interested in government bureaucracy and more passionate about accusations that the state of the asparagus might have some connection to racial discrimination.
The story has since been picked up by some conservative news outlets. Here are a sampling of the angriest Facebook comments:
And here's the full response from the P-D editor, who argues that the paper is simply presenting an issue that city leaders and Schnucks are debating. (And we can relate to this line of thinking here at Daily RFT, given that readers often criticize us for the views of our quoted sources...though it is always fair game to analyze what reporters do and don't cover and what larger biases those decisions reflect!)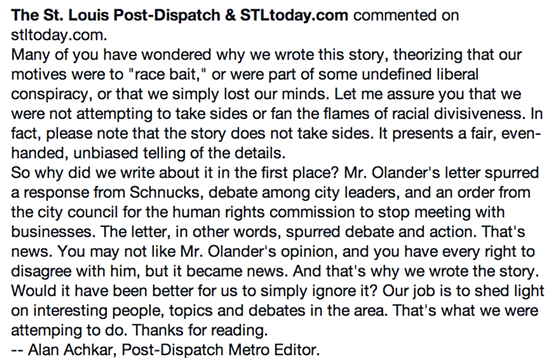 Daily RFT left a message for Olander to see if he wanted to give his take on the outcry. We'll update if we hear back.
Send feedback and tips to the author. Follow Sam Levin on Twitter at @SamTLevin.