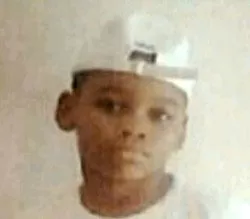 Police say a six-year-old boy accidentally shot and killed an eleven-year-old boy while playing at a barbecue in Belleville on Tuesday.
Officials have identified the victim as Leonard Smith, an East St. Louis boy who was transported at around 11 p.m. to Belleville Memorial Hospital where he was pronounced dead.
Police say the two boys' families were friends and that a resident of the home on North 98th Street was holding the gun for someone else. It's unclear if anyone will face criminal charges in this tragic death.
As of late yesterday, no one was in custody and police said that all witnesses were cooperating.
Belleville police officials did not respond to a request for comment from Daily RFT, but told the Post-Dispatch that the adults were on the main floor of a two-story house while several children were upstairs and found the handgun. When the six-year-old boy got his hands on the gun, he fired a shot that reportedly hit Smith in the head.
Other children apparently witnessed this terrible accident.
St. Clair County State's Attorney Brendan Kelly will determine whether anyone will face criminal charges.
via KSDK
Friends of Smith speak to a reporter yesterday.
The case echoes a high-profile tragedy in Belleville two years ago when five-year-old Kaden Mallory was shot and killed by his ten-year-old brother in their home off of North 28th Street. In this instance, a babysitter was reportedly watching the boys but was in another room.
There were no charges filed in this case.
David Walman, a Daily Kos writer who tracks gun accidents across the country, made the connection on Twitter yesterday, writing:
Here's KSDK (Channel 5)'s segment on the shooting, including heartbreaking interviews with the deceased boy's friends.
Send feedback and tips to the author. Follow Sam Levin on Twitter at @SamTLevin.