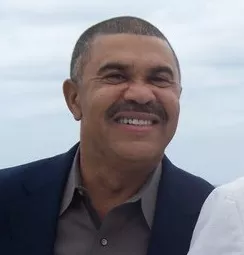 Over the weekend, George Zimmerman, the Florida man who shot and killed Trayvon Martin, an unarmed black teenager, was acquitted, sparking protests and marches across the country, including in St. Louis. The high-profile case has raised questions about racial profiling and self-defense laws after Zimmerman, a neighborhood watch volunteer, pursued the teen on that fateful night last year and, according to prosecutors, instigated the fight, wrongly believing Martin was a criminal.
The six-woman jury, however, ruled that Zimmerman is not guilty, which means he will walk and can even get his gun back.
Civil rights advocates are now pushing the Department of Justice to take action -- a step that Congressman William Lacy Clay, a Democrat who represents the St. Louis area, supports. This case, Clay says, draws attention to the nation's massive gun problem.
See also: - Trayvon Martin Rallies in St. Louis (PHOTOS) - St. Louis Activist Compares Lacy Clay to Samuel L. Jackson in Django Unchained - Gov. Vetoes Bill To Block Federal Firearm Laws, Signs Another Expanding Gun Rights
In a statement to Daily RFT, Clay says:
We are a nation of laws and we must respect the jury's verdict. However, I will continue to press for justice for Trayvon Martin and for other victims like him, whom the system has failed to protect. This case also makes a powerful statement about the terrible impact of the proliferation of guns in this country.
Clay, in an interview with KMOX, elaborated on his response, saying, "I still think that we ought to pursue justice in this case. That would include the Justice Department reexamining what has happened."
via Facebook
President Barack Obama with Rep. Lacy Clay.
The Justice Department's official statement on the trial says that it has a continuing investigation into Martin's death:
As the Department first acknowledged last year, we have an open investigation into the death of Trayvon Martin. The Department of Justice's Criminal Section of the Civil Rights Division, the United States Attorney's Office for the Middle District of Florida, and the Federal Bureau of Investigation continue to evaluate the evidence generated during the federal investigation, as well as the evidence and testimony from the state trial. Experienced federal prosecutors will determine whether the evidence reveals a prosecutable violation of any of the limited federal criminal civil rights statutes within our jurisdiction, and whether federal prosecution is appropriate in accordance with the Department's policy governing successive federal prosecution following a state trial.
The case has brought to the forefront so-called Stand Your Ground laws, by which legally armed citizens have a right to fatally shoot people in various self-defense contexts, depending on the state.
In Missouri, the "Castle Doctrine," expanded under Governor Jay Nixon, a Democrat, in 2010, allows residents who encounter intruders to use deadly force to protect themselves in their homes.
Critics say these laws have gone too far.
Yesterday, Attorney General Eric Holder argued that in the most extreme cases, these laws allow and encourage violent situations to escalate in public -- and thus undermine public safety.
Below are photos from the Trayvon Martin rally at the St. Louis Justice Center on Sunday.
Leah Greenbaum
Speaker at the Justice Center asked participants to join hands for a silent prayer.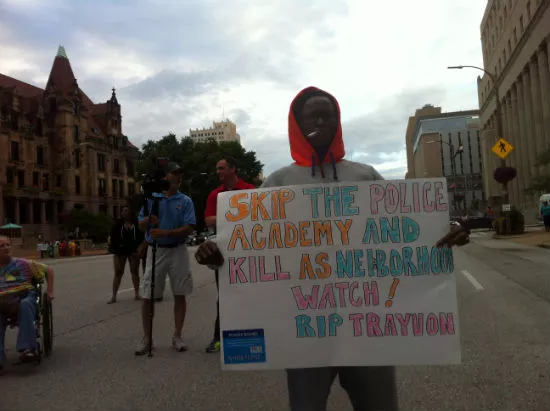 Leah Greenbaum
Zahmill Manuel: "When they said 'not guilty' I smacked my laptop off my desk. I screamed. I fell down crying. I don't know this boy. I've never seen this boy a day in my life but I felt completely devastated."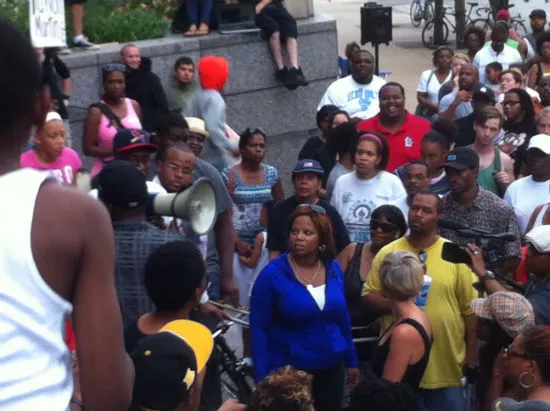 Leah Greenbaum
State Senator Jamilah Nasheed, center, who opened and closed the rally with speeches.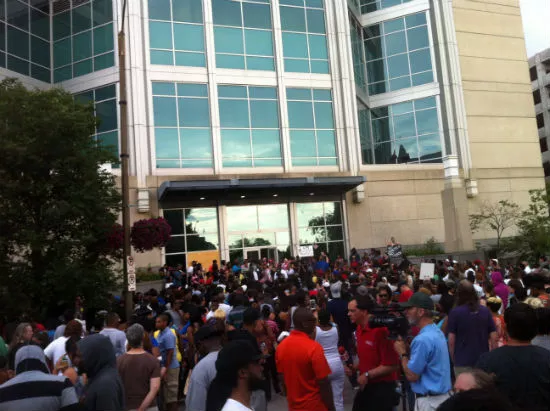 Continue for more photos.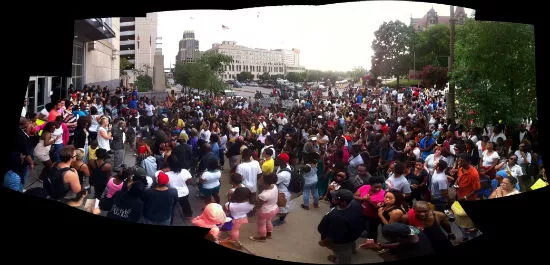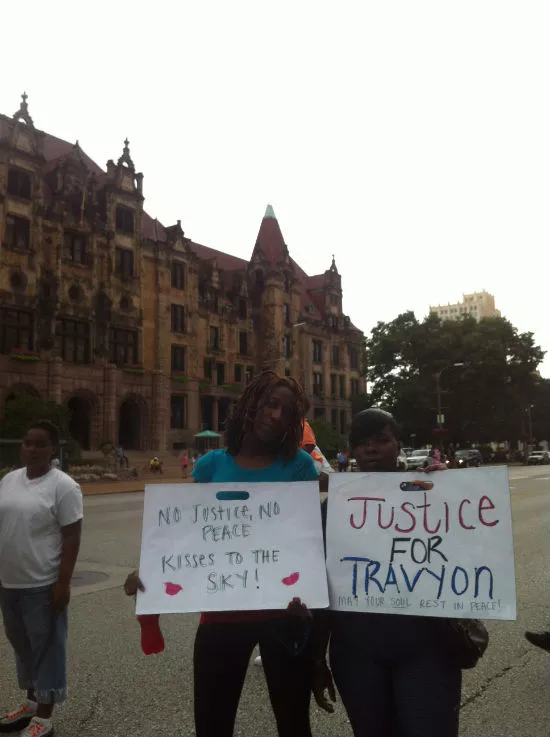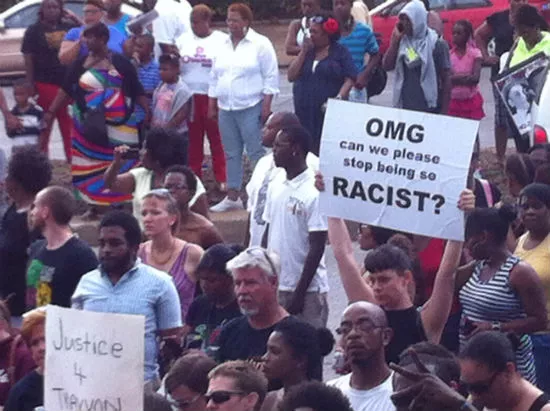 Send feedback and tips to the author. Follow Sam Levin on Twitter at @SamTLevin.