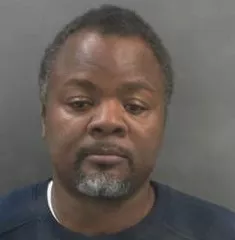 On Monday, we reported on two bizarre crime stories over the weekend -- an attack inside a store with a metal pole and an assault inside a home with a screwdriver. In the latter case, police officials have since filed formal charges and released new details on the violent confrontation.
Ollie Craigs, 42, is facing two felony charges of second-degree assault and armed-criminal action along with three misdemeanor charges of third-degree assault.
Police say the man struck his girlfriend, 39, in the face and body with his fists and when she screamed for help, her young daughters came into the room.
Then, cops say, Craigs grabbed a screwdriver.
See also: - Man Attacks Women with Screwdriver, Another Suspect Assaults Man with Metal Pole - Angry Handyman Launches Hammer Attack That Turns Into Gun Fight, Cops Say - St. Louis Man Attacks Another Man...With a Tree Branch?
According to the probable-cause statement from the St. Louis Circuit Attorney's Office, the woman's three daughters -- ages 15, 18 and 23 -- all tried to assist her and stop the boyfriend.
Police say he struck one daughter in the face and then grabbed a screwdriver and stabbed another one of the girls in the foot. He then threw more punches at one of the daughters.
The assault happened at the 6100 block of Sherry Avenue Walnut Park West neighborhood in north St. Louis just after 7 p.m. on Sunday.
Here's the full police summary of the incident and the probable-cause statement.
Incident: Assault 1st
Location: 6100 block of Sherry
Date/Time: 7-14-13 @ 19:11
Victim: 39-year old black female
Victim: 18-year old black female
Victim: 15-year old black female
Victim: 23-year old black female
Suspect: 42-year old black male Officers responded to a "Call for Police" in the 6100 block of Sherry. Upon arrival, the officers were met by the victims who were being treated on the scene by EMS. The suspect assaulted all of the victims causing injury with a screw driver and his hands. The suspect was taken into custody without further incident. The investigation is ongoing.
Ollie Craigs Probable Cause Statement
Send feedback and tips to the author. Follow Sam Levin on Twitter at @SamTLevin.