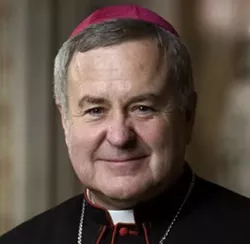 Archbishop Robert Carlson.
Yesterday, we published an update on the investigation into Father Xiu Hui "Joseph" Jiang, a St. Louis priest accused of molesting a teenage girl on multiple occasions. Notably, in what appears to be a first, prosecutors have subpoenaed Archbishop Robert Carlson in this criminal case.
Archdiocese officials declined to comment on the pending case, but victims' advocates have pointed us to one place where church officials made a very troubling statement about the accused priest: A meetup.com listing for an event at the Cathedral Basilica of St. Louis to pray for the "defense and exoneration of Fr. Joseph Jiang."
Organizers from Survivors Network of those Abused by Priests (SNAP) say they are outraged by the stated purpose of the event, which is offensive and hurtful to the victim and her family. But after Daily RFT reached out to the archdiocese about this meet-up, church officials took down the website and canceled the event.
See also: - Reverend Xiuhui "Joseph" Jiang Charged with Fondling Teenage Girl - Fr. Joseph Jiang: Archbishop Robert Carlson Subpoenaed in Priest Sex Abuse Case - Decades After First Alleged Child Sex Abuse, St. Louis Priest Removed
Here's a screengrab from the original meetup.com listing for tonight's prayer service: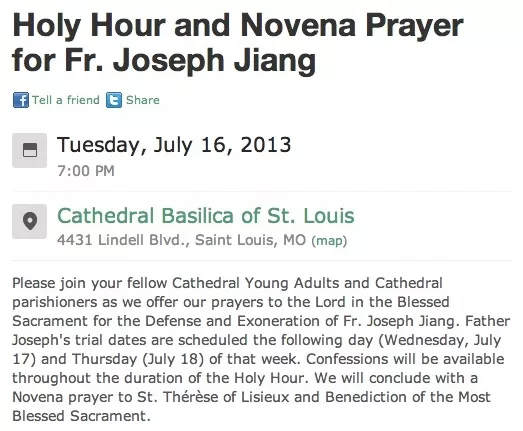 After we reached out to an Archdiocese spokeswoman, the event was removed:
A spokeswoman tells Daily RFT in an e-mail that the leadership of the archdiocese did not know about the event until our inquiry. Here's her entire statement, which says that it would be inappropriate to pray for Jiang's exoneration, but that it is appropriate to pray for him and everyone involved:
The leadership of the Archdiocese of St. Louis was unaware of this event until your inquiry. The young adult ministry group of the Cathedral Basilica of Saint Louis regularly meets for prayer on a bi-weekly basis, and this holy hour served in place of a regularly scheduled meeting. The Cathedral rector was aware that a holy hour was to take place, even that prayers would be offered for Fr. Joseph, but he was not aware of the express intention as phrased in the Meetup description. The holy hour has since been cancelled and the website taken down. It would be inappropriate for the Archdiocese to encourage prayer specifically for the exoneration of Fr. Jiang. We do pray for Fr. Jiang, as we pray for everyone involved in this situation. More specifically, we pray for justice and healing for all parties involved.
When first alerting us to the event, David Clohessy, executive director of SNAP, a St. Louis-based victims' rights group, says, "It's a subtle, sophisticated form of obstructing justice by intimidating victims and witnesses and whistle blowers."
"To publicly pray...on Church property for his defense and exoneration...it's just inexcusable," he says.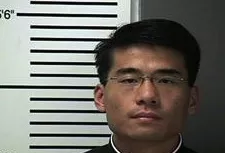 After learning that the event was canceled, Clohessy says, "Is it better than nothing? Sure.... Anything that reduces the suffering of victims and the intimidation of witnesses and whistle blowers is good. But in this case, just like so many other cases, the archdiocese does only the bare minimum and only when forced to do so by external pressures."
He argues that the fact that this event was publicized this way -- even if top church leaders were unaware of it -- reflects a culture that is harmful to victims.
"It's just continued disappointment," he says. "Because for decades, Carlson and his colleagues could and should have taught parishioners and employees how to act when priests are accused."
For more on Father Jiang, read our previous coverage on the criminal investigation.
Additionally, here are copies of relevant court documents in the case compiled by SNAP:
Send feedback and tips to the author. Follow Sam Levin on Twitter at @SamTLevin.