Here's one way St. Louis leaders are working to combat gun violence in the city -- and officials say it's a first-of-a-kind effort.
Federal authorities in Missouri and Illinois alongside local metro officials announced yesterday that, with a partnership aimed at targeting violent crime, they have charged 159 individuals in both states and have seized a total of 267 firearms. Many of those indicted through this large investigation, involving undercover work, are convicted felons. Officials are painting the effort as a groundbreaking effort.
"This is one of the most significant law enforcement operations in our city in the last decade. It will result in less crime and less violence in our City," St. Louis Mayor Francis Slay says in a statement. "Its impact will be felt for some time to come."
See also: - Illinois Concealed Carry: State Ends Ban, Rejects Governor's Gun Control Ideas - Rep. Caleb Rowden Says Gun Companies Are Interested in Relocating to Missouri - East St. Louis Mayor On Concealed Carry Law: "More Guns...Is Not The Answer"
The collaboration certainly involves a large number of local and federal law enforcement agencies that is unique.
The results of the so-called "Violent Crime Reduction Partnership" were announced at a press conference yesterday, featuring: Richard Callahan, U.S Attorney for the Eastern District of Missouri; Stephen Wigginton, U.S Attorney for the Southern District of Illinois; B. Todd Jones, acting director Bureau of Alcohol, Tobacco, Firearms and Explosives; Francis Slay, mayor of St. Louis; and Sam Dotson, St. Louis Metropolitan police chief.
The 159 defendants have been charged with a range of federal and state firearms, narcotics and robbery offenses.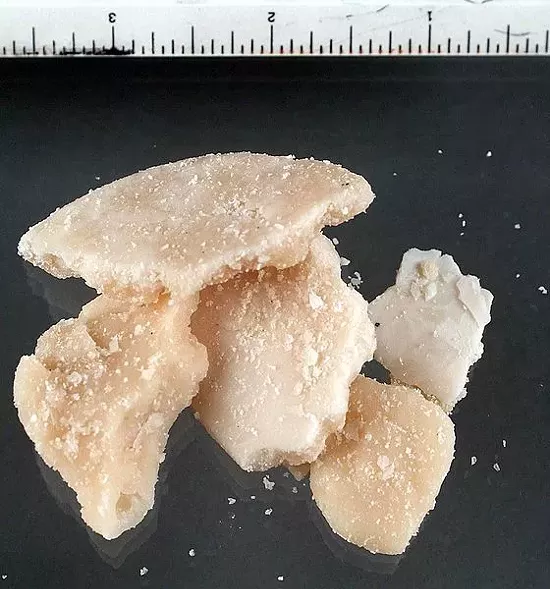 Starting in April, more than 80 ATF officials throughout the country were working in St. Louis and East St. Louis, officials say, as part of an effort that utilized "undercover operations, historical investigation and prosecutions of multi-convicted felons in possession of firearms."
What did they find?
In addition to the firearm seizures, officials recovered more than 25 ounces of methamphetamine, more than three pounds of crack cocaine and cocaine, more than seven pounds of marijuana and more than one-and-a-half pounds of heroin. This week, 150 law enforcement officers searched for remaining defendants who are not already in custody -- and those still arrested are now labeled as fugitives.
Nearly 100 of the defendants are facing prosecution in the Eastern District of Missouri, in addition to eleven in the city of St. Louis Circuit Attorney's Office.
Combined, the defendants have been the subjects of 1,718 felony arrests -- and 78 percent of them have previous felony convictions on their record.
Here are Slay's latest tweets on the effort, in which he renews his oft-stated call for tougher sentencing for gun crimes:
And from the joint press release yesterday, here are the officials' full statements on the initiative:
"Statistically, East St. Louis, Illinois, is the most violent city in America. The law-abiding citizens of East St. Louis, not to mention all of the law-biding citizens of all of Southern Illinois, are grateful for the very intense and dangerous work spearheaded by ATF, and done in conjunction with ATF's federal and local law enforcement partners, in this intense surge of enforcement, to seek out, disrupt, and prosecute those violent and dangerous offenders who make life intolerable for the rest of us." said Stephen R. Wigginton, the United States Attorney for the Southern District of Illinois. "Attorney General Holder, in setting the Department of Justice's main priorities, has said, 'We will protect Americans from violent crime.' The promise made in that priority has been fulfilled in these law enforcement actions taken by the brave and dedicated men and women of the ATF and their partners." added United States Attorney Wigginton.



"Today's work is by no means finished. ATF will continue to work with our partners to identify and target those responsible for the violence that has plagued St. Louis and East St. Louis. As we take these individuals off the streets, we in law enforcement are sending a powerful message that the violence these individuals bring will not be tolerated," said ATF Acting Director B. Todd Jones.



Mayor Francis Slay, City of St. Louis said, "This is one of the most significant law enforcement operations in our city in the last decade. It will result in less crime and less violence in our City. Its impact will be felt for some time to come. Our citizens owe a debt of gratitude to everyone involved, especially the law enforcement officers who risked their lives to get these guns off our streets and these dangerous criminals out of our neighborhoods."
Send feedback and tips to the author. Follow Sam Levin on Twitter at @SamTLevin.