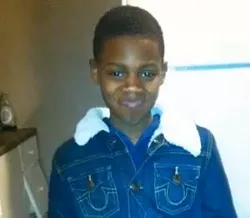 Update: A nine-year-old St. Louis boy who was shot in the head in an early morning drive-by incident on Wednesday has died, police say. Our original coverage of the shooting is below.
Police officials have identified the homicide victim as Tyrese Short who lived on Switzer Avenue in the North Pointe neighborhood in St. Louis. Cops say the boy was shot while sitting in the passenger seat of a car with his father and two other males, ages eighteen and 22.
They were driving at around 3:30 a.m. on Goodfellow Boulevard by Laura Avenue when an SUV allegedly drove up behind them and a shooter with a handgun opened fire, shattering the rear window -- and hitting the young boy in the back of the head.
Police have not yet released any details on a potential suspect.
An aunt of the boy told KSDK (Channel 5) that the father and son were on the way back from a gathering with two family friends when the shooting happened.
Police officials believe that the father, 42, and the 22-year-old male may have been the targets.
The boy is the 53rd homicide victim in the city of St. Louis in 2013.
Police ask anyone with information to call CrimeStoppers at 866-371-8477.
Here's footage from KSDK with an interview with the boy's aunt, followed by our original coverage yesterday.
Original post, Wednesday July 10, 2013, 10:02 a.m.: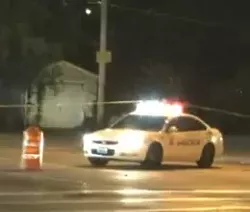 via KTVI
Crime scene early Wednesday morning.
The latest victim of gun violence in the city of St. Louis is a nine-year-old boy who police say was shot early this morning in a drive-by incident that sent him to the hospital where he is now clinging to life.
Police say the boy was hit in the head.
Officials have not released any details on possible suspects in this shooting, which happened at around 3:30 a.m. on the Goodfellow Boulevard and Laura Avenue in north St. Louis.
Police say the boy was a passenger in a vehicle last night in a car with his father and two other males, ages eighteen and 22.
via Google Maps
Goodfellow Boulevard and Laura Ave.
After the shooting happened, the driver reportedly went to a north patrol station for help where cops observed that the boy had been hit. He was then transported to the hospital.
There were no other reported injures.
KTVI (Channel 2) confirms that this was some sort of drive-by shooting.
And the Post-Dispatch has this Google Map which shows where the shooting happened in relation to the north patrol department where the driver sought help.
Here's the short incident report from SLMPD released this morning.
Incident Assault 1st (Shooting) Location: 5000 block of Goodfellow @ Laura Date/Time: 07/10/13 @ 03:38 Victim #1:9-year old black male Victim #2: black male Victim #3: 22-year old black male Victim #4: 18-year old black male Suspect(s): Unknown The victims responded to the North Patrol Station to report a shooting. Officers observed Victim #1 suffering from a gunshot wound to the head. He was conveyed to a local hospital and is listed in critical/unstable condition. Victim #2 is the father of Victim #1. Investigation revealed that Victim #1 was shot at while he was a passenger in a vehicle with the other victims. There were no other injuries. The investigation is ongoing.
Send feedback and tips to the author. Follow Sam Levin on Twitter at @SamTLevin.