St. Louis isn't just home to one of the most beautiful parks on Planet Earth -- it's also the number one best city in the Midwest for weekend getaways!
So says a new report that gives us here at Daily RFT another reason to remember why we love St. Louis. AAA's Midwest Traveler Magazine has released results of its annual Best of the Midwest readers poll and St. Louis has taken the number one spot for weekend trips, in front of Kansas City and then Chicago. Hooray!
It was apparently a very close race, but some key St. Louis attractions may have helped push the vote in our favor.
See also: - 25 Reasons to Love Summer in St. Louis - St. Louis Rules, Kansas City Drools - Rebuttal: 10 Reasons St. Louis Hates Outsiders
The magazine cites the city's notable free and affordable attractions and activities, of which there are lots. As the mag says, "You're going to need more than a weekend."
Some of the (pretty obvious) highlights from the announcement:
Forest Park
It's the "city's jewel."
Saint Louis Art Museum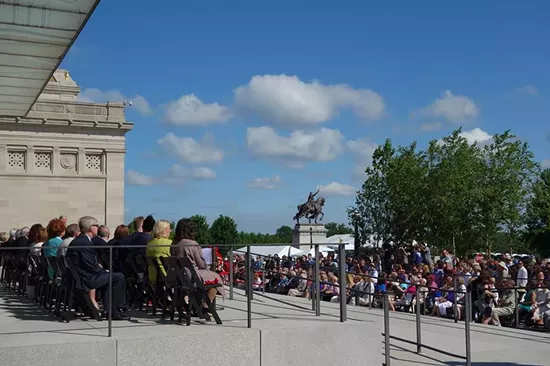 via Facebook
Recent ceremony.
...with its new East Building adding 30 percent more exhibit space and more parking.
Outdoor Film Series
...free every Friday night on Art Hill.
Continue for more of the weekend getaway draws from Midwest Traveler Magazine.
Fair St. Louis
Just stay away from the violence and you should have a great time!
Soldiers Memorial
This year home to Pride!
Festivals
Like RFT Music Showcase!
Busch Stadium
Because duhhhhhhhh.
The Saint Louis Zoo:
The number one attraction in the city, according to the magazine.
Send feedback and tips to the author. Follow Sam Levin on Twitter at @SamTLevin.