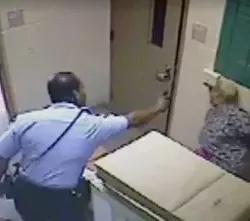 When is it appropriate for officers to use pepper spray?
Footage has surfaced this week of Wellston cop Michael Weaver spraying a handcuffed woman right in the face inside of the department.
It's unclear exactly what prompted the officer to use this force. The surveillance video, which does not have sound, shows the female suspect clearly shouting at him and partially standing up at one point. But he decides to use the pepper spray a few seconds after she sits back down -- and he sprays her multiple times.
See also: - Springfield Police Tase Pregnant Woman in Best Buy Parking Lot (VIDEO) - Police Tase Armed Man Climbing St. Louis Zoo Fence Near the Antelopes
Here's the raw video, via KSDK (Channel 5):
The station reports that the woman had been arrested for resisting arrest and peace disturbance.
The officer has apparently defended the decision claiming that the woman spit at him first, which is not clear from the video. But Wellston Police Chief G.T. Thomas investigated the matter and suspended Weaver for several days without pay, the station reports. (The city council, however, reversed this suspension).
"It was upsetting because we want to be a friendly force," he says.
The woman claims that she did not spit at him and was shackled to the chair. And she told KTVI (Channel 2) that the officer should be fired.
Here's KSDK's full report, with interview footage:
Send feedback and tips to the author. Follow Sam Levin on Twitter at @SamTLevin.