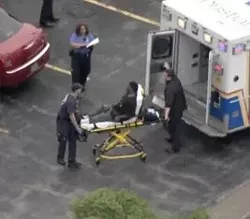 via kmov.com
Worker hospitalized this morning.
A chlorine-like odor sent three people at Hazelwood East High School in north St. Louis county to the hospital today, police say.
A county police school resource officer was on duty at the school at around 10:40 a.m. this morning when he "smelled a strange chlorine-like odor," officials say. He reported it to police officials and soon the Spanish Lake Fire Department was on the scene.
Authorities decided to evacuate the building's occupants -- summer school students and a construction crew working inside.
Two students and one of the construction workers were transported to a local hospital for "evaluation" after "complaining of respiratory ailments," police say.
The evacuated students and workers have relocated to Kirby Junior High School at 1865 Dunn Road and the fire department has dispatched a hazardous material team to the scene.
An investigation is underway.
Here's KMOV (Channel 4)'s footage from the school this morning.
Send feedback and tips to the author. Follow Sam Levin on Twitter at @SamTLevin.