via Facebook
Caleb Rowden.
New gun control laws probably aren't coming anytime soon to Missouri -- but some gun companies may be.
So says State Rep. Caleb Rowden, a Republican from Columbia who has been in contact with multiple gun companies that are interested in relocating to Missouri.
"To me, it was really a no-brainer," Rowden, who started courting gun businesses in April, tells Daily RFT. "Look, the Second Amendment is still pretty popular in our state."
This fact is a clear draw for gun manufacturers, he says.
See also: - Republican State Representative: "Missouri is an Ideal Location for Your Firearms Business" - Stacey Newman on Missouri GOP Gun Bill: "Could You Imagine Anything Crazier?" - Missouri's Approved Gun Bill Makes Concealed-Carry Permits Easier to Get
Rowden recently posted this message on Facebook about the progress he has made with his effort to expand the gun industry in Missouri:
He tells us that he has specifically heard from two manufacturing companies that are early in the process of finding new locations and have expressed a clear interest in Missouri. A third business seems like a strong potential candidate as well, he says.
"Missouri is definitely going to be on the list," he says. "We are working to set up follow-up meetings...and just do whatever we can to push them in our direction."
Some states that have passed new restrictions on guns face high-profile potential departures of related manufacturing businesses. In Colorado, for example, a company called Magpul Industries is relocating in response to the state's new ban on magazines that can hold more than fifteen rounds.
As we've chronicled here, the very few gun control proposals introduced in Missouri have gotten nowhere under Republican leadership at the legislature.
One Democrat who favors stricter gun policies estimated for us at the end of the legislative session that Republicans brought forth about two dozen pro-gun bills in comparison to three gun control bills introduced by the minority party.
This political climate is just one of many reasons why gun companies should consider Missouri, Rowden says.
"This is not a gun thing for me. This is much more of a jobs issue," he says, later adding, "The gun industry as a whole is not going anywhere. These companies are going to go somewhere. When you kind of put it in those terms, people have been very supportive. I've gotten a lot of great feedback."
Rowden says his district is split pretty evenly between Republicans and Democrats, but argues that there is broader support for gun companies moving in and bringing jobs.
"It's a good package that we are able to put together," he says. "I'm proud of that."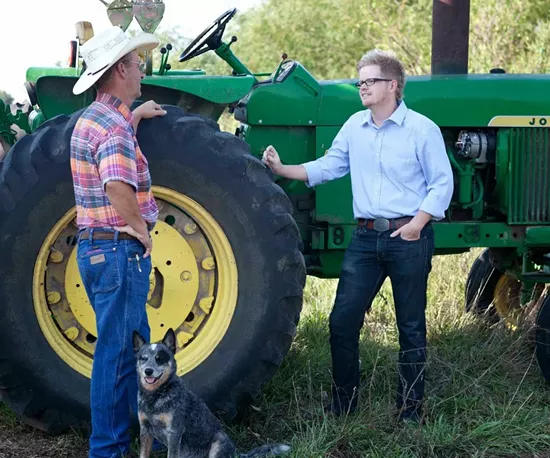 via Facebook
Caleb Rowden, right.
He says that in addition to the lack of gun control laws, Missouri has a fairly good tax structure and incentives for these businesses. If companies do ultimately choose the state, it could mean thousands of new jobs, he adds.
"It's a good opportunity for us," he says.
Here's the original letter Rowden sent in April to gun companies.
Send feedback and tips to the author. Follow Sam Levin on Twitter at @SamTLevin.