via Twitter
Tavon Austin.
What's more inappropriate social-media behavior for a an athlete -- announcing on Instagram that you are "strip club ready" or following some strippers on Twitter? At the St. Louis Rams, you can do both! Though your bosses may not be entirely pleased.
In April, we reported on Rams' "rookie of the year" cornerback Janoris Jenkins, who went all out on Instagram, living up to his party-boy reputation, including with a "strip club ready" caption.
Now, we bring you the social-media story of Rams wide receiver Tavon Austin who apparently got in trouble with his managers for some of the questionable folks he is following on his verified Twitter account.
See also: - "Strip Club Ready": Why You Should Follow the Rams' Janoris Jenkins on Instagram - Photos: St. Louis Rams Cheerleader Auditions - St. Louis Rams Join YouTube Sensation Dude Perfect To Show Off Trick Kicks
This is the tweet that apparently started the whole thing:
Close-up on those he was apparently following: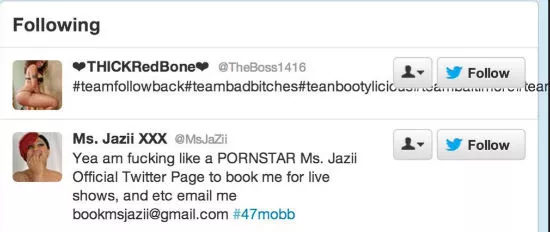 Yesterday, Taylor Holiday tweeted:
Turf Show Times has some more on the Rams front office playing social-media police with the players.
Austin's Twitter account is actually still live, and of the 400 or so people he is following, on very quick glance, we see at least one self-identified stripper:

Daily RFT sent a message late yesterday to the Rams press office to see if the team might have any comment or confirmation on this. We'll update if we hear back.
Send feedback and tips to the author. Follow Sam Levin on Twitter at @SamTLevin.