Netflix
Congressman Francis Underwood, played by Kevin Spacey.
House of Cards fans have known for a while now that season 2 of the hit Netflix original series is coming in 2014, meaning that the devious Congressman Frank Underwood, his wife Claire, and the rest of the ice-blooded inhabitants of writer Beau Willimon's Washington, D.C., will soon be back on the small screen.
Local fans of the show will definitely recall the character Raymond Tusk, a billionaire who flew Underwood out to Tusk's home in St. Louis in order to vet him for the vice presidency, and be inscrutable and creepy in a poem-quoting, bird-watching kind of way. Some speculate Tusk's character is based on our own mysterious millionaire financier, Rex Sinquefield.
Well, Tusk is definitely getting an encore performance in season 2. How do we know? Because the LA production company Knight Takes King recently hired a local firm to film background scenes of glorious downtown St. Louis for Tusk to scheme and glower in front of.
See also: - Masters of Sex, Series Based on Masters and Johnson, Releases First Trailer (VIDEO) - "Masters of Sex": Showtime Orders First Season of Masters and Johnson Drama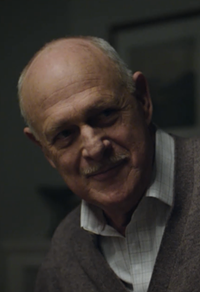 House of Cards Wiki
Raymond Tusk played by Gerald McRaney
Joe "Mama" Mason, former morning DJ for KSHE (94.7 FM) and reporter for KPLR-TV (Channel 11), is now the senior creative director for Illustrated Man, a marketing, design and video-production company. He says his company was tapped because of an extremely high-tech camera Mason and his crew use.
"We're always on the edge of technology," says Mason. "The image is four times greater than HD."
Mason's assignment: Find the perfect view of downtown St. Louis for actor Gerald McRaney (Tusk) to be shot against.
"The setup is that they call him from D.C., and he's in the middle of making this huge power play...he's standing on the balcony or roof of his building working downtown," says Mason. "He's bird-watching in the middle of winter."
Mason says he scouted a bunch of locations before finally settling on Three Sixty (1 South Broadway Street, 314-241-8439), the rooftop bar at the Hilton. Check out some shots of Mason and his team at work high over the city:
Courtesy Joe Mason
Jana MacChesney, Phil Sherril, Joe "Mama" Mason and Matt Coonfield.
And here's basically the shot that's going to be used. Mason says the production team will have to edit out the lush green trees and lawn in order to make this lovely view look a little more wintery:
Sadly, none of the famous cast members of HOC will ever set foot in St. Louis (as far as we know). Mason is sending them high-resolution digital footage (or background plates) that McRaney can be green-screened onto from the show's main shooting location in Maryland.
Then again, Mason says the good people in LA have dangled the possibility of future work for Illustrated Man, so there may be more to come. Perhaps Zoe Barnes follows Tusk to the Lou, only to fall in with a ragtag crew of alternative-weekly types who school her on how to get a story without giving female journalists a terrible name? Just a thought...
Follow Jessica Lussenhop on Twitter at @Lussenpop. E-mail the author at [email protected].