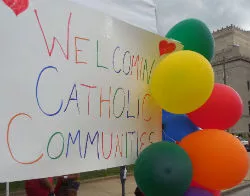 Courtesy of Catholic Action Network
PrideFest St. Louis this weekend.
Last week, the St. Louis Archdiocese was quick to condemn the United States Supreme Court for favoring gay marriage, issuing a harshly worded statement that marriage must be between one man and one woman. Others in the city praised the decision allowing same-sex couples to access federal benefits -- and noted that it would be an especially energetic PrideFest this year.
And one such group to come out this weekend and celebrate national progress in gay rights was a coalition of LGBT-friendly Catholic groups that aim to promote the exact opposite message of the Archdiocese.
"It needs to be spoken that there are many Catholics who see no conflict at all with following the Catholic faith and being open and affirming with the diversity of all of God's creations," Jennifer Reyes Lay, executive director of the Catholic Action Network for Social Justice, tells Daily RFT, adding, "We are stronger and richer because of that diversity."
See also: - PrideFest St. Louis: Police Launches First Booth, Promotes LGBT Recruitment - St. Louis Archdiocese Says God's Definition Of Marriage Can't Be Changed - Jay Nixon Praises Supreme Court, But Does He Support Gay Marriage?
The Catholic Action Network is one of a handful of groups that have come together to form Welcoming Catholic Communities, a pro-LGBT coalition that is pushing back against the Archdiocese's exclusionary message and anti-marriage equality agenda. (The other groups are Sts. Clare & Francis Ecumenical Catholic Communion, St. Stanislaus Kostka Catholic Church, Therese of Divine Peace Roman Catholic Church and Marybeth McBryan Roman Catholic Woman Priest).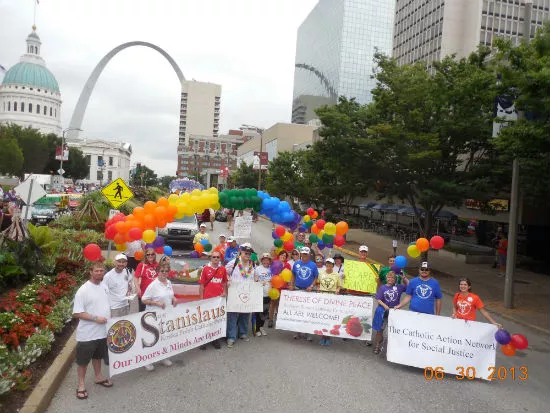 Courtesy of Catholic Action Network
Welcoming Catholic Communities in the parade yesterday.
"It's very disheartening to see faith or religion used in a way that diminishes somebody's humanity," says Lay.
The Catholic Action Network is a local nonprofit group that is independent from the archdiocese and works on social justice issues within and outside of the church in St. Louis.
The St. Louis Archdiocese, in its controversial statement last week, said "The reality of God's definition of marriage cannot be changed" and "while the law can allow other things to be called marriage, it cannot make them into the kind of union that is marriage."
Lay says this kind of message is wrong for several reasons.
"On the one hand, I see it as a religious institution that's trying to push its beliefs onto secular society," she says, but adds, "If it's a civil rights issue...it doesn't matter what one religions says or another says. It's about human rights."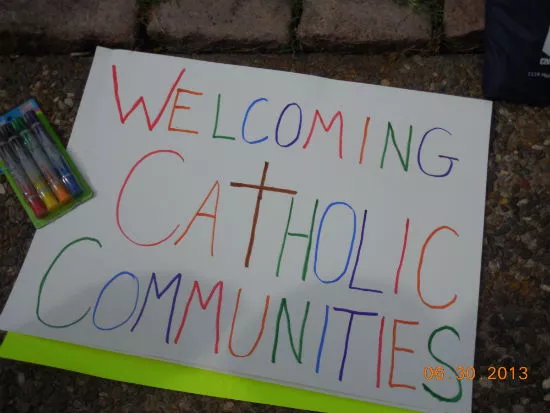 Courtesy of Catholic Action Network
At PrideFest this weekend.
She continues, "I disagree with the Catholic definition of marriage. What the bible teaches is love and commitment and responsibility."
Lay says, "We don't see it as trying to pull out certain versus to exclude people."
In Missouri, gay marriage is still banned in the constitution and Governor Jay Nixon, a Democrat, has yet to endorse marriage equality even after praising the Supreme Court decision last week. St. Louis, however, is widely regarded as a very gay-friendly city; the metropolitan police department even operated a booth at PrideFest for the first time this year, to promote LGBT recruitment.
"We feel that the Catholic voice that is the loudest or more publicized is that of the hierarchy that preaches exclusion and preaches limited rights," Lay says, arguing that it's important LGBT people know that there are accepting organizations for them. "There are Catholic communities...where they can be welcomed and embraced, where they belong."
Send feedback and tips to the author. Follow Sam Levin on Twitter at @SamTLevin.