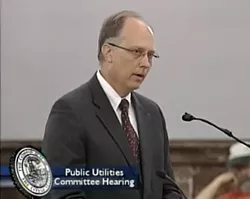 SaintLouisTV
Water Commissioner Curt Skouby testifies before the Public Utilities Committee.
Last week, the Board of Aldermen's Public Utilities Committee met for four hours on a single agenda item: A pending contract between the St. Louis Water Division and the world's largest water services company, Veolia.
Committee chair and 2nd Ward Alderwoman Dionne Flowers kicked off the first of two such public forums with a qualifier for the audience.
"Just for clarification the Board of Alderman has no authority over the selection of this contract," she said. "This would not even be before us today if it was not an issue with the mayoral race."
See also: - French Firm, Veolia, Wins Consulting Contract with St. Louis Water Division - Hosed: A plan to overhaul the St. Louis Water Division leaves the Slay administration all wet - Veolia Water Contract Officially "On Hold" Says Mayor Francis Slay
Controversy over the contract began after Daily RFT broke news of the impending deal in December 2012. Sources within the water department were concerned that if the city hired Veolia to consult with the city on cost-cutting, the French multinational company would advise severe cutbacks and job losses. Since then, a coalition of environmentalists, social justice advocates, and labor interests have come together to oppose the deal on a raft of concerns, ranging from Veolia's involvement in Palestine to its failed dealings in other American cities. The group Dump Veolia spells its position out on its website here. Mayor Francis Slay supports the deal and repeats that Veolia's involvement will mean neither layoffs, privatization of the utility, nor a decline in St. Louis's water quality.
The debate came to a head in the 2013 mayoral election, when Aldermanic President Lewis Reed, running against Slay, promised to strike the deal down if he were to take office. Slay placed the contract approval on an indefinite hold back in March, then was re-elected in April. For more background on the interests involved, read our feature story, "Hosed," here.
Slay promised that nothing would move forward with the contract until the public has a chance to be heard -- the venue chosen was the Public Utilities Committee, though as Flowers said in her opening remarks, the aldermen have no direct say in the deal's fate. The contract must be approved by the Board of Estimate and Apportionment which is made up of Slay, Reed and City Comptroller Darlene Green. The comptroller seems to hold the tie-breaking vote.
Maggie Crane, a spokeswoman with Slay's office, tells Daily RFT an impending rate hike of six percent is the pressing need for Veolia's contract to be approved. She cites a study done by Black & Veatch, an outside consulting company, which is recommending a three percent rate increase for two consecutive years no later than 2016. Read the full Black & Veatch report here (We've also embedded it in the final page of this post).
The evening before last week's hearing, Slay's chief of staff Jeff Rainford sent out a few pointed tweets on the matter:
St. Louis TV was on hand to document last week's very long proceedings. Check them out after the jump -- Water Commissioner Curt Skouby, Reed, Eddie Roth from Slay's office and Veolia executives testified. The public is being encouraged to attend the second of these meetings tomorrow, July 2, from 6 until 8 p.m.
Here's the footage of the hearing, wherein Skouby extols the virtue of "fresh eyes" in the utility, Reed renews his opposition and the pronunciation of "Veolia" is endlessly butchered. There's also a brief mention of John Temporiti, an influential attorney and lobbyist for Veolia:
Here's part two of last Wednesday's hearing:
One of the deal's loudest critics has been Jim Kummer, the water utility's fiscal manager, who voted against Veolia during the selection committee process back last fall. He is out of town, but Daily RFT obtained a copy of the memo he forwarded to the Board of Aldermen in his absense. In it, he tackles the six percent rate hike issue:
To: Chair Dionne Flowers and Public Utilities Committee Members

From: James A. Kummer, Fiscal Manager, Water Division

Date: June 27, 2013

RE: Public Hearing on Proposed Veolia Contract **********************************************************************

It is my understanding that the Public Utilities Committee of the Board of Aldermen is holding hearings to discuss the advisability of the proposed Water Division contract with Veolia. Unfortunately, I am unable to attend these hearings but would like to submit the following statement for your consideration.

As Fiscal Manager of the Water Division, I believe it is my fiduciary responsibility to present the accurate financial status of the Water Division when so much misinformation is being presented by both internal and external sources.

In July, 2010 the Mayor's Office mandated a moratorium on any water rate increase for at least two years. A 12% rate increase had just been enacted to keep the Water Division financially solvent. This increase was necessary due to unprecedented chemical and pension cost increases. At the same time the recession was in full swing with many businesses dramatically reducing metered water usage and with home foreclosures impacting residential customers.

In 2010 the Water Division had zero monetary reserves. We were essentially broke. Water Division management and employees reacted to this financial crisis creatively and appropriately with various cost containment efforts. Those Water Division efforts, along with the July, 2010 rate increase and the improvement of the general economy led us out of our financial crisis.

Today, three years later, the Water Division has been able to accumulate $11 million in cash which was transferred into sorely needed capital improvement ordinances. We are working closely with the Comptroller's Office and the Missouri Department of Natural Resources to secure a low interest bond issue of approximately $9.4 million to fund needed capital improvements.

We have also been able to build a 90 day cash reserve of over $12 million. This is a financial "best practice" recommended in our latest Water Revenue Sufficiency Study completed by Black & Veatch, Consulting Engineers. Working closely with Water Division management, that report also recommended a 3% water rate increase in FY 2016 and FY 2017. These increases would primarily fund a $30 million capital improvement bond issue and keep cash reserves at the recommended level. And, really, does anyone want a water system that doesn't renew its infrastructure?

So, Water Division employees have taken a system with zero reserves three years ago and built it back into a financially healthy state. This was accomplished internally. No management consultant had a hand in this success story.

Does the Water Division require outside assistance to manage your water system? Others will decide that question. But these are the financial facts.

Thank you for the opportunity to present this statement. Copies of the Water Rate Sufficiency Study are available at your request. I am available to answer any questions from July 8th forward.

cc: President Reed All Board Members
The hearings resume tomorrow evening -- Daily RFT will be following closely. Click through for a copy of the report explaining the possible rate hike in 2016.
Follow Jessica Lussenhop on Twitter at @Lussenpop. E-mail the author at Jessica.Lussenhop@RiverfrontTimes.com.