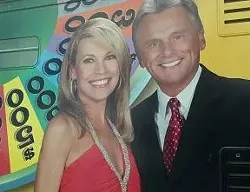 Photos by Allison Babka
Vanna White and Pat Sajak grace the side of the Wheelmobile.
During St. Louis' recent Wheel of Fortune auditions, Daily RFT decided to see if we could make it onto the game show that we grew up watching with Grandma. Unfortunately, we hit "bankrupt" without ever leaving our seat.
Thousands of Wheel hopefuls -- including Daily RFT -- crammed into the event center at River City Casino over the weekend, where "America's game" made its first St. Louis stop since 2010. The long-running show's Wheelmobile regularly tours the country in search of interesting contestants who know their way around the alphabet. The Wheelmobile layovers serve as the first step in the game's multi-level tryout process, with select contestants being called back for another audition within a few months.
"When we come to St. Louis, auditions are always packed," says David Strathearn, director of marketing and promotions for Wheel of Fortune at Sony Pictures Television.
Outside the casino, potential contestants were welcomed by the massive Wheelmobile, a bright yellow 39-foot bus with TV hosts Pat Sajak and Vanna White smiling on the side.
"We travel around the country for auditions, giving out Wheel of Fortune hats, blinky pens and t-shirts," says Joe Cusella, who has been driving the Wheelmobile for six years. "But people always think that Pat and Vanna are inside."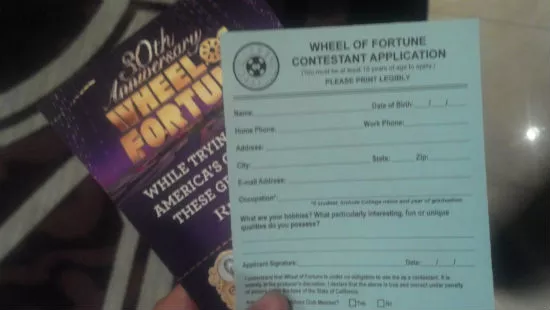 Daily RFT enjoys long walks on the beach and collecting teacups.
Inside River City, Wheel employees shoved applications and pens at Daily RFT as we joined the herd of hopefuls in front of the event center. Snaking through the long line, we filled in the blanks: name, address, phone... and a few interesting facts about ourselves? What is this, summer camp? Weird.
The auditorium already was quite full when we entered, so we took a seat in an upper section and marveled at the mini puzzle board and wheel on the stage. Soon, the famous Wheel of Fortune song filled the auditorium and Strathearn, the marketing director, welcomed the crowd. "Hey, St. Louis, do we have anyone in here who NEEDS SOME MONEY?" he shouted.
The audience -- Daily RFT, included -- happily applauded for poverty, and Strathearn teased us further about the potential to win $1,000,000 on the real show. "See this? This is the Golden Drum of Dreams. This is where the dream begins."
When you see the Wheelmobile, your dreams have a 1.3% chance of coming true.
Strathearn was pointing to a shiny mesh drum filled with our applications, and Daily RFT's eyes watered as we remembered that sad scene in The Goonies when the kids stumble upon the quarters from the wishing well and see that dreams don't always come true. Our Wheel wishes were contained within that drum, from which Strathearn and his cohorts would randomly draw five names at a time to play a version of the game's "speed-up round."
Strathearn soon gave way to Marty, the show's traveling host, who bounded onto the stage with an absurd amount of enthusiasm. "I NEED YOU TO CLAP!," Marty commanded. "CLAP TO THE BEAT!" As Marty continued to lead the audience in enough clapping, singing, dancing, waving, high-fiving and hugging to make a Baptist pastor jealous, the friend we dragged with us looked horrified and exclaimed, "Sweet Jesus, I am NOT going up there with him!"
Continue for odd contestant hobbies and a shout-out to 50 Shades of Grey.
Marty asked the audience, "Whose DREEEEEEEEEAM is it to be on Wheel of Fortune?" and the crowd erupted yet again. That's when he told us a secret. It didn't matter if we won the mini-games, he said; what really counted was our energy, our love for Wheel of Fortune and our uniqueness. Apparently, we could be the world's biggest puzzle dumbasses but still get called for the next round of auditions if we showed the team that we could adequately convey our Wheel rapture and gush to fake-Pat-Sajak about our weird hobbies.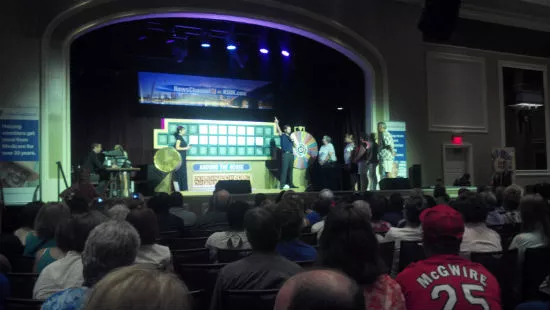 Marty tries to coax exciting conversation out of the contestants.
But most of the folks Marty and his fake-Vanna randomly drew from the Golden Drum of Dreams weren't terribly enthusiastic or interesting. Being an older crowd, these people only seemed to like Wheel of Fortune, their own grandkids, crafts and gambling. A few brave souls proudly let their freak flags fly, though, sharing their secret lives with Marty, their new BFF. Some contestant hobbies: ballroom dancing, video games, doll collecting, clubbing, soap opera cruises, Elvis memorabilia, quilt camp and Lifetime movies.
One lady proudly copped to reading the 50 Shades of Grey trilogy over 24 hours, saying "It was the best day ever" and giving the audience a knowing smile. Folks with side jobs as musicians were asked to play air guitar, air keyboard and air drums. Those who claimed dancing or singing ability were forced to demonstrate their talents.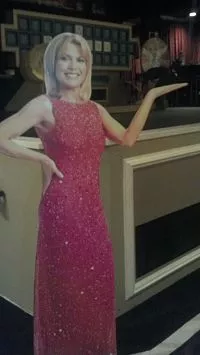 Vanna beckons you to a photo opp.
"You never know what's going to happen, but it's definitely the contestants' chance to shine," Strathearn says.
None of these people were us, though. Despite prepping our witty interview answers and rehearsing "Hit Me with Your Best Shot" in our head, Daily RFT soon realized that time was growing short and we likely wouldn't hear our name called from the Golden Drum of Dreams. And after watching about ten rounds of contestants win Wheel of Fortune duffel bags and blinky pens by guessing "rhyme time" and "living thing" puzzles (which, honestly, was the most boring part of this whole deal), our fear was confirmed: time was up.
So we did it again. Seriously, we did the line, the application, the ridiculous cheering -- everything -- a second time, and we still came up empty after spending more than three hours at the casino. We could hear the falling "bankrupt" whistle in our head as we exited the auditorium.
But there's hope, Marty assured us losers! The Wheel team would save a few next-round audition spots for people who had claimed interesting hobbies or facts on their applications. AHA! Being an RFT writer, a karaoke host, a game show enthusiast and a Brady Bunch fanatic may yet bring us fame and fortune!